It's here! What a big day for STAR WARS fans! If you've been waiting for SOLO: A Star Wars Story to finally be released on Digital HD, today is the day! Fans can also bring home the fun and adventure on Blu-Ray and DVD on September 25th! We've got some really cool SOLO themed paper craft projects for you to enjoy + a super amazing sweepstakes announcement. I'll give you a hint- it's a collab between Lucasfilm and XBox!
Grab these fun SOLO: A Star Wars Story Paper Foldable Projects!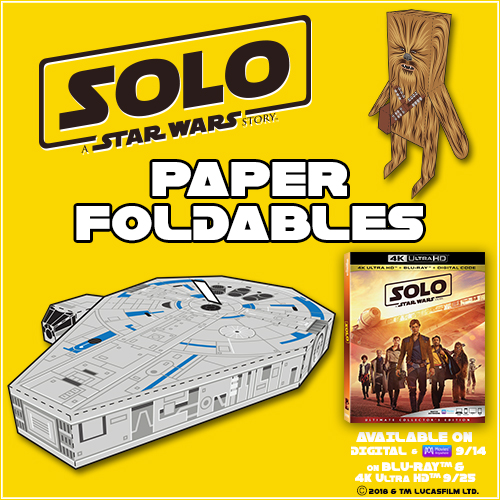 These are such fun little crafts you can do at home with the kids this weekend. Why not make it a big Star Wars themed weekend with a movie marathon and fun Star Wars snacks? My hubby and son would be all over that!
And now for the sweeps announcement!
How would you like to win a custom SOLO XBox?
To celebrate the release of "Solo: A Star Wars Story," Lucasfilm and Xbox are excited to announce the Xbox One X Solo Custom Console Sweepstakes!
Each custom console includes a physical copy of "Solo: A Star Wars Story" on 4K Ultra HD. Enter now for your chance to win at https://soloxboxsweeps.com
from now until September 30, 2018. Open to U.S. and Canadian (excluding Quebec) residents only.
*MBP is not affiliated with this giveaway- we're just sharing because we think this is awesome!
Be on the lookout for more SOLO: A Star Wars Story coverage on Mommy's Block Party this fall!
What's your favorite Star Wars movie to date?