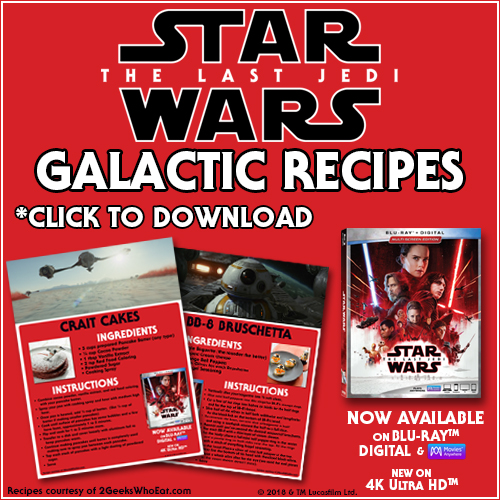 Hey there, Star Wars fans! I can't tell you how many times my kids and I watched Star Wars: The Last Jedi over Easter weekend. Truth be told, I stopped to watch every time! I just can't get enough of this amazing movie. With a few days of spring break left, we're still celebrating the release of Star Wars: The Last Jedi on BluRay & Digital.
My kids are crazy for The Last Jedi, so we're having some fun with new Star Wars themed recipes, like Crait Cakes & BB-8 Bruschetta! They're available for you to try with your little Rebels, too! Just click the image to download these fun recipes!
Did you make some of these tasty treats?
Don't forget to snap a picture of your finished recipes and tag us on social media: @mommysblockparty on Facebook or @mommysblckparty on Twitter and IG.
May the force be with you!