Thank you to iDeal Fit for providing me with product in exchange for my honest review. All thoughts are my own.
Are you a fit momma? I'm not so much these days, but I certainly aspire to be one once again. Before Baby S was born, I was in amazing shape, and I was proud of of the results of my hard work from proper eating and daily exercise. Life after Baby S came into the world is so different than it was with just one precious child. Now there are two little loves in my life who demand attention and constant care. I love them more than anything, and have had to make some personal sacrifices to be the wife and mom I want to be for my family.
My daily exercise routine has really fallen by the wayside, and I am sad about that. I enjoy exercising, and have been making an effort to bring it back into my daily life. In order for me to do that, it means that I have to get up earlier, and have to have some comfy work out clothes laid out the night before, so I can quickly grab them in the morning.
iDeal Fit Activewear
is helping me to achieve my goals for overall good health and daily exercise, all while looking great and feeling comfortable. iDeal Fit wants to give those who strove to live a happy and healthy life the tools they need to succeed. That's why they offer an amazing line of activewear, protein products, and Fit Kits!
I had so much fun just browsing the iDeal Fit website, looking at all of the wonderful apparel they have to choose from. I am picky about my activewear. I don't want to wear anything that's too revealing or too binding, but also don't want to look frumpy. iDeal Fit has great options for fitness minded women who want to maintain or achieve healthy bodies and minds. I was able to select apparel that I thought would be the best 'fit' for me, and I created the perfect combo for my morning workouts.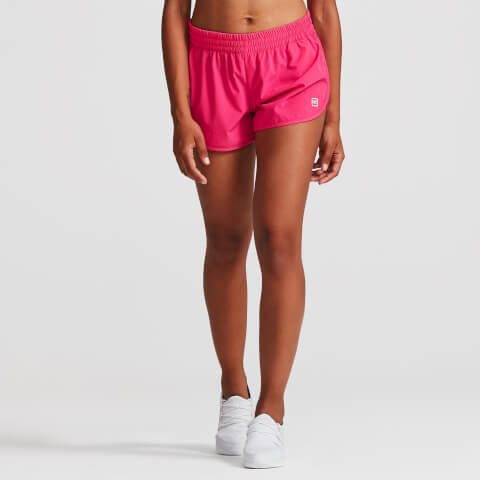 $24.00
I don't wear
active shorts
too often when I work out, but there are some instances that I like to have them for. We sometimes have unseasonably warm weather in the fall and winter in NC, and I like to be prepared for warm afternoons. These shorts are cute and pink, and they offer a perfect amount of stretch. If you're like me, and you still have a little baby pooch that just won't go away, these shorts will be your best friend! The shorts are comfy to work out in, and even hang around in. I have already worn them on warm days when running errand around town. These do run a bit large, so I would advise sizing down 1 size.
Lightweight and Breathable
Technical fabric that absorbs sweat and quick dries.
4-Way Stretch
This fabric never constrains motion and always moves with you.
Drawstring Waistband
Tighten the waistband just the way you like it.
Waistband Pocket
A hidden pocket perfect for gym pass, card, and key.
Fabric Content: 92% Polyester/8% Elastane
Machine wash, no chlorine bleach, hang dry, medium iron on reverse, suitable for dry cleaning, wash with similar colours.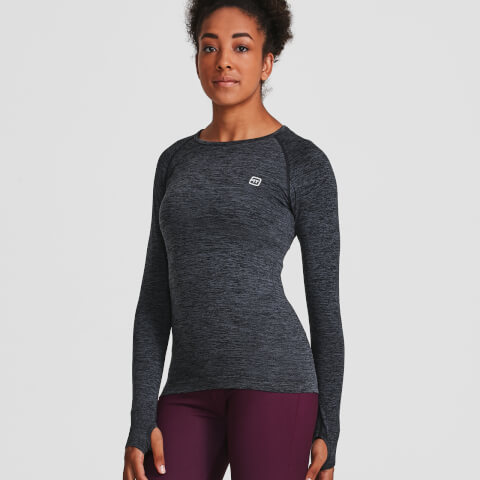 IDEALFIT SEAMLESS LONG SLEEVE TOP - BLACK
$42.00
Of course, every gal needs a great workout top. I like to choose tops that move with me, and don't constrict. I also tend to sweat a lot when I work out- just being honest. I need a top that'll absorb moisture. I love the
seamless long sleeve top
from iDeal Fit. It's light, it breathes well, and moves with me. It features long sleeves with thumb holes, which I absolutely adore! I think it looks cool, and it helps keep my hands warm on chilly walks outside! This is a great top for working out, and it's also a great layering piece to wear under clothing if you're going to be outside on a cold day. I wish I'd thought to wear it when we went to Ren Fest last weekend- I needed it!
My perfect workout outfit from iDeal Fit
These two pieces are my favorite to throw on before a great workout, or just for hanging around in! They're versatile and comfy for everyday wear.
There are some very active ladies in my life who would absolutely love some of these fabulous apparel pieces from iDeal Fit. It's so easy for anyone to find their iDeal Fit for
workout apparel
! Mix and match individual pieces to put together the perfect outfit, or buy a Fit Kit- easy as pumpkin pie!
Want them? Get them!
Head on over to
iDeal Fit
to browse their fantastic selection of active tops, bottoms, Fit Kits, supplements, nutrition products, and more! They have the perfect gifts for the active folks on your holiday shopping list!
Special thanks to iDeal Fit for allowing me to try and share about their fabulous activewear this holiday season. Look for them in our 2017 Holiday Gift Guide.