Thank you to Paparazzi by Penny for providing me with product in exchange for my honest review. All thoughts and opinions shared are my own.
My husband and I were recently discussing his addiction to outerwear. He has so many coats, jackets, and vests that I can hardly weed through them all to get to one of my coats when I need one. He then pointed out all of my jewelry, and I have to admit- he had me there. I do love jewelry of all shapes, colors, and sizes. It's easy to get a little carried away when you find a jewelry company that you truly love, and that's what I've found in Paparazzi Accessories.
Presented by Penny Moss, Independent Consultant
There's a lot to love about Paparazzi Accessories. My good friend Penny Moss just happens to be a Paparazzi Consultant, and one of our fabulous MBP Spotlight Sponsors. Penny is an amazing woman. She is a wife, mother, teacher, volunteer, and she has her own businesses, and often coordinates local vendor fairs and shopping events. She's a tough act to follow! In her spare time (ha!), Penny also contributes as a blogger for Mommy's Block Party. Talk about doing it all! Go, Penny, go!
Penny has been excited to share her Paparazzi Accessories with our readers, and I was very excited for the opportunity to work with her recently. Paparazzi jewelry and accessories are beautiful, trendy, well-made, and extremely affordable. Each piece of jewelry or jewelry set is just $5.00! Yes- $5.00! Incredible!
I've got Paparazzi from Penny!
My goodies were packaged in a pink Paparazzi bag, which Penny personally delivered to me. I had no idea what she decided to include, but Penny knows me and my style, so I knew that whatever she picked out for me would be fabulous!
The pieces were wrapped in pink tissue paper, and Penny included a couple of her business cards.
Penny picked out some truly beautiful pieces for me to review, including a set of blue and silver post earrings, a heart bracelet, and a beautiful
necklace and earrings set
. Everything looked so pretty- I wasn't sure which pieces I wanted to try on first.
The gorgeous blue and silver earrings, and the heart bracelet.
Hard to believe that the bracelet is just $5.00, and that the earrings are just $5.00! They look just as lovely as any jewelry that you might find in an upscale department store, without the hefty price tag. All of these pieces can be easily dressed up or down- perfect for everyday wear, date night, or to wear to church.
The heart bracelet- such a beautiful piece of jewelry!
In the past, I haven't been a huge fan of
heart jewelry
, but after my dad gave me a really pretty heart necklace for my birthday last year, my opinion changed. This bracelet has quickly become one of my favorite pieces. I have enjoyed wearing it while I work, for special nights out, and loved wearing it for Valentine's Day, along with some special jewelry from my husband.
These gorgeous stud earrings are so lovely!
Now that I once again have a little one grabbing at my jewelry all the time, I am a big fan of post earrings. They are much harder for babies to grab and pull out of ears. These pretties from Paparazzi are right up my alley. I love the blue color in the middles, surrounded by stunning silver and a bit of bling. They look great with black or white, and I even have a flowy blue top which is a close color match!
A necklace and earring set to love- for just $5.00!
Have you noticed how the longer length necklaces are really on trend right now? I love them! I think they look so good when paired with tunics, or blazers, open cardigans, kimonos, etc. This pretty jewelry pair is just $5.00 for the set, which is an incredible value! It comes with the pretty silver earrings, and the necklace with the studded circle on a lengthy and delicate chain.
I love these little fish hook earrings- they go with everything!
I have been wearing this set a lot- I love the combination, and love the way it looks with just about everything I have worn it with! Plus- the heart bracelet looks great with this set, too!
You can't beat a $5.00 set of jewelry, ladies! And let me tell you- I have some Paparazzi pieces that I have had for at least 3-4 years now. I can honestly say that this jewelry is quality jewelry, and is so much more than you might expect from having paid just $5.00 for a piece! At just $5.00, I can shop for all of the girls I want to gift beautiful jewelry and accessories to. We have a lot of birthdays and celebrations coming up in our family over the summer, and I am sure that I will be calling Penny with a few orders for Paparazzi jewelry!
Just like mommy... Baby S knows good style when she sees it.
Take a look at some of the Paparazzi pieces I have my eye on...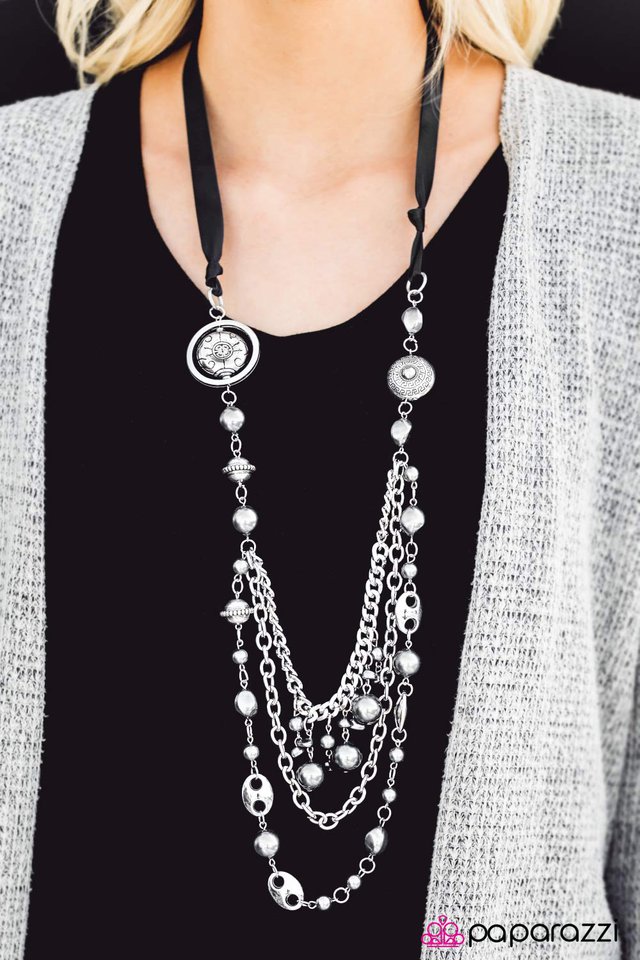 All the Trimmings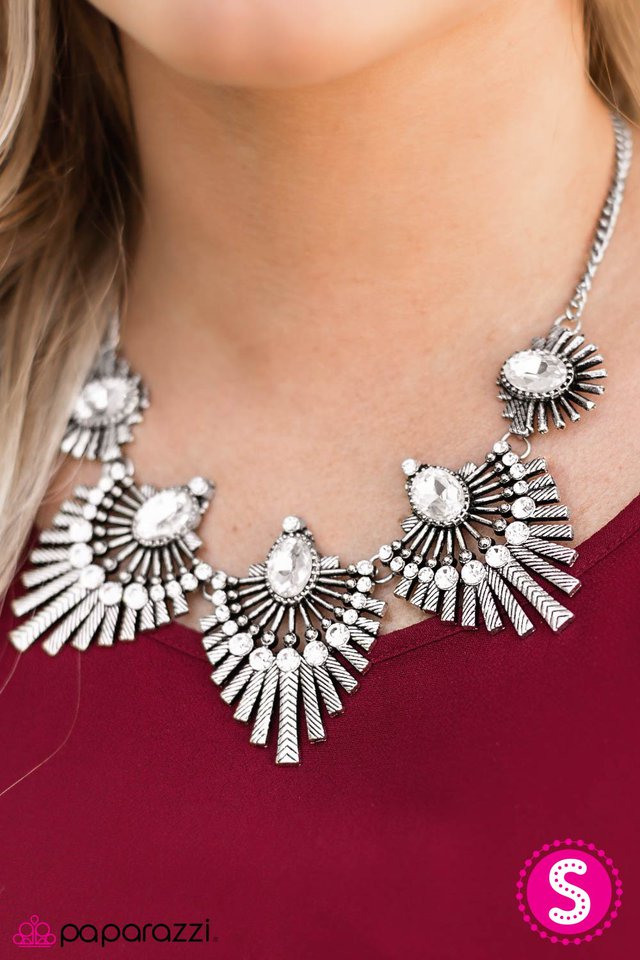 Miss YOU-niverse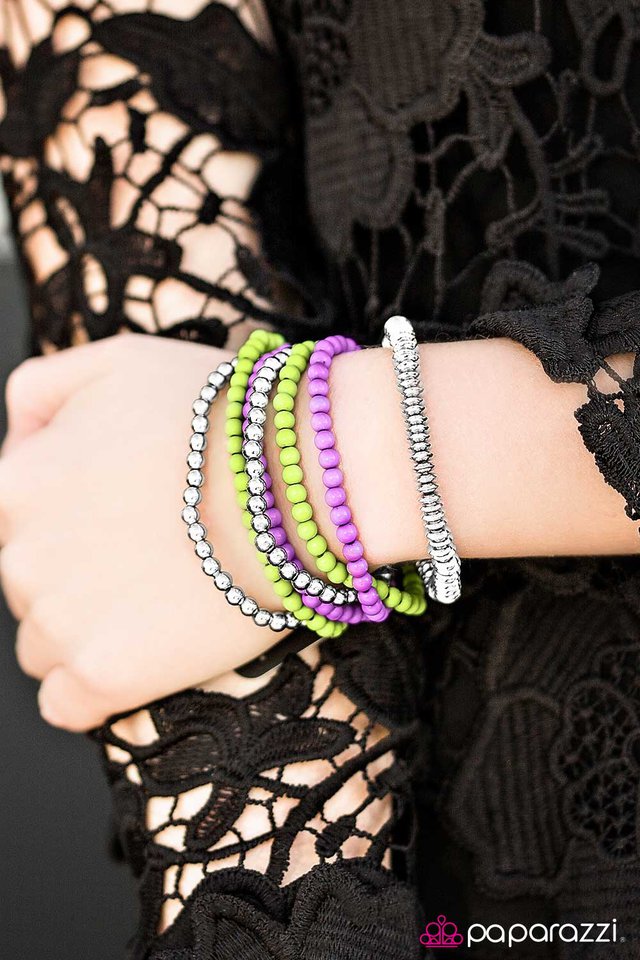 The Bead Goes On Multi
Think Like a Queen
Spring is the perfect time to treat yourself to some new
$5.00 jewelry
. Maybe you need a new necklace to go with your Easter outfit? Mother's Day will be here before we know it, and so will lots of fun summertime occasions. Don't miss out on the fun of styling up your outfits- get in touch with Penny and start adding some beautiful Paparazzi pieces to your jewelry collection!
Want them? Get them!
Head on over to
Penny's Paparazzi website
to browse the latest styles of Paparazzi Accessories! You can also visit
Penny's Paparazzi page
on Facebook to connect with Penny and take a look at all of the available pieces she has from Paparazzi! For more information on hosting a jewelry party or starting your own Paparazzi Accessories business, please
contact Penny
.
Special thanks to Penny for allowing me to share about these gorgeous spring jewelry picks from Paparazzi Accessories! Look for them in our 2017 Spring Style Guide!