Thank you to Nom Nom Necklaces for providing me with product in exchange for my honest review. All thoughts and opinions shared are my own.
It's been several weeks since my husband and I have gotten a good night's sleep. Baby S is 10 months old, and has been teething for seven months! She has zero teeth. We're pretty exhausted, as Baby Shas been up during the night, just wanting to chew, chew, chew. Aside from medicating her, which we won't do unless she is in serious pain or has a fever, we're doing everything we can to naturally help ease the pain associated with teething. S loves my necklaces, but they're not safe for her to chew on. We have found that teething necklaces are wonderful for her to gum, and cute for me to wear!
I recently connected with Lindsay, owner of Nom Nom Necklaces. Lindsay is a stay-at-home mom to two girls, and has a passion for crafting. She has a knack for creating beautiful teething necklaces that can be worn anytime- whether or not baby is attached to mom's hip. The necklaces are soothing for baby, and super fashionable for mommy. Lindsay created
Nom Nom Necklaces
, a fabulous shop on Etsy, which offers a multitude of beautifully designed teething necklaces made from silicone and natural wood. All necklaces are 100% safe for baby to chew on and pull on.
Lindsay sent me one of her most popular necklace designs in black multi.
This popular
pendant teething necklace
is beautiful! I love that it isn't clunky or heavy to wear. I have a couple of other teething necklaces that I almost never wear, because they just get in the way, and they don't seem to go with any of my outfits. This teething necklace by Nom Nom Necklaces is so chic, and you really couldn't tell just by looking that it was a teething necklace.
The necklace features black and neutral colored beads, which makes it easy to wear with just about anything. The black pendant is large, and Baby S loves to grab onto it and chew it, or hold it. There is an easy break away clasp, which simply clicks closed. Baby can pull on the necklace and it won't break.
Take a look at the necklace up close!
The necklace looks beautiful with everyday clothing, or it can be dressed up! I haven't had the necklace for very long, but have found myself reaching for it just about every day since I received it. The true test has been whether or not S responded well to the necklace. She absolutely loves it. I wear it all day, so when her little gums are bothering her, she just reaches for the pendant and chews on it. It brings her a lot of comfort when she's experiencing pain and wanting to chew. The necklace also serves as a distraction when we're sitting in church, at the doctor's office, etc. It gives her something that's easily accessible, and helps to keep her quiet and calm.
The older Baby S gets, the more distracted she becomes while we're nursing. I keep the necklace on when I am nursing S, and she then has something to grab or play with (so she's not pinching me!).
A gorgeous necklace that doesn't scream 'teething necklace,' even though it is one!
I have received many compliments on this beautiful necklace, and I wish that I'd had it even a few months ago. This will serve us well in the months ahead, as we wait for Baby S to get her teeth in. I have so many friends who are expecting or are trying to conceive, and I cannot wait to make these gorgeous necklaces a go-to gift for baby showers, etc. Most everyone thinks 'what can the baby use now' when it comes to baby shower gifts. I think more along the lines of 'what can baby use in 6 months to a year from now?' Those first few weeks and months of baby's life go by so quickly, and they outgrow clothing, swaddle blankets, etc. I like to give gifts that can be used down the road, and teething necklaces are a great choice!
Baby S enjoys chomping on the necklace after nursing at home.
The necklace can even be a make-shift toy! When you're out and about with baby and left the toys at home, or the diaper bag in the car, just go for the necklace. Of course, you never want to leave baby alone with the necklace, or let the baby wear the necklace themselves. Never strap it to a car seat, etc. Linsday does make special
teething necklaces for little ones
, which are made to fit, and do not pose any type of strangulation hazard to the child. She also makes
teething bracelets
,
teething accessories
,
pacifier clips
,
gift sets
and more!
Check out some of these other cute designs from Nom Nom Necklaces...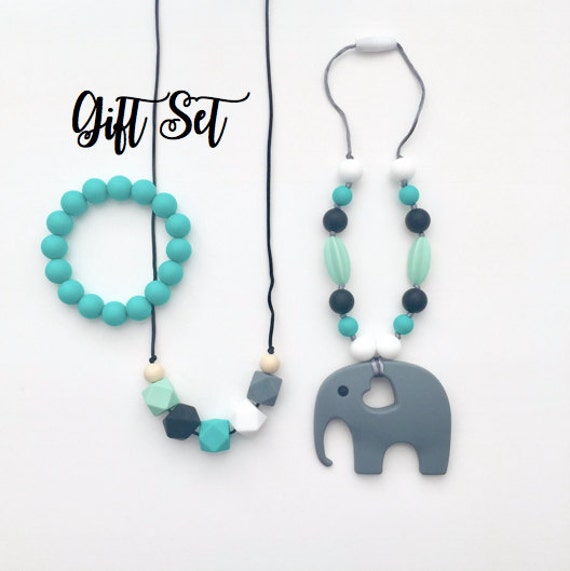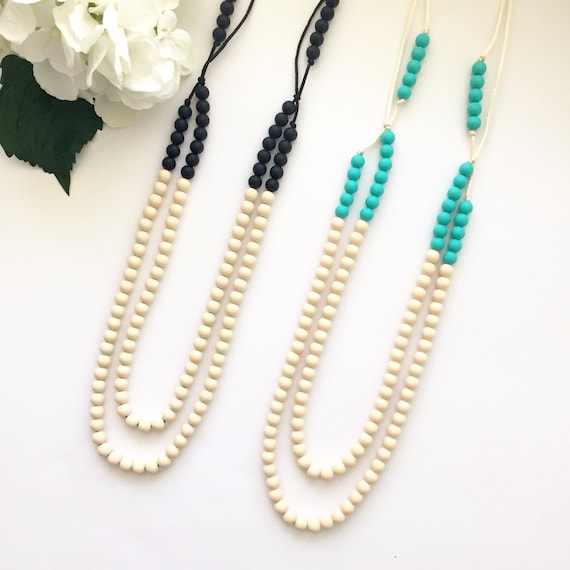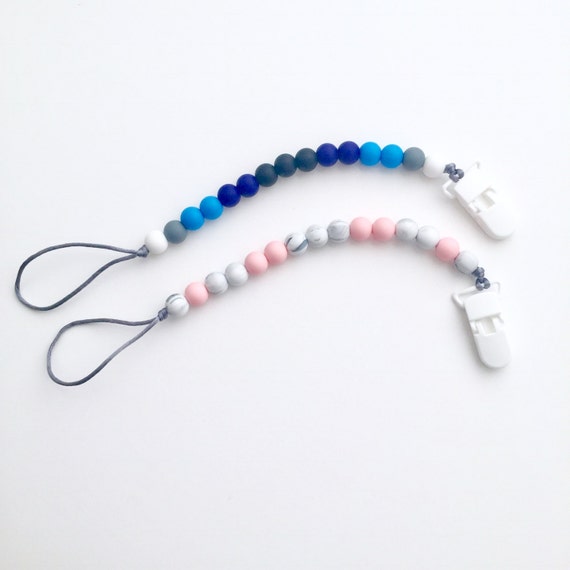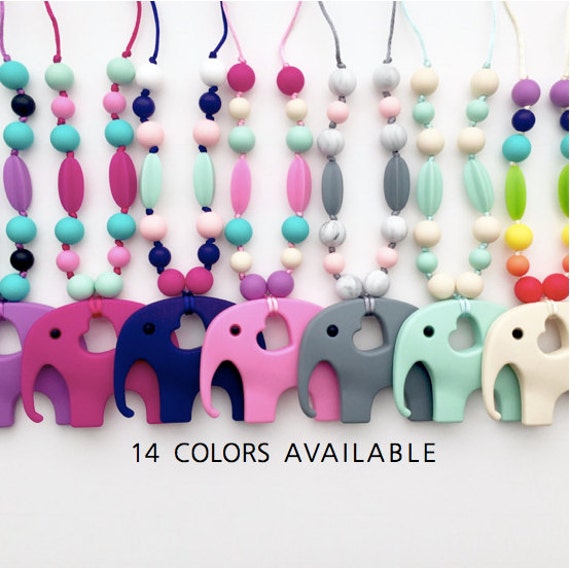 I can't thank Lindsay enough for allowing Baby S and I to check out her gorgeous
silicone teething necklaces
. We certainly love the design she sent to us, and think that these necklaces and accessories would make the perfect gifts for Valentine's Day! Don't forget- Easter and Mother's Day won't be far off! They're also perfect for new moms, baby showers, birthdays, etc!
Want them? Get them!
Head on over to Nom Nom Necklaces to browse all of the cute and chic desigs available. You'll love the color combos, and the prices!
Connect with Nom Nom Necklaces on
Facebook
I
Instagram
Want them? Win them!
One lucky MBP reader will win a $15.00 credit to the Nom Nom Necklaces Etsy shop. This giveaway is open to US residents, 18 and older. Just use the handy entry form below to enter for your chance to win! Mommy's Block Party is not responsible for prize fulfillment. Please see our policies page for details. This giveaway is in no way associated with Facebook, Twitter, Instagram, Etsy, Pinterest, or any other social network. Void where prohibited.
Special thanks to Nom Nom Necklaces for allowing me to share about their beautiful necklaces and teething accessories, and for offering this special giveaway for our readers!
Good luck!