Thank you to by His Grace Creations for providing me with product in exchange for my honest review. All thoughts and opinions expressed are my own.
I love Christian gifts. As a Christian woman, I enjoy having Christian apparel, home decor, jewelry, and little cards around my home. They serve as sweet and subtle reminders of God's amazing grace, and his unfailing love for all. My husband isn't on board as much as I am. When I told him that I wanted to add a few more Christian elements to our home, he agreed, as long as the items weren't 'too cheesy,' in his words.
One of my favorite Christian songs is 'Oceans,' by Hillsong United. We actually used it during Baby S' baptism back in June. The words of the chorus, 'Spirit lead me where my trust is without borders,' is very popular, and I was looking for something that had these words to hang as art in our home. I was so excited to find a gorgeous handmade sign featuring this song at
By His Grace Creations
.
By His Grace Creations is a wonderful shop on Etsy, and owned by Rochelle. Rochelle hails from California, and enjoys spending her time making beautiful wooden signs, home decor, coasters, and more. Rochelle and I were able to connect and Rochelle kindly sent one of her lovely signs to be featured in our gift guide this season.
The sign arrived by postal mail, and wrapped in brown paper.
The sign was also extremely well padded- to prevent any bumps or scratches.
It was tied with yarn, and adorned with handmade tags, and a handwritten note from Rochelle.
The back of the sign features a stamp with the social info for By His Grace Creations. I thought this was pretty cool!
This pretty sign is a beautiful gift!
At first glance, I was in love with this sign. It seemed so simple, yet so perfect. The wood was smooth, and the paint as well. I appreciated the time and care that Rochelle put into making this sign, and knew that it would be a special piece of decor to cherish in our home. The sign came to use ready to hang, and I had the perfect spot in mind.
I decided to hang this sign over our bed- a perfect daily reminder to allow the Holy Spirit to lead us in our daily walk.
The sign is grey with white painted wording. It matches the decor in our bedroom so nicely. My plan is to add smaller framed art around this to make an inspirational display above our headboard. I know that I benefit from daily reminders of God's love. This sign looks so pretty in our room. I love to look at it first thing in the morning, and before I go to sleep at night. It helps me to remember not to stress or worry, and to trust God's timing in everything.
Excuse the mess here, but this is what the sign looks like hanging above our bed.
I love this
Spirit Lead Me sign
so much! My husband loves it, too! I would love to gift another one of these to my parents, and my sister. It's a beautiful addition to any Christian home. It would also make a beautiful gift for a wedding, a baby shower, confirmation, graduation, baptism, anniversary, etc.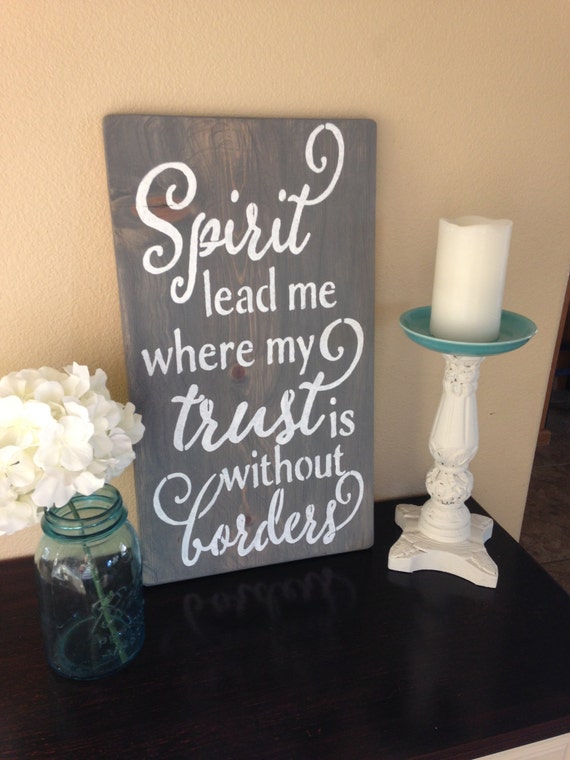 This sign measures 11.5 x 20 inches and comes with a claw tooth hanger ready for you to hang. Each piece of wood is hand selected for beauty and character. No piece is the alike due to the natural texture of the wood including knots and imperfections. Each sign is hand painted and stenciled. Would make a perfect gift and look beautiful in any room!
This sign is stained with a weathered grey color.
Please keep in mind that the color varies and may be different showing on your screen.
$30.00
There are so many beautiful signs available from By His Grace Creations!
Check out some of the other pieces I am loving...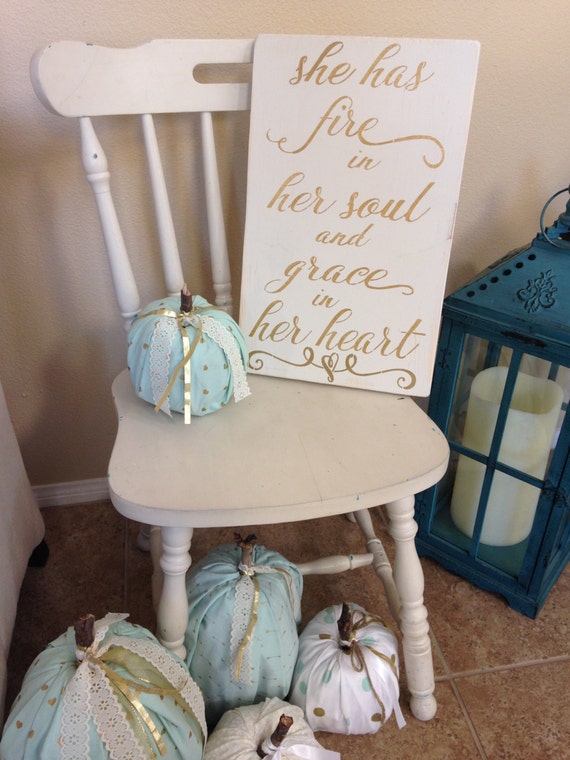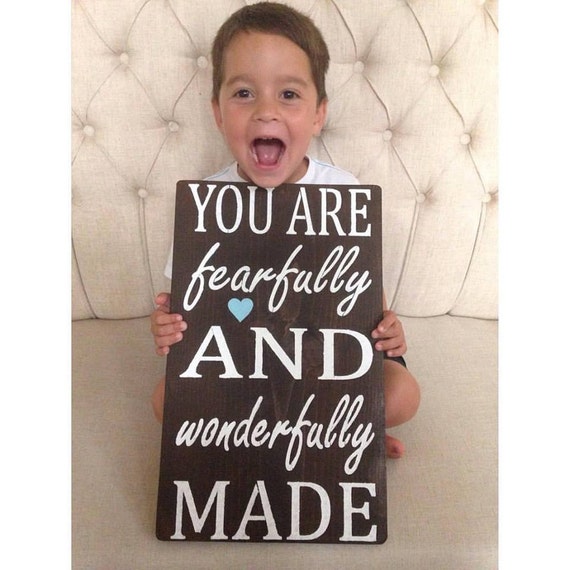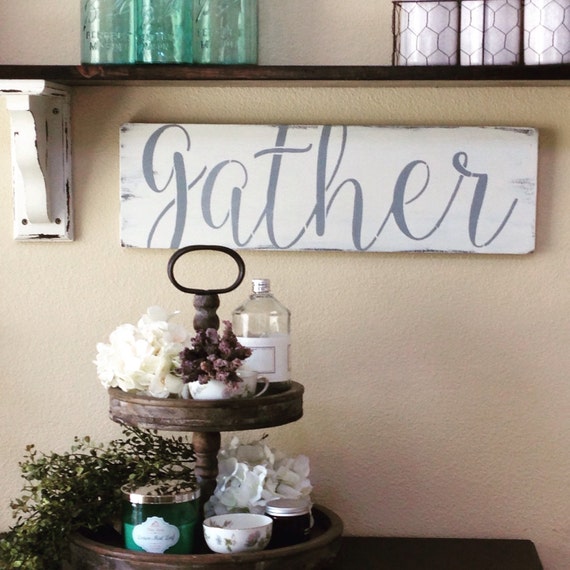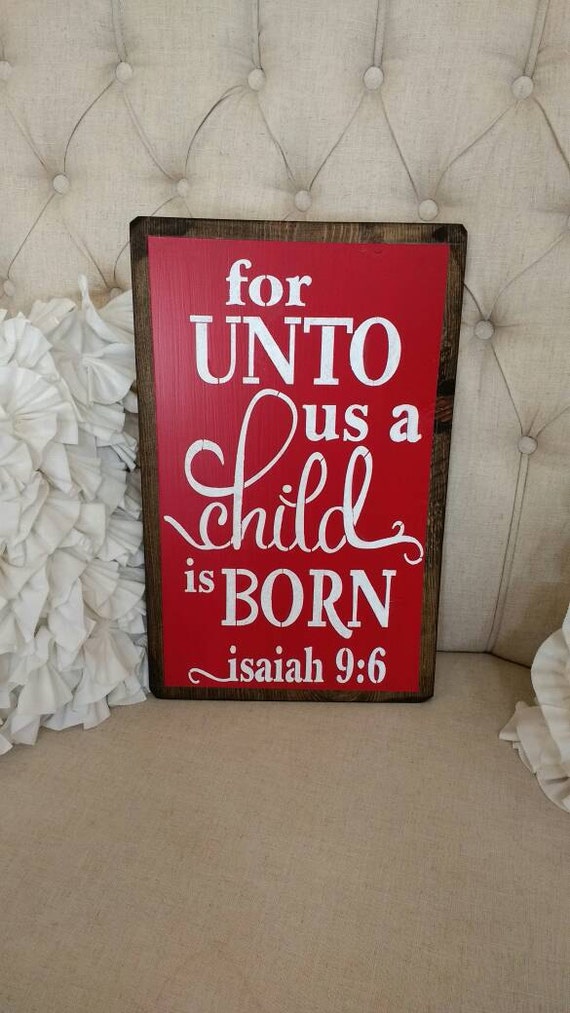 If you're looking for inspirational Christmas or everyday decor, you will absolutely want to check out By His Grace Creations. Rochelle's work is just beautiful, and these pieces will be a welcoming sign for your friends and family to enjoy!
Want them? Get them!
Special thanks to By His Grace Creations for allowing me to review their beautiful home decor this holiday season. Look for them in our 2016 Holiday Gift Guide!