Thank you to Birdie James Embroidery for providing me with product, in exchange for my honest review. All thoughts and opinions shared are my own.
In our house, we have a special little tradition. Each Christmas, I gift a new set of pajamas to the kids. I have been doing this for B for several years, and am excited to include sweet Baby S in the tradition this year. I even get hubby in on the tradition, and gift him new jammies every Christmas morning. It's just one of those fun things that I enjoy- I love seeing their faces when they open up their new pajamas. I have been looking for cute family Christmas pajamas for a while now, and was so excited when I found adorable designs for the whole family at
Birdie James Embroidery
.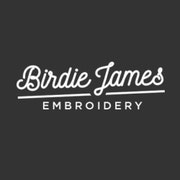 About Birdie James Embroidery
This shop is a family-owned and operated wellspring of creativity. We are an active-duty military family and this shop allows us to work as a team on unique embroidery work, regardless of where our duty station is. Our four children participate in the business by helping select fabrics, pre-washing materials, offering design input, packaging and shipping while we work on the "grown-up jobs" of operating the machine, ironing and hooping the designs. Customers who shop at Birdie James aren't only buying adorable embroidered and appliquéd treasures, they are helping us build creative, independent and hard-working citizens for tomorrow.
I was thrilled to connect with shop owner, Kathryn. We chatted a bit about the holidays and our families, and Kathryn so kindly offered to send a cute pair of
Christmas pajamas
for Baby S. There were several options that I was able to choose from, but ultimately, I decided to go with a too cute design that I thought S would look totally adorable in.
Check out the adorable Family Christmas Reindeer PJ's that were made for Baby S!
I absolutely love this adorable set of pajamas. One of the cool things about it, is that it is available in red or green, with or without the bow... so it can be tailored for a boy or girl. This set is in a 6-12 mo size, though plenty of other sizes are available... even adult sizes! I think that I need a matching set to wear with S! This is a two piece pajama set- top and bottoms. The cute reindeer is appliqued and embroidered onto the top, and has a protective fabric backing on the inside of the shirt, so the embroidered design won't rub on the skin. The top is also personalized with S' name, which makes it even sweeter.
I love the extra little touches of glittery sparkles in the top! *Headband not included.
The
Family Christmas Pajamas
are so cute! S looks absolutely adorable in them. Since S is on the slender side, these are a little loose, which means she'll be fitting into them rather nicely during the holidays. S can wear these comfortably at night, and even loves to play in them during the day. I can't wait to take tons of photos of her in these sweet jammies on Christmas Eve and on Christmas morning.
Have you ever done the Christmas Eve Box tradition? You gift your kids a new set of pajamas, a new book or movie, and hot cocoa. Wouldn't you love to gift your kiddos a pair of personalized Christmas pajamas from Birdie James Embroidery? If you aren't loving their reindeer design, there is a Santa face design, too! I can't wait to give my kids their Christmas Eve boxes after church on Christmas Eve.
Baby S is Christmas cute in her new personalized Christmas pajamas from Birdie James Embroidery!
These pajamas are so cute. If you love getting family Christmas pajamas, you have to check out all of the cute styles available at Birdie James Embroidery! You'll love how beautiful they look, and love the quality. They're easy to clean- just wash and (I lay them flat to dry) dry, and you're ready to go. With so many styles and sizes available, everyone in the family can have a special pair of pajamas for Christmas this year!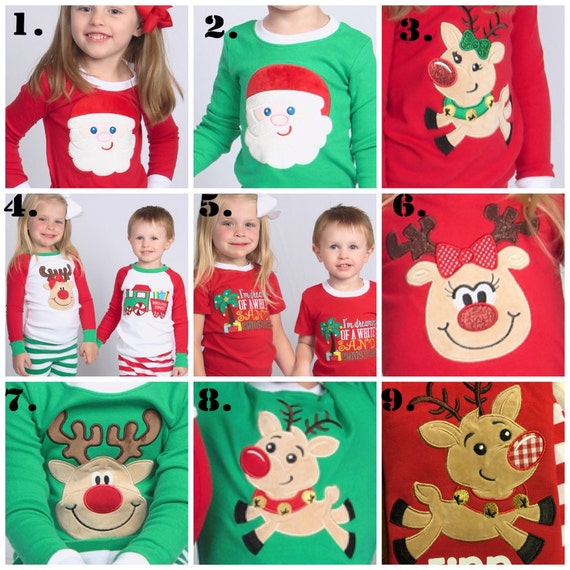 Check out all of the available styles from Birdie James Embroidery!
Which style is your favorite?
Be sure to check out the size charts available on this listing for the Christmas pajamas, so you know you're getting a size that'll fit. When items are personalized, you can't return them, so you want to make sure that they are going to fit! From infant and toddler to kids and adult sizes, Birdie James Embroidery has
Christmas pajamas for the whole family
! Make this a Christmas to remember and celebrate in these special pajamas.
Want them? Get them!
Head to
Birdie James Embroidery
to browse all of their cute styles of Christmas pajamas and personalized gifts for the holidays! Birdie James Embroidery is having a Black Friday Flash Sale & MBP readers can use the code
BLACKFRI15OFF
for a 15% discount. Connect with Birdie James Embroidery on
Facebook
,
Pinterest
, and
Instagram
.
Special thanks to Birdie James Embroidery for outfitting Baby S in their adorable Christmas pajamas, and for allowing us to share about them this holiday season. Look for these pajamas in our 2016 Holiday Gift Guide!