Thank you to Design Twenty Nine SC for providing me with product, free of charge, in exchange for my honest review. All thoughts and opinions shared are my own.
Part of the MBP Baby Shower Guide
When I started to think through the elements that I wanted to incorporate into my baby shower for S, I had some pretty specific ideas. I knew that I wanted to use the colors that we were using in the nursery- pink, gray and white. I also wanted to incorporate the elephant theme, and was looking for cute, yet elegant ways to tie everything together in terms of decor. I like decor that can serve multiple purposes, as well. I tend to look for pieces that are multi-functional and can be used for an event, and then used again afterward as decoration at home, or elsewhere.
I knew that having a
custom baby shower wreath
would be a whimsical and welcoming sight for our guests. With just around 75 people invited to our fun sprinkled pink shower, I wanted to make the event as fun and welcoming as possible.

As I began looking around at different
baby shower wreath
designs, I started poking around on Etsy. I absolutely love Etsy, because it features work from fantastic artists from around the world, who pour their love and creativity into the pieces they make. Terri Hall is the proud owner and designer behind
Design Twenty Nine SC
. Terri hails from SC, where she spends her time making absolutely gorgeous custom wreaths for all sorts of occasions. When I caught a glimpse of Terri's handiwork, I knew that being able to display one of her beautiful wreaths at our baby shower event would be the icing on the cake!
I was able to connect with Terri, who was so sweet to offer to design and send me a custom wreath for the baby shower. I offered up our color scheme, and the elephant theme, and Terri then told me how she planed to incorporate those into the wreath. She also gave me options between a monogram letter to hang in the center, or a chalkboard piece that would hang down, adorned with an elephant.
I couldn't wait to see the wreath in person, but Terri sent me a few photos of the finished wreath before sending it to me.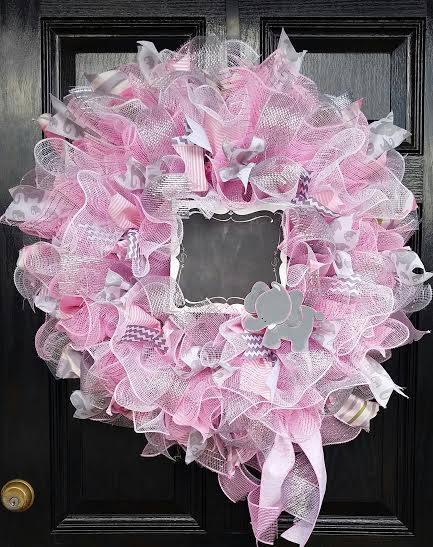 Isn't it stunning!?
This gorgeous wreath was designed and made by Terri. It features pink, gray and white mesh, and a variety of other ribbons, incorporating the same colors with various patterns. The colors couldn't have been more perfect for the theme of our shower, and they also tie in with the nursery. In the center of the wreath, is a drop down chalkboard, which allowed us to personalize the wreath to our liking. My sister wanted to simply write Sabine's name on the chalkboard for the shower. I can't wait to write 'Welcome home, Sabine!' on it, and hang it on our front door or front porch. At the corner of the wreath is a sweet little elephant- a perfect match for our shower and nursery theme.
The wreath arrived in a large box, and had clear messaging on it not to be turned on its side. I have had a lot of handmade items ordered from Etsy shops that have been all but destroyed by the postal mail or UPS/Fed Ex carriers. I am pleased to say that the wreath arrived looking lovely! Terri suggested that we fluff the ribbon to our liking before displaying the wreath, which is just what we did- though truth be told, it didn't need much fluffing at all.
Here's the beautiful wreath, hanging above the beverage area at the baby shower.
We ran into a bit of a snag as to where to hang the wreath at the shower. I wanted to hang it on the door, but the wreath hanger wouldn't fit/stay on the top of the heavy glass doors of the swanky new building of our church. We weren't allowed to hang anything on the walls, per policy, so we opted to hang the wreath from the beverage bar area, which worked out well. As our guests dropped off their 'Well wishes for baby' cards and lined up to fill their cups, they were met by the adorable wreath hanging above them. It was definitely a conversation piece, and just about everyone in attendance commented on how absolutely adorable it was, and asked where it came from.
This wound up being the perfect spot for our wreath to be displayed. It added a pop of color to the contemporary space.
Our guests loved all of our decorations at the shower. but their very favorite was the beautiful wreath created by the talented Terri!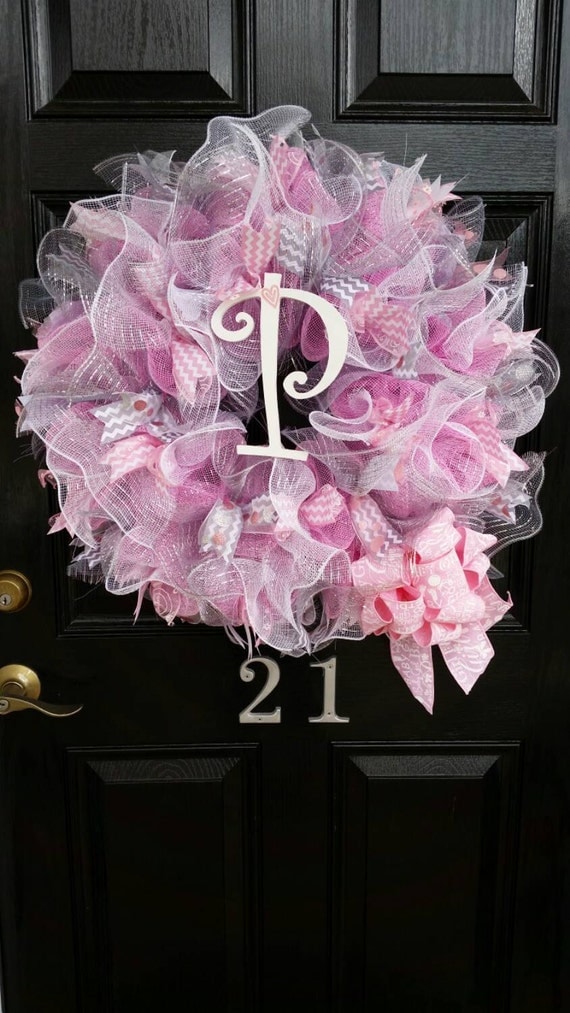 Features of the Large Mesh Baby Girl Wreath
Choose initials and paint color for initials. Available with one, two or three letters.
Beautiful monogram/initial wreath! This wreath can be used on the front door to your home, and would also be a great gift for the mom to be at a baby shower! Also perfect for the hospital door, the nursery door/wall, or for a girl's room. The base wreath is pink and white premium mesh that is wrapped with white windowpane mesh and spiral shimmery silvery mesh. There are lots of ribbons tied around the wreath and a large bow in pink and white (bow and ribbons according to availability). The back of the wreath wire frame is also covered in pink and white mesh and adds to the fullness of the wreath.
Wreath can be made to coordinate with your decor.
Wreaths, floral arrangements and wall sconces are custom created and I use high quality materials in each piece.
$77.00
I can't thank Terri enough for making this one of a kind, extra special wreath for us. I would love to hang it on our hospital room door, and am hoping the nurses will allow us to do us. Hospital rooms can be so dreary, and since we're having a scheduled c-section, I know we'll be there for a few days. It would be great to welcome our guests with the adorable wreath as they come to greet us and meet Sabine for the very first time. Once we're home, and settled in, I plan on using the wreath as part of Sabine's nursery decor. It's too cute not to!
Take a look at some of Terri's other gorgeous custom designs...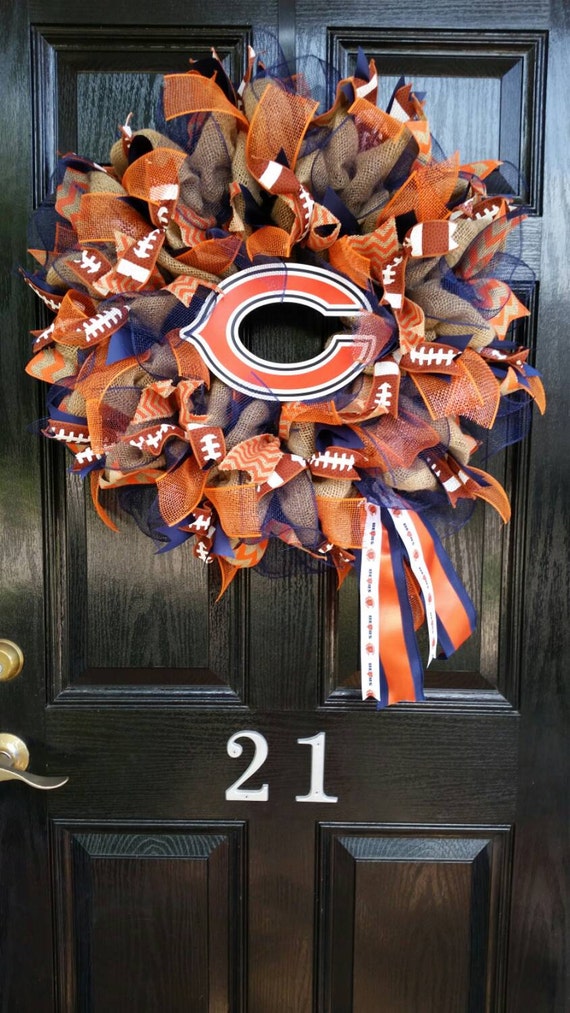 Chicago Bears Wreath (my grandfather-in-law would love this!)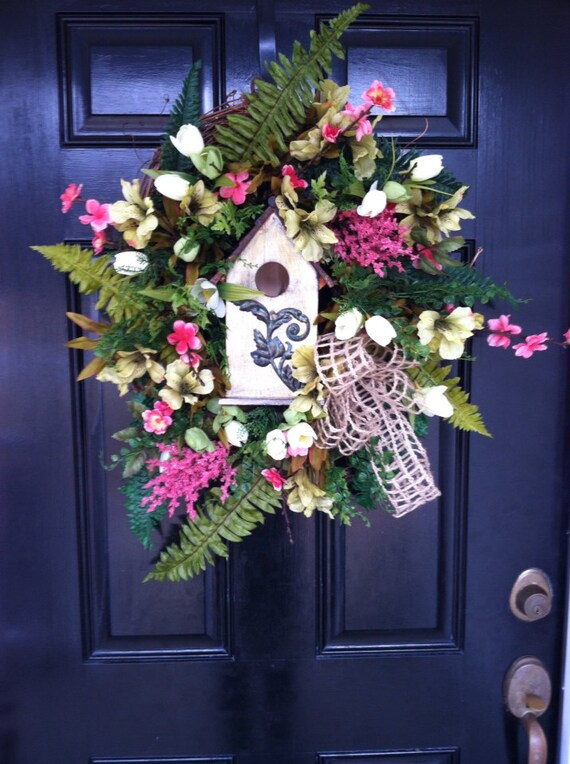 Birdhouse wreath (so beautiful!)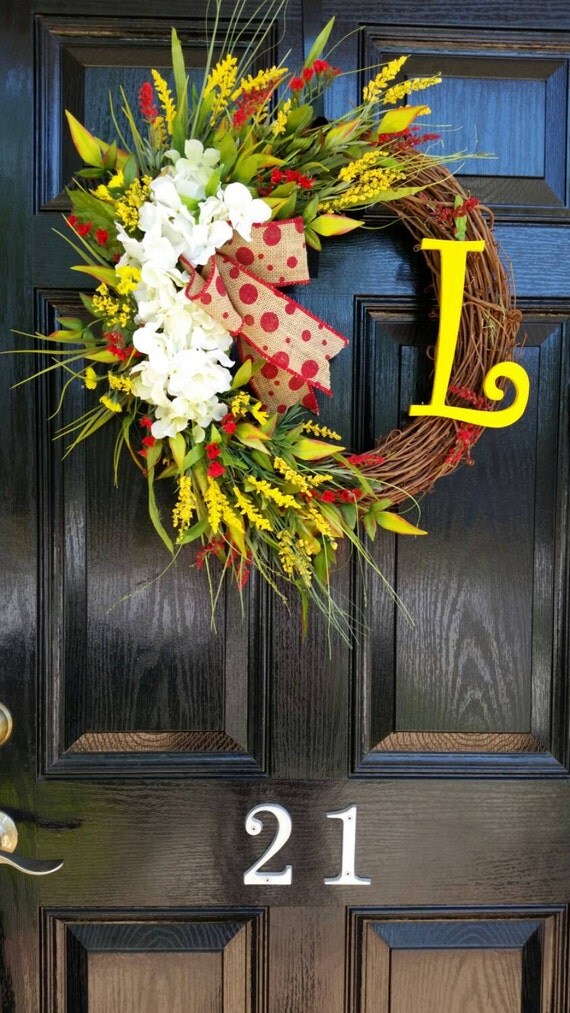 Summer wreath with initial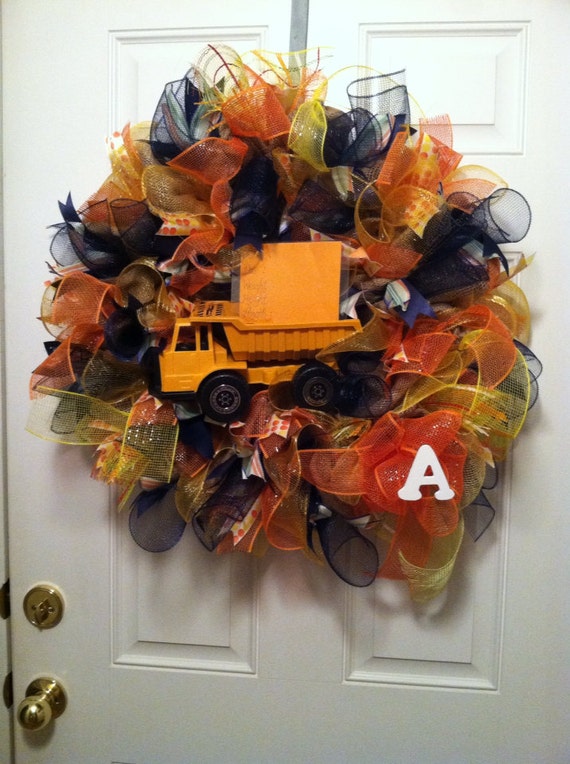 Boy's room wreath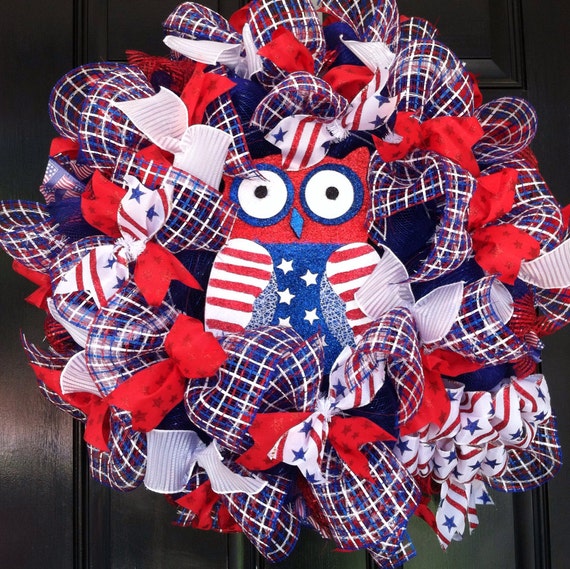 Patriotic wreath
Terri's wreaths go well above and beyond wreaths you'll find in stores. They are more than wreaths- they are pieces of art that make a beautiful, welcoming focal point in any home, office, classroom, etc. As we gear up for wedding and baby shower season, I would highly recommend contacting Terri if you are looking for a beautiful
wreath
or
floral arrangement
for your event. Not only are the designs just stunning, Terri uses quality materials that are going to 'wow' others, and are going to last.
Looking for a unique gift, or want to add a special touch to a fun party? Check out Design Twenty Nine SC, and connect with Terri. Remember- she'd love to work with you on a custom design to suit your needs.
Want one? Get one!
$25.00 Shop Credit Giveaway
One lucky MBP reader will win a $25.00 Gift Certificate (shop credit) to Design Twenty Nine SC! This giveaway is open to US residents, 18 and over. Just use the handy RC entry form below to enter for your chance to win! MBP is not responsible for prize fulfillment. Please see our policies page for details.
Special thanks to Terri Hall of Design Twenty Nine SC for allowing us to review and share about this beautiful wreath, and for offering this special giveaway for our readers.