The Rescue Bots Return For More Excitement!
TRANSFORMERS RESCUE BOTS:
Bring Home the Adventures on DVD May 12, 2015
Everyone's favorite emergency first responders — Chase, Heatwave, Blades and Boulder — return for five new adventures with their Griffin Rock friends, the Burns family! And this time, they're joined by iconic Autobots like Bumblebee and, of course, the greatest leader of all time: Optimus Prime!
This heroic collection of Transformers: Rescue Bots will be released on DVD on May 12, 2015 from Shout! Factory Kids, in conjunction with Hasbro Studios. Featuring five exciting episodes that the whole family can enjoy, this DVD is priced to own with a suggested retail price of $14.93.
Executive produced by Jeff Kline (TRANSFORMERS PRIME), TRANSFORMERS RESCUE BOTS features the vocal talents of LeVar Burton (Star Trek: The Next Generation), Lacey Chabert (Party of Five), Steve Blum (TRANSFORMERS PRIME), Maurice LaMarche (Emmy® Award winner for Futurama) and the legendary Peter Cullen who voices OPTIMUS PRIME when he makes cameo appearances in the series.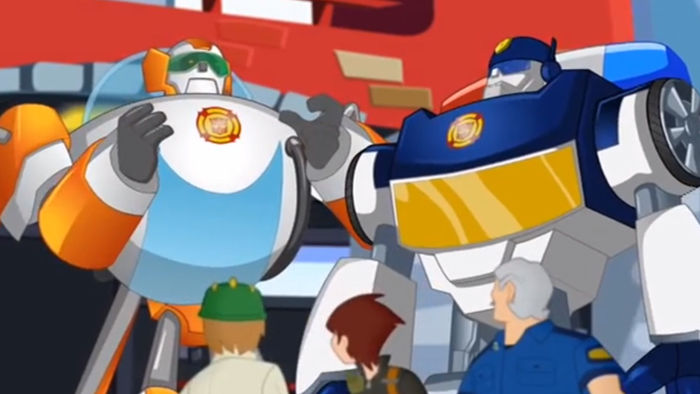 Episodes Include:
Bumblebee To The Rescue
Bot To The Future
A Virtual Disaster
Changes
Rise Of The Heroes
Our Thoughts...
The Bots are back and ready for action! B is a huge fan of Transformers Rescue Bots. For a while, I thought we were going to have to re-do his bedroom to incorporate these heroic bots. The Rescue Bots stories take place in Griffin Rock, a city that is majorly technologically advanced. B and I actually learn a lot about science and robotics when we watch this show, and he has definitely taken more of an interest in science because of it.
Rescue Bots Return of the Heroes DVD features B's favorite bots- Chase, Boulder, Heatwave, and Blades- bots diguised as rescue vehicles, charged by Optius Prime to live and work among the humans in Griffin Rock. Together with the Burns family, the bots work to keep the peace, and perform rescue mission when needed. Often times the tech goes haywire, and the bots must save the day!
For us, the best thing about this collection or Rescue Bots episodes, is that these episodes feature the return of Bumble Bee and Optimus Prime. Since B is (absolutely) not old enough to see the Transformers films, this is a wonderful alternative. Like a lot of children, B loves Bumble Bee, and thinks Optimus is so, so cool! Peter Cullen (AKA Optimus Prime) makes voice cameos in these episodes, and my husband thinks it is so cool that the original Optimus is included! He gets to share a bit of his love for Transformers with our son, in these age-approprite aniated episodes of a well-loved series.
One of the things that I like and appreciate about the Rescue Bot series, is that it really caters to young children, and refrains from using language in the script that I don't want my child hearing or repeating. There are some suspenseful situations, and there is light humor, as well, which makes it more enjoyable for the adults. Rescue Bots really teaches kids about what it means to be a true hero, and how to work with others as a team, with everyone working toward a common goal for the greater good.
Want it? Get it!
Transformers Rescue Bots Return of the Heroes
is available May 12th, and is available for pre-order for $13.93 from Shout Factory Kids! Get free shipping on your order when you sign up via e-mail!
Want it? Win it!
One lucky reader will win their own copy of Transformers Rescue Bots Return of the Heroes on DVD from Shout Factory Kids! Giveaway is open to US residents, 18 and older- one entrant per household, please. Just use the handy RC entry form below to enter for your chance to win! This blog is not responsible for prize fulfillment.
Special thanks to our friends at Shout Factory Kids for allowing us to check out the latest Rescue Bots DVD & for offering this exciting giveaway for our readers!