We're gearing up for Easter, and one of my favorite traditions as a child, was shopping for a new Easter Sunday dress with my sister, and parents. We'd wind up all dolled up, decked out from head to toe in lovely white or floral prints, with little gloves, ruffle socks and white dress shoes. It's not surprising that as an adult, I still love to have something special to wear for Easter Sunday. It's one of my favorite days of the year- such a joyous celebration! I love to show up to church wearing a lovely, traditional style dress, in pretty spring colors, but the past few Easters, my outfits have sort of fallen flat.
When I happened to be doing a little dress browsing not too long ago, I found
Rysa Ruth Designs
, a lovely boutique style Etsy shop. Rysa is a fashion management student at NC State University, and hails from Tallahassee, FL. Rysa's mother, Wanda, is a retired professor of fashion design at Florida State University. Together, these two ladies know quite a bit about fashion! Rysa has spent some time learning how to sew, put her head together with her mother, and have decided that dress-making is their niche.
I actually fell in love with several of the designs I saw from Rysa Ruth Designs, and was thrilled to connect with Wanda, Rysa's mother. I thought their beautiful
Lola Seersucker Dress
would be a gorgeous selection for our Spring Style Guide, so Wanda and I worked out a few details regarding sizing and color, and before I knew it, that beautiful dress was on its way to my house!
Lovely green seersucker!
I told Wanda that I wasn't picky over what color seersucker she decided to send to me. I just wanted something springlike. She surprised me by sending a newer addition to their seersucker colors- this pretty green shade! I love green, and think it's a pretty combination.
Add a pink sash, and it's even prettier!
Here's a quick peek at the entire dress, laid out on my dining table.
I fell in love with this dress, because of it's classic design with a charming twist. I love the seersucker fabric. It's so light and pretty for springtime and summer, and I've been a fan of dressing my son in seersucker for quite a while! I knew the dress would be a nice fit for me, because the length looked wonderful. Wearing dresses and maneuvering in them when you have kids can be tricky, so dresses that give me room to move and proper coverage are perfect, in my book!
My Lola dress came with a hot pink fabric sash, personalized with a fancy 'W'.
I love the font used for the 'W' on the pink sash- so pretty!
I was eager to try the Lola dress on, to see how the fit was for me. I asked for a size Small, and was happy that the dress fit nicely. I didn't have to worry about the arm holes being too tight- they were just right. The skirt of the dress comes right to my knees, which is my preferred length. I was able to pair the dress with a low heeled sandal and still feel very comfortable wearing it.
A perfect length, and perfect look!
The ruffle around the collar of the dress is so much fun! It actually has a lot of give, and can be moved or positioned the way you like it. You can turn the top ruffle up toward your chin, or press both ruffle layers down... make it your own! It's probably going to take me several tries to get the sash just right. Eventually, I'll get it to look like the original photo of the Lola dress... I just need a little bit more practice! There aren't attached loops to hold the sash up, however, you can wear the sash any way you like. It's a long sash, so you may want to double it up, which is what I plan on doing when I wear it for Easter!
A pretty pink sash adds a pop of color and modern flair to this classic look.
Versatility is key- the dress is also gorgeous, without the sash.
My husband really loves this dress, and so do I. He knows that this 'Jersey Girl' loves southern style, so this dress is quite fitting for my personal taste. I am hoping that the weather will be nice and warm for Easter, because I don't want to have to wear a sweater with the Lola dress, although I suppose a lightweight white sweater would be okay with it.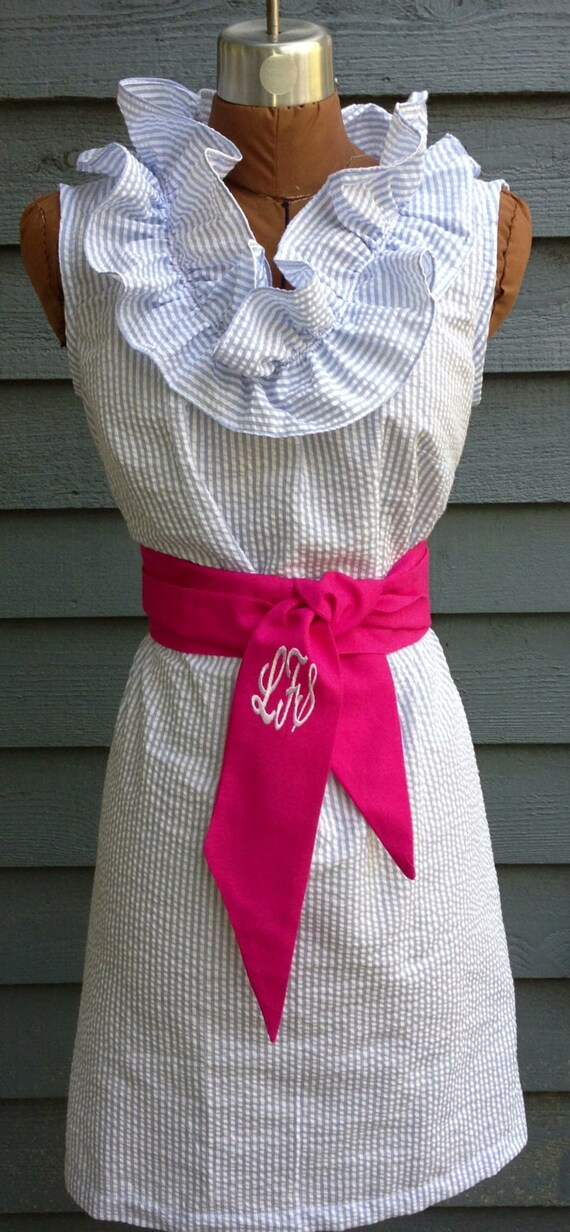 Features of the Lola Seersucker Dress by Rysa Ruth Designs
*Seersucker, flirty neckline ruffle, choice of colored monogrammed belt
*The drop down box when you order is to indicate the seersucker color
*Please indicate belt color and initials in the comments to the seller as well as the font you wish. If you do not indicate font then you will receive the Fancy font.
*We will hem to order so let us know your preferred length ( measure your favorite dress from shoulder to hemline).
*BLUE is BACK-ORDERED UNTIL April 15
The dress is not lined, which makes the fabric pretty thin, so I would recommend a slender full slip underneath, which is what I put on. I'm looking forward to wowing everyone with this beautiful dress for Easter, and then enjoying wearing it through the summer. I think it's the perfect dress to wear to a garden party, baby or bridal shower, and even an outdoor spring or summer wedding!
Check out even more of Rysa Ruth's beautiful designs!
Ruffle Racerback
Gorgeous cross front and tie dress
One shoulder & other styles...
Rysa Ruth and mom Wanda are so incredibly talented! Their designs are truly unique and flattering! It's no wonder that Rysa's friends are wearing their designs. These dresses are so lovely, giving women an elegant, classic yet modern look with a little hint of southern charm mixed in! Adding a monogrammed personalized sash to the dresses just gives them that little hint of trendiness that everyone wants to be wearing these days!
I can't wait to tell all of my friends where my beautiful
Lola Dress
came from... I know they're going to ask! I'd love to see them all wearing their favorite dress styles from Rysa Ruth Designs, as well! If you're looking for a special gift for Mother's Day, any one of these dresses fom Rysa Ruth would make a great gift choice!
Head on over to
Rysa Ruth Designs
on Etsy, to browse even more beautiful dresses! You can also connect with
Rysa Ruth on Facebook
to stay up to date on the latest and greatest from Rysa Ruth, and to see more photos of Rysa and Wanda's designs!
Special thanks to Wanda and Rysa Ruth for allowing me to experience and share about the beautiful Lolita Seersucker dress. It has quickly become a favorite of mine & I hope my other dresses won't be too jealous of it!