It's my favorite time of year! It's getting downright cold outside, and that makes me want to sip on a warm beverage all day long! From coffee in the morning to tea or hot cocoa in the afternoon, I love a nice warm cup of something to warm me up. Even after dinner the other night, I was surprised that I wanted a cup of tea. Whatever your warm beverage preferences may be, sometimes having a wonderful. special mug to sip from makes your experience even more special!

I was very excited to connect with Elly, owner of
Butterfly Ghost
on Etsy. Elly is a talented desiger who prints beautiful handmade designs on mugs, for all to enjoy! Elly's designs are fun, vibrant, and even on trend, featuring stylish colors and patterns, as well as beautiful monograms in every color you could possibly imagine!
Elly offered to design a mug, just for me, and I had a lot of fun browsing all of the designs in her shop. I actually wanted an 'MBP' mug, to use while I work, and by browsing through the pre-made designs available from Butterfly Ghost, I could choose colors that sort of went along with the MBP blog color scheme, and matched the whimsy of our template design.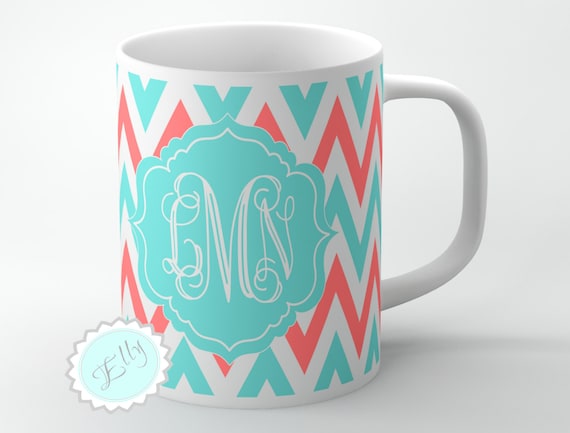 My selected design- Coral and Tiffany Blue Chevron Print with gorgeous Blue and White monogram...
Elly got to work customizing the monogram on the mug to read 'MBP' for Mommy's Block Party. I figured I might as well sip in style when working on all of these fabulous holiday reviews and giveaways! Within the same day that I sent my design selection to Elly, she had completed her work, and sent me an image proof to approve before printing it on the mug. After I approved the design, Elly quickly set to work to print the design on the pretty high-gloss mug, and then shipped it off to my house! Icouldn't wait to see it!
Here I am, in my kitchen, showing off my new mug!
Sip, sip, sip from my pretty new mug by Butterfly Ghost.
Now, there's something you need to know about me. Number one, I can't do much of anything before I have that first sip of coffee in the morning. If you're around me, and I haven't had my coffee, you'll just have to ignore my crankiness until I take a few sips. My family can attest to this. Number two, I am addicted to collecting mugs. I love mugs of various shapes and sizes, but for some reason, the classic style mugs, like this one from Butterfly Ghost are always my favorites. They're just the right size- not too big and not too small, and my hand fits into the handle just perfectly!
I love this pretty mug- can you tell?
Don't be jealous of my mug- you can have one, too!
I am being extra careful with my
personalized mug
from Butterfly Ghost... I love it! It puts a smile on my face to drink from it, and the monogram reminds me of all the work I have poured into the MBP blog over the past three years. Some days, it's that hard work from the past that keeps me going, and looking toward the future of Mommy's Block Party. This mug is microwave and dishwasher safe, so you can sip from it one day to the next!
Elly's designs are so unique and fun. I'd love to have a whole bunch of designs from her collection! Check out some of my favorites from Butterfly Ghost...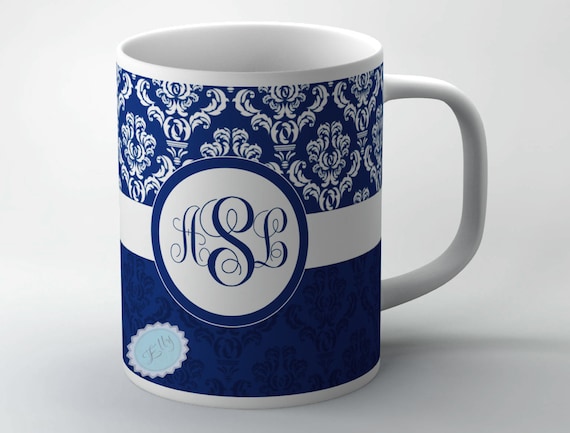 So elegant!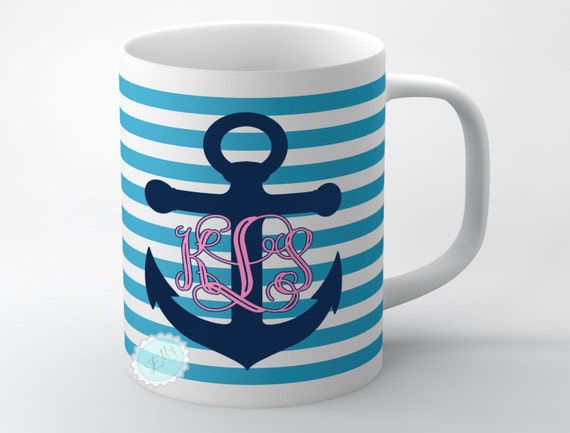 My sister would love this one!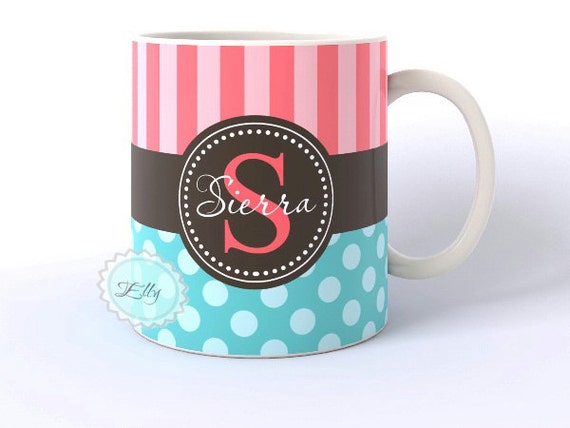 Adorable!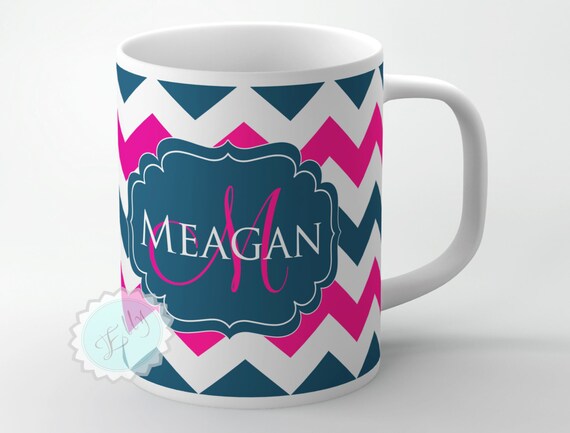 Lovely!
These mugs can be personalized to your liking with monograms, sorority of fraternity letters, little messages, etc! Think of what wonderful gifts these mugs would make for a friend, loved one, co-worker, teacher, or just about anyone you'd like to show appreciation for this holiday season! Getting married sometime soon? How about some custom mugs to give as gifts to your bridal party? Working on a fundraiser, like Relay for Life? Why not gift these to your team, or order a whole bunch for fundraiser items? Of course, you could just order a mug for yourself, too! These mugs would even make cute stocking stuffers for adults and older children this season!
Don't delay! Head on over to
Butterfly Ghost
on Etsy to browse all of Elly's cute designs, and order your mug(s) today! Please be sure to get your order in ASAP if you'd like to have it in time for holiday giving!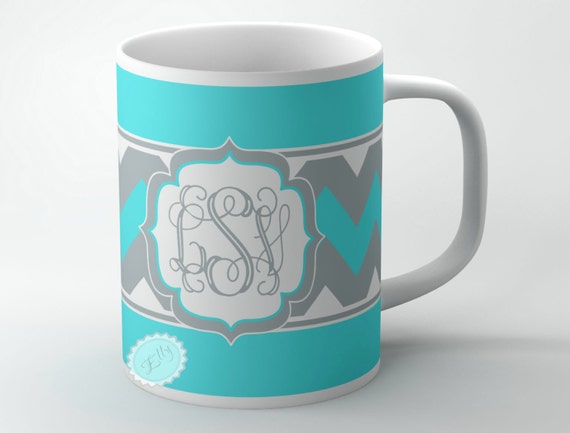 One lucky reader will win their choice of mug with their monogram from Butterfly Ghost! Just use the handy Rafflecopter entry form below to enter for your chance to win! Giveaway is open to US residents, 18 and older.
Special thanks to Elly of Butterfly Ghost for allowing me to review a very special mug, and for offering this wonderul holiday giveaway to our readers!