Part of Balian's 3rd Birthday Bash
No party is complete without a myriad of delectable offerings for your guests. When we party it up with our little man, we usually forego the typical cake and ice cream, and instead have a sweets table, where we offer a chocolate fondue station, cookies, treats, fruit, and even sweet favors to take home! This year, we had some wonderful treats to share with our friends, which they could enjoy while they were celebrating with us at the party, or take home and enjoy later!
I was fortunate to connect with the uber talented and simply sweet Darys Avalos of
Sophie's Chocolate Creations
. Darys is a busy wife and mom, who has a passion for creating delicious looking and tasting sweet treats that will leaving you longing to taste them, but not wanting to, because they are so adorably decorated! Darys hails from San Diego, California and makes everything from cake pops and chocolate covered cookies, to brownies and mini cheesecakes. Let's just say that Sophie makes just about all of my favorite sweets, and it's probably a good thing that I don't live near her, or I might be ordering from her all the time!
Sweet Darys created several treats for Balian's Disney CARS themed party, and sent them to NC all the way from CA! Of course, when sending chocolate anything through the mail, one worries about melting and such. Darys tooks care to package the treats so the they wouldn't get melty, and when they arrived, they were safe and sound!
Our package of treats from Sophie's Chocolate Creations was protected by bubble packaging, and gel packs to keep the treats at a desirable temperature during shipping.
Coolest little gels packs I've ever seen!
Darys was sweet enough to send us 20
CARS themed chocolate covered Oreos
. The chocolate was colored- red, brown and yellow, in matching Lightning McQueen and Tow Mater colors. Darys sent us a mix of cookies topped off with sugar characters of Lightning McQueen and Mater, and then the rest of the cookies were decorated with chocolate 3's to signify Balian's age. She also sent along some of her business cards, which we set out at the party for our guests.
Our big package of cookies from Sophie's Chocolate Creations!
Not only did the cookies look festive and stunning, because they were so aorably decorated, and matched our party theme exactly, it was hard for both Balian and myself to keep our mitts off of these treats, knowing they were covered in delicious chocolate. I didn't dare tell my son that underneath that chocolate, laid yummy Oreos.. his favorite 'blue cookies' of all time.
Special tags on each and every cookie!
Darys wrapped each cookie treat individually, and added a special 'Thanks for Coming!' tag with a bow to each little bag. This way, if our guests were too full from the party food to have a cookie at the party, they could grab one of these as a thank you favor on their way out the door. They looked so cute, and I couldn't wait to set them out at the party for our guests to see, taste and enjoy!
Our tray of treats at the party...
These cookies look so sweet and yummy!!
On the day of the party, we put the cookie favors out for our guests, and I had so much fun watching everyone's reactions to these cookies. I happily let them know that not only were they beautifully decorated, they were in fact
chocolate covered Oreos
. My sister in law noticed the edible gold sparkles dusted onto the chocolate and just about fell over... she loves sparkles. Not only did the adults think these were adorable, the kids at the party couldn't wait to get their hands on these cookies! They loved seeing their favorite CARS characters on the cookies, and when they bit into them, their eyes widened with delight when they discovered the Oreos!
'All for me!'
'Yum!'
Balian was in absolute heaven when he tasted his first cookie from Sophie's Chocolate Creations. We had just a few left after the party, and B and I saved them for a special mommy/little man date and enjoyed them with a glass of milk one afternoon. The cookies are so deliciously rich, that I couldn't eat more than one in one sitting. The Oreos were still as fresh tasting as if they'd just come out of a sealed package, and the chocolate was oh, so good! Balian's response to these was 'Yum-eeee!'
Darys is extremely talented, and has a treasure trove of delectable treats just waiting for you! Take a look at some of her other treat specialties...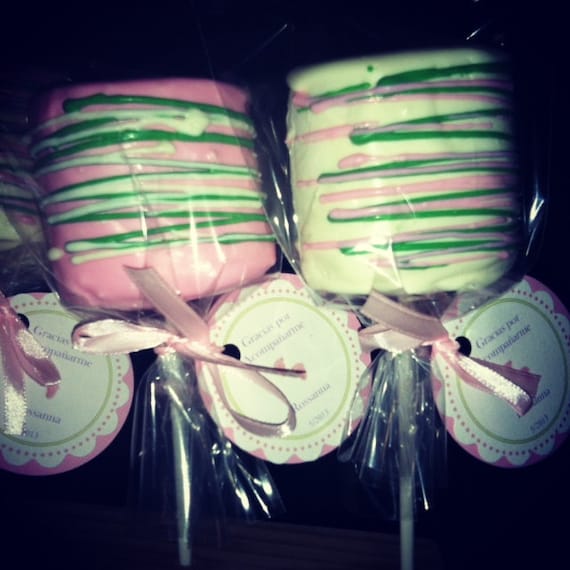 Chocolate Covered Marshmallow Favors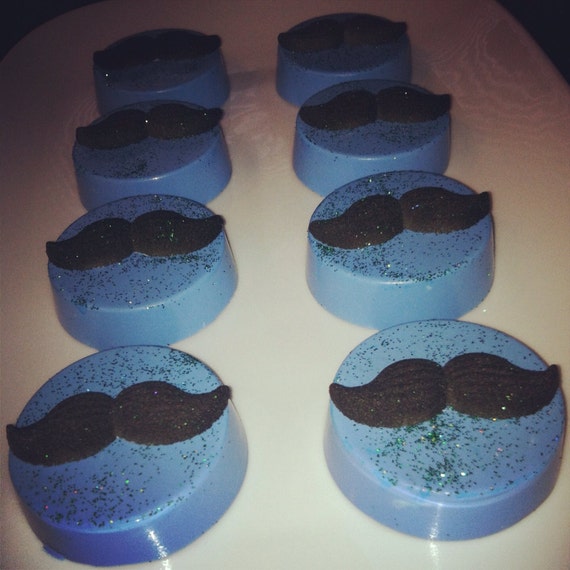 Mustache Chocolate Covered Oreos
Cupcake Cake Pops
Jack Skeleton Cake Pops (These are so cool!)
'Thank You' Treat Boxes
We really can't thank Darys enough for sending us those wonderful treats to serve and share at Balian's party. They definitely added to our the fun and excitement of our day, and went right along with our party theme! Our guests were talking about those
cookie favors
from the moment they saw them until they were ready to go home. Balian had fun helping me hold the tray of treats as our guests were leaving, and telling his friends to take another one for the ride home!
If you're planning a special event, like a party, shower, a special celebration, or you'd just like to surprise a friend or loved one with a special treat, you'll definitely want to take a look through Dary's photos of past creations to see what she can do! There are a ton of photos on the Sophie's Chocolate Creations Facebook page, so be sure to look through them to really get a good idea of just how talented this wonderful lady is, and to see what she might be able to create just for you!
Darys is offering MBP readers 10% off all orders from Sophie's Chocolate Creations through December 31, 2013! Just mention MBP at the time of order placement! These treats would make wonderful additions to your Thanksgiving tables, or your holiday parties, as well as make wonderful gifts! Head on over to
Sophie's Chocolate Creations
on Etsy and have a look around, and don't forget to connect with
Sophie's Chocolate Creations on Facebook
and look through all of the beautiful photos of Dary's work! Darys will be standing by to take your order and answer any questions you may have!
Special thanks to Darys of Sophie's Chocolate Creations for sending these treats to us and for helping to make Balian's party so memorable!