Part of Balian's 3rd Birthday Bash
It seems as though I have been celebrating my son's birhday all month long. Even though we had the party two Saturdays ago, we're still receiving little cards and surprise gifts in the mail for Balian, so it's like the party hasn't ended yet. We still have a few leftover party treats, and since Balian's entire bedroom is decked out in Lightning McQueen (and his pals) decor, just walking into his room is like stepping into a themed party. Just turn on some music, and we're good to go! One of the wonderful things about some of the folks we work with when we do special themed features for B's birthday, is that a few of the items we are sent stay with us long after the party is truly over.

As I searched for the most stand-out, adorable handmade Disney Cars themed items, I ran across
Adhu Creations
, owned by Mini Keyan. Mini is sort of a neighbor of mine, as she hails from Charlotte, NC- just about forty minutes down the road from me. Mini is a hardworking mom to a little boy, and loves crafting. She was able to turn a hobby into a business by opening her own Etsy shop in 2012, after having designed her own party decorations for her son's birthday party. She felt inspired, and in turn, decided to share her creative spirit with the world!
Mini and I connected and chatted a bit about what I was looking for, in regard to my own son's birthday party. I saw that Mini had created the most adorable hand decorated letters, spelling out names, decorated in a particular theme. There was a listing for a
Disney CARS themed letter set
, and I was going crazy over them, because they just looked so darn cute. After a bit more conversation, Mini sweetly agreed to make us a set of letters to feature at Balian's birthday party!
Disney CARS themed letters spell out Balian on the mantle at B's party...
I knew that these letters couldn't be created in a day, so when Mini was all finished crafting these individual letters for Balian, she sent them to us in a big box, nicely packaged. Each letter was individually wrapped and sealed in a clear plastic/cello bag for their protection during shipping. Plus, it made me feel like I was opening a present. We decided to display the CARS themed letters on the mantle in the living room during the party, because that's where the most traffic would be, and where we would all congregate to enjoy Balian opening his gifts.
An even better shot of the letters, spelling BALIAN, and how we're now displaying them at home in B's room!
Everyone at the party was so impressed with these letters! All of the women, especially, wanted to touch and feel them and see if they could figure out just how these were made, because they thought it was such a neat idea. The person who offered to craft and send us a birthday banner for the party wound up not sending it, but as it turns out, we didn't even need it... these letters really stole the show!
B- I love the bright red, and the Lightning McQueen details!
A- Decked out and made to look like McQueen's rival, Chick!
L- Beautiful Dinoco Blue, for Mr. 'The King'.
I- Covered in black & white checkered paper with some great McQueen & CARS embellishments!
A- Made to look like Doc Hudson...
N- Who could leave out the loveable pal, Tow Mater, who happens to be one of B's favorite characters!
I love these letters! They were the perfect way to dress up the mantle at the party, and saved the day, since we wound up with no birthday banner. They look so cute in B's room at home, too! They are sitting atop the molding around the door frame, and can be seen as soon as you walk into his room. It fits the decor perfectly, and everyone thinks they're so neat, cute and cheery! I thought about displaying them on top of B's dresser, but I know he'll want to play with them, and some of the paper details on these letters are very delicate... I'd hate to see them ripped or desroyed, so they'll stay out of B's reach for now.
Just to give you an idea of how thick the letters are. They do stand on their own, but it helps to have something behind them to support them or keep them from falling over.
Mini puts an incredible amount of detail into each and every letter she creates, which is pretty obvious. If I had to pick my two favorite letters out of this bunch, I would be the N, which is decorated like Tow Mater, and the A that's decorated for Chick. They all look amazing, though- you almost have to see them in person to truly be able to appreciate Mini's hard work and creativity!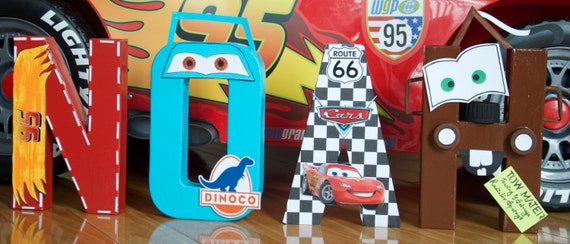 Features of the themed letters from Adhu Creations
It can be customized for any name with various disney characters of your choice. Each letter measures 8" in height approximately.The letters are made of supreme quality cardboard like material. It is hand painted by me and designed accordingly! The letters can stand on their own or can be hung on walls in the nursery. They add decor and dimensions to any party or room.
Like the CARS themed letters?
Take a look at some of the other designs available from Adhu Creations...

Butterfly Themed Letters

Disney Characters Letters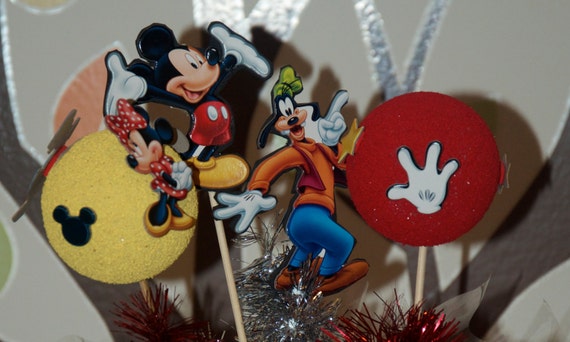 Mickey Mouse Table Decorations
We love our adorable letters, and they were a huge hit at the party! As long as B remains a CARS fan, we'll be displaying these letters in his room for all of our friends and family to enjoy... and most of all, for Balian to enjoy! It's one of those special decor touches that makes his bedroom unique, and puts a big smile on his sweet little face, every time he sees them! We can't thank Mini enough for creating these very special letters for Balian, and for making our birthday celebration extra special, as well!
You can head on over to
Adhu Creations
on Etsy to browse all of Mini's cute designs, and to start a convo about an order for your own custom letters set! They're the perfect addition to any celebration, can be totally customized to your liking, and can be enjoyed well after your event. They're also perfect for everyday home decor, for you child's bedroom, or your little one's nursery. Mini often offers special deals through her Facebook page, so be sure to swing by and like
Adhu Creations on Facebook
!
One lucky MBP reader will win their own set of 10 Mickey or Mini Mouse Cupcake Toppers from Adhu Creations to use at home, or for their next event! Just use the Rafflecopter entry form below to enter for your chance to win! Giveaway is open to US residents only, 18 and older.
Special thanks to Mini of Adhu Creations for helping to make Balian's special day so super wonderful, and for offering this fun giveaway for our readers!