Part of Balian's 3rd Birthday Bash
One of my favorite things about planning and hosting a fun party (for any occasion), is decorating. I love seasonal decor, so it should come as no surprise that I also love themed party decor. When Balian asked for a Disney CARS themed party for his birthday, I became excited about the decorating possibilities.
The first thing a party guest sees at the party, is the entrance to the party. So, I thought it would be appropriate to have a
welcome to the party sign
on the front door, for a couple of reasons: 1) It lets gets know they're at the right location, and 2) It's just super fun and festive, not to mention welcoming.
I was so pleased to connect with Lizette Mendez, owner of
Lizette's Party Designs
. Lizette is a mommy to two boys, and is a wiz when it comes to crafting beautiful paper designs for parties and special occasions! From banners to door signs and even cupcake toppers, Lizette's paper crafting hobby has bloomed into a business she loves. Lizette kindly offered to customize a special welcome sign for our front door, to display for Balian's birthday party. I simply told Lizette our party theme, gave her a few details, and her creative wheels went to work to create a design just for our celebration!
Our pretty package from Lizette's Party Designs!
Our package containing the welcome sign for Balian's party was all wrapped up in brown paper, and tied with a pretty pink bow. I absolutely love packages that are tied up with pretty ribbon! There was also a 'thank you' note with the package, which was a lovely added touch!
Protected to keep it from bending...
Our welcome sign was wrapped in bubble wrap. Lizette really goes the extra mile to make sure that her creation isn't damaged during shipping. Hate to say it, but I have received many a bent paper item in the mail before, so this was great.
Added protection by cardboard...
The actual welcome sign for the party was sandwiched in between thin cardboard pieces, which were cut to fit the width of the party sign. The edges were taped together, so the sign wouldn't slip out and move around during shipping/handling. I was truly impressed by all of the measures taken to try to prevent any damages to the item sent. I couldn't wait to see the welcome sign, so I carefully cut through the tape and lifted back the cardboard for the big reveal...
...ta da! Look at this adorable welcome sign!
The
Lightning McQueen welcome sign
was made to look like a LightYear (cute, right?) tire. The center was a white background with a racing Lightning McQueen car, smiling and welcoming everyone to Balian's Speedway. 'Happy 3rd Birthday' appeared printed underneath Lightning McQueen. The hanger for the sign, was a cute red ribbon with white pin dot trim, tied on to make a loop hanger.
The perfect way to welcome party guests to B's birthday bash!
The party sign measures 11", and can be personalized to your liking. I loved the way Lizette designed our welcome sign, and couldn't wait to hang it on the front door for our guests to see and enjoy the day of Balian's party! We didn't do a whole lot of decorating outside the day of the party, because there was a threat of rain, so this was the perfect decoration for the door, covered by the roof of the front porch.
Our guests were so surprised when they arrived and saw the super fun welcome sign on the front door, welcoming them to B's party and the fun festivities we had planned for them!
Lizette can create just about anything your heart desires!
Take a look at some of her other crafty creations...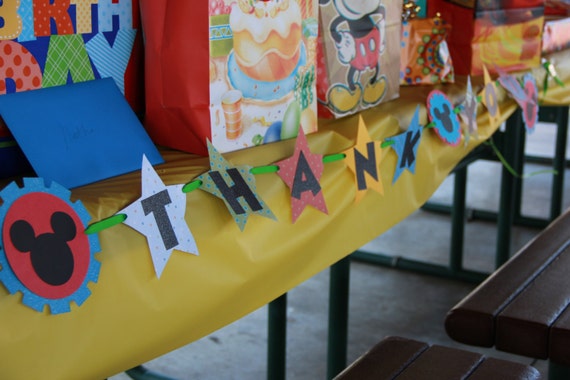 Mickey Mouse Club House Inspired Banner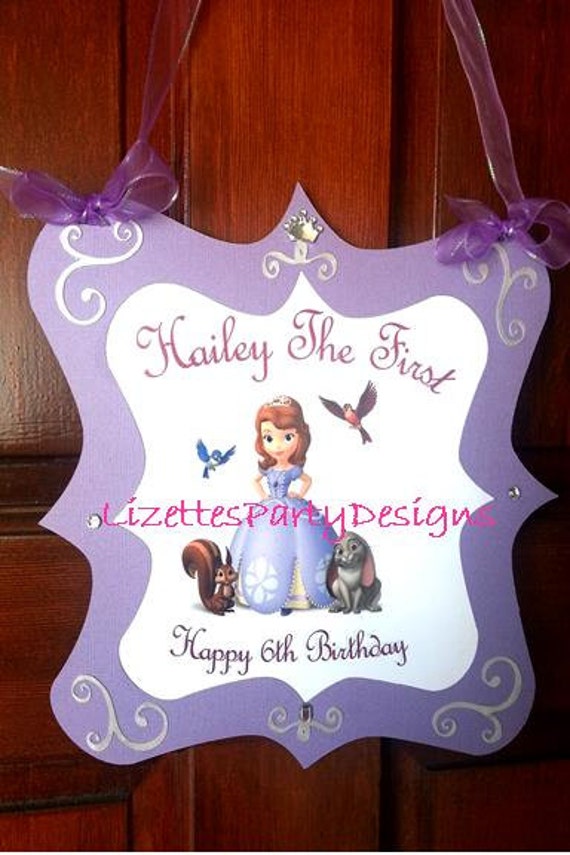 Sofia the First Welcome Sign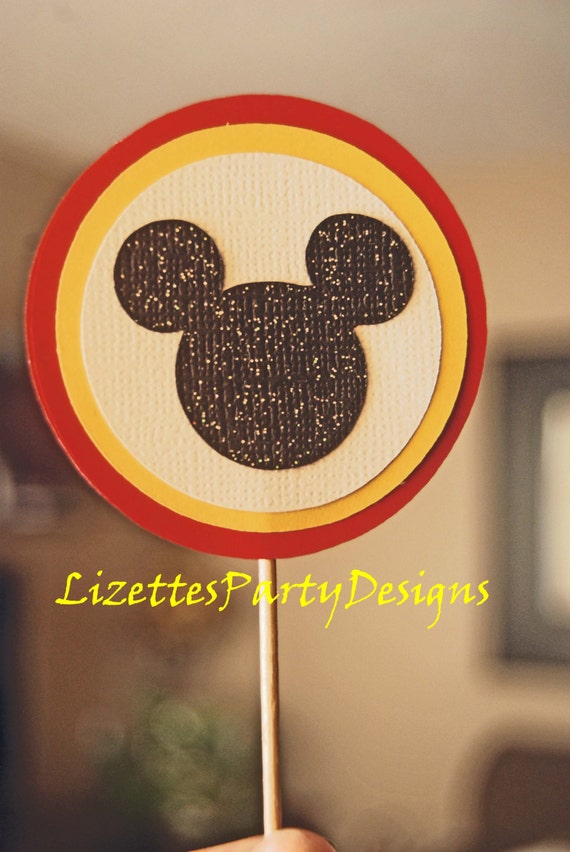 Mickey Mouse Cupcake Toppers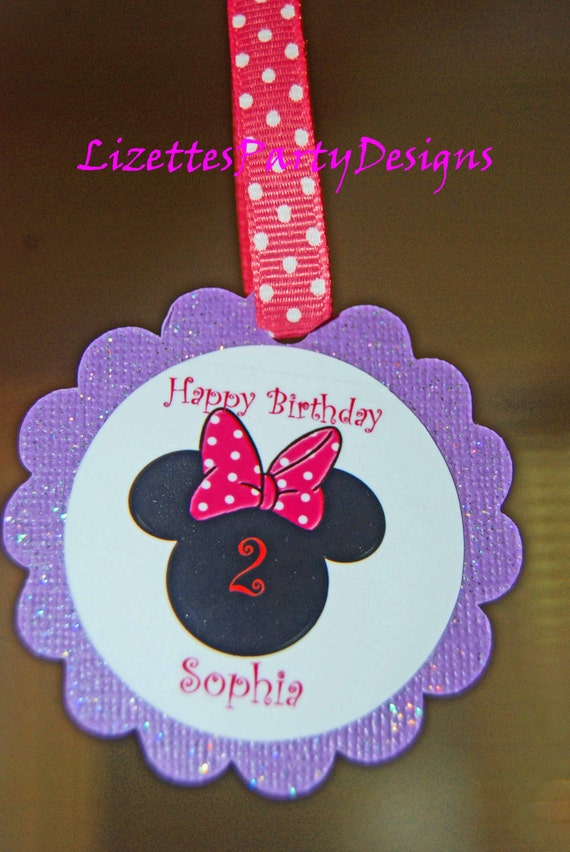 Mini Mouse Tags
If you're planning a special celebration, don't forget to grab some beautiful handmade party decor and more from Lizette's Party Designs! Don't forget- Lizette can customize a design, just for you, so it'll fit within your party theme! Just let her know what you're looking for, and she'll be glad to work with you on a special design! Our Lightning McQueen welcome sign set the tone for a winning party, and we can't thank her enough!
You can find even more fabulous party decor designs over at
Lizette's Party Designs
on Etsy! You can also connect with
Lizette's Party Designs on Facebook
, where there are even more designs for your perusing pleasure! Like what you see? Send Lizette a message or leave her a comment! She'd love to hear from you!
One lucky MBP reader will win their choice of a handmade themed party door sign from Lizette's Party Designs. Be sure to check out Lizette's facebook page so you can see even more designs than the ones showcase through her Etsy shop. Giveaway is open to US residents, 18 and older. Just use the Rafflecopter entry form below to enter for your chance to win!
Special thanks to Lizette of Lizette's Party Designs for creating this special party welcome sign just for us, and for offering this awesome giveaway for our readers!