Part of MBP's
Here at MBP, we love to celebrate Halloween. The holiday is still several weeks away, but we wanted to bring you all some wonderful Halloween themed decor and celebratory products to get you in that kooky, spooky mood! I personally love Halloween, and am counting the few days left of September, because I cannot wait to bring out my Halloween decor! Some of the folks in my neighborhood love Halloween as well, and I saw one of the lovely old homes down to road from us completely decked out, on my way to church yesterday! Seems like everyone is ready to get into the Halloween spirit!

I went searching for some fun
Halloween decor
additions that will tie in nicely, no matter what your decorating skill level. Adding cute accents for the holidays can be a lot of fun, and something the whole family can enjoy! I was able to connect with Pam Stocker, owner of It's Just Frankly Kute, an adorable Etsy shop, offering all sorts of whimsical, handpainted decor items for the seasons, and more! Pam is multi-talented, and if you take a peek into her shop, you will find painted glassware, painted canvas, appliqued wall hangings, crocheted bags, fabric bowls, and more! Pam is just plain crafty, and it seems to come pretty naturally!
I fell in love with Pam's shop, and she kindly offered to send me one of her too, too cute
handpainted decorative plates
for Halloween! Pam went above and beyond with taking extra care to really package the plate well- in blubble wrap and newspaper, and was specific with the postal service on how they were to handle the package. I think she and I were both a bit nervous that the plate would arrive in one piece, but it did!
Here's my package from It's Just Frankly Kute with the review plate and the giveaway prize!
The plate itself is an 11 inch green ceramic plate, with a light glaze. The decorative design on the plate is Pam's own design, featuring a handpainted Halloween scene, which includes a Halloween tree, orange moon, cute ghosts peeking out from behind headstones, a black cat, flying bats and a raven. At the top of the plate, a small hand painted print reads, 'Happy Haunting Halloween!'
This cute, spooky design was hand-painted by Pam, herself!
When my husband laid eyes on the plate, the first thing he wanted to do was touch it. He said he thought the design was really neat, and didn't believe me when I told him that it was hand-painted! He said it's one of the coolest
Halloween decor
pieces we now own, and agrees with me that Pam is indeed, quite talented!
Our Halloween Plate, displayed above our sideboard in the dining room...
I haven't pulled out all of my Halloween decor yet, but when I do that in a few days, I already have the perfect display spot in mind for this plate. I want everyone to be able to see it and admire Pam's awesome handiwork when they come into my home! It's definitely a decor showpiece, in my book, and I feel lucky to have one of Pam's original designs!
Pam has a whole lot of other seasonal dcor items available in her shop, It's Just Frankly Kute!
Take a look at some of the other items I'm loving...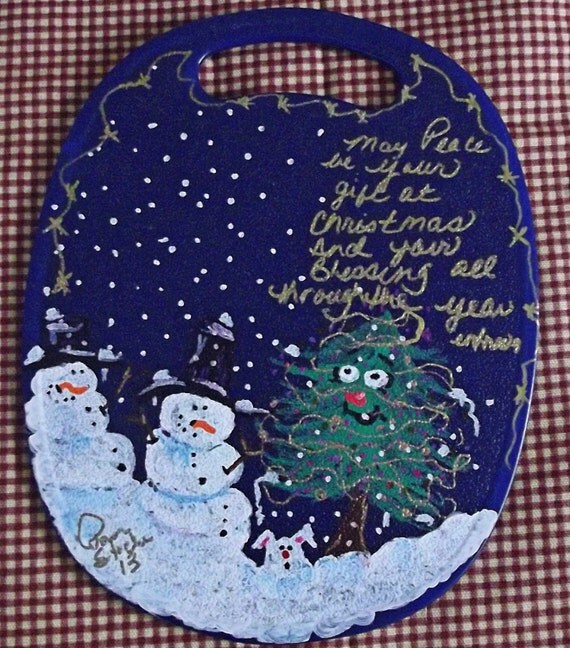 Decorative Holday Cutting Board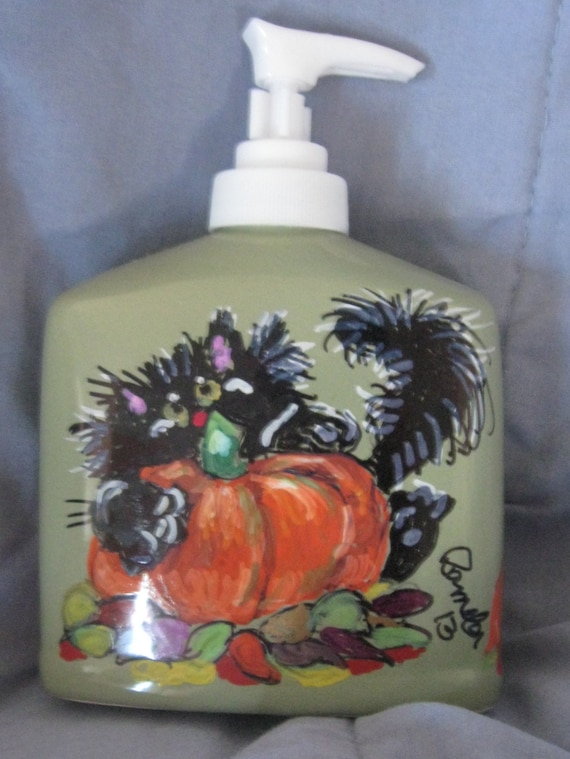 Fall or Halloween Soap Dispenser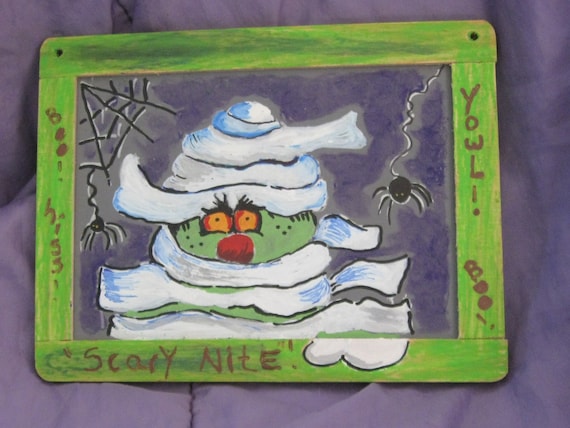 Halloween Wall Hanging- Painted Chalkboard
Looking a lot like Christmas Plate
I think Pam's items are beautiful, and and I can't imagine the patience and steady hand it must take to be able to paint like this! These decorative items would make wonderful gifts for the upcoming holiday season, a fun gift for a new bride, housewarming, etc. I loved receiving seasonal decor for bridal shower gifts, because I love to decorate! Even if you're just looking to add a few new decor pieces to your seasonal collections, stop by It's Just Frankly Kute and see what Pam has created! You'll be so glad you did!
Swing by
It's Just Frankly Kute
on Etsy to browse all of Pam's cute designs! You can also connect with Pam though
Facebook
, and check out her other sites!
One lucky MBP reader will win their very own Halloween Decor item, hand-painted by Pam... a Frankenstein Soap Dispenser! Add it to your powder room, kitchen sink area, etc. It's a great little accent to bring a little Halloween fun to your home without going overboard! Just use the handy Rafflecopter entry form below to enter for your chance to win! Giveaway is open to US residents, 18 and older!
Special thanks to Pamela S. of It's Just Frankly Kute for allowing me to experience one of her lovely hand painted designs, and for sharing this special giveaway with our readers!