I have not always been a lover of my birthstone. I have a January birthday, and my birthstone is Garnet. I don't know why, but I always used to wish it was ruby, emerald or diamond. I never really appreciated my birthstone for its beauty or significance. In the last few years, I have become more interested in my birthstone, its meaning and seeking out beautiful birthstone jewelry.
My friend Madeline Barbeito of
Simply Mad Jewelry
is a cafter of beautiful statement and fashion jewelry, as well as
bridal jewelry
and accessories. Madeline crafts her gorgeous pieces and lives life to the fullest in Japan, and has been a long-time supporter of MBP. We're very blessed to have her in our circle of friends. Afew weeks ago, Madeline asked if I would review a new piece of jewelry, and after reviewing a piece last year, I couldn't say no, because Madeline's designs are simply the best! Madeline wanted to surprise me, though, so I had no idea what she would be sending to me! She did ask what my birthstone was, though, so I figured that my birthstone would play into the jewelry somehow.
I anxiously awaited the arrival of my package from Simply Mad. Getting mail from Japan is so exciting! Madeline always packages her items so beautifully. My little package contained a Simply Mad card with a tiny clothespin and ribbon to match.
My pretty package from Simply Mad... Simply delightful!
When I unwrapped my little package from Madeline, I was pleased to find a beautiful
birthstone necklace
! The gorgeous necklace was comprised of a lovely silver chain- dainty, but not too delicate, which is wonderful for me, because my son still loves to grab necklaces.
Lovely necklace on a beautiful silver chain...
The necklace was a beautiful statement piece, a garnet cushion pendant sat as the focal point of this dazzling necklace. The Svarovski Crystal garnet stone is set in sterling silver, and is cut beautifully! I have actually never been so in love with garnet jewelry before, and a pretty garnet necklace was at the top of my Christmas list, so Santa came early for me this year!
Features of the Garnet Cushion Pendant Necklace
-fine sterling silver chain
- sterling silver clasp
- faceted, cushion cut Swarovski crystal (10mm)
- silver plated bezel frame with beaded detail around the edges
- chain measures 17 inches
This garnet color crystal is every bit as sparkly and rich in color as its natural counterpart. The cushion cut solitaire pendant has a deep wine color which contrasts beautifully with the bright sterling silver chain.
The dark red Swarovski crystal is set in a silver tone, bezel style frame and it dangles delicately from fine sterling silver chain.
Perfect as a gift for a January baby, a gift for mom or simply a treat for yourself!
I've been wearing my new necklace like a mad fool since I got it. It goes with everything from jeans to dresses- casual or dressy. I love the way it sparkles, and love telling people that it's a garnet stone. It's a pretty addition to a little cardigan, a t-shirt and jeans or a Sunday best dress! Here's how I've been wearing my simply beautiful necklace from Simply Mad...
Perfect addition to my red shorts (which you can't see, I realize), a white tee and striped cardigan sweater.
Gorgeous around the neck...
Paired with one of my favorite fall dresses...
Simply casual and classy with jeans and a t-shirt on a Sunday afternoon...
This necklace is a beautiful addition to my
garnet jewelry
collection. It looks lovely with the special garnet bracelet my parents gave to me, the garnet and silver tiny hoop earrings from my husband and son, and the beautiful garnet ring from my grandmother. I now have a complete garnet jewelry collection, and I can't thank Madeline enough for making this beautiful piece of jewelry just for me. I will cherish it, always!
This beautiful
birthstone necklace
is available in all twelve birthstone colors, and you can also select from gold or silver frame settings and chains. Madeline designs such lovely jewelry, perfect for just about any occasion! Take a look at some of her other gorgeous pieces...
Silver Dangle Earrings with Freshwater Pearls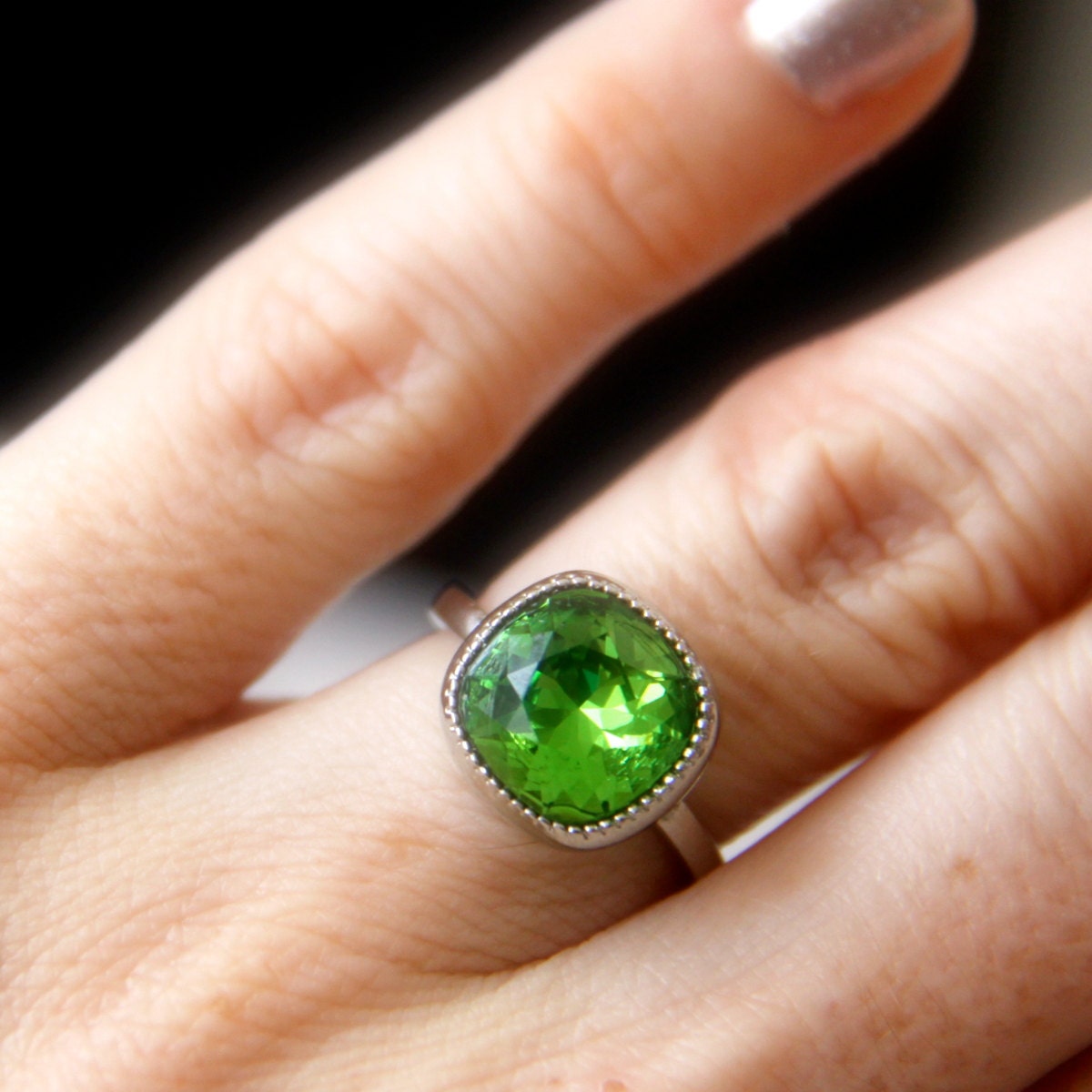 Emerald Green Cushion Ring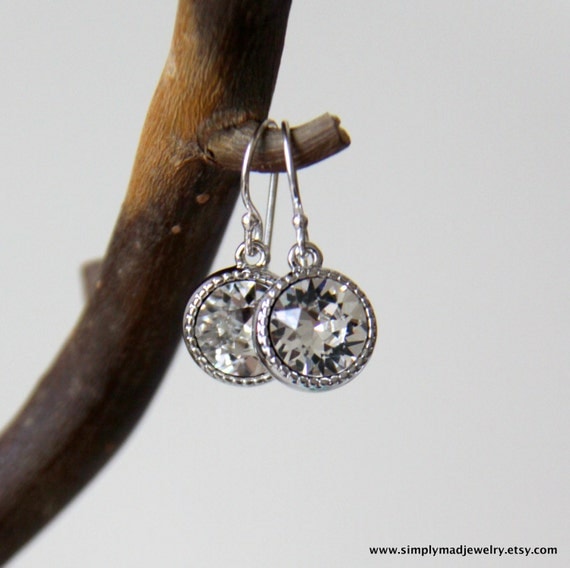 Faux Diamond Swarovski Crystal Earrings
If you're looking for a special gift to give to a loved one or a friend, you'll absolutely want to check out Simply Made Jewelry. Madeline is so sweet, and she would love to help recommend the perect gift, or create something special just for you! Simply Mad's prices are outrageously affordable, so start your holiday shopping now! Are you a bride-to-be? Be sure to check out Madeline's other shop- Simply Mad Weddings! You'll find lots of beautiful jewelry and accessories for your big day, as well as special bridal party gift options!
You can take home a piece of beautiful jewelry from
Simply Mad Jewelry
! Just head on over to Simply Mad Jewelry on Etsy to browse Madeline's shop. You can also browse all of her designs through the
Simply Mad Jewelry Facebook page
! Madeline would love to connect with you, so don't be shy! Simply Mad is also having a special sale through today, so use
XMAS15
to receive 15% off your order!
I can't thank Madeline enough for sending me this stunning piece of jewelry to review, and can't wait to see what beautiful designs she comes up with next! Be sure to look for Simply Mad Jewelry in this year's MBP 2013 Holiday Gift Guide, too!