If you haven't made plans yet for Mother's Day, you're not alone. Searching for a great idea? Check out some of these freebie options we found this morning!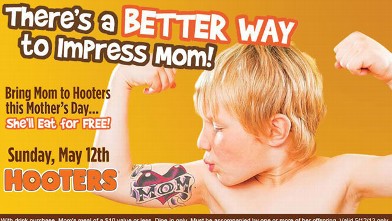 That's right guys and gals, Hooters is offering moms a free meal, if they dine at a Hooters Restaurant with one of their children on Mother's Day. Purchase of a drink is required and the free meal must be valued at $10.00 or less.
Moms eat free.
Ikea is giving moms a free breakfast of scarmbled eggs, bacon, potaotes and coffee until 11 am.
Moms can grab a free 6 oz cup of froyo at TCBY locations on Mother's Day. Self serve, or in a small cup or cone. Deal includes all yogurts and sorbets, and any combo of toppings!
Moms can score a free mini dessert at Uno locations on Mother's Day. No coupon needed.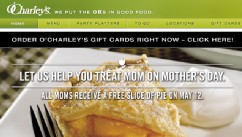 Moms will be offered a free slice of pie with their meal at O Charley's locations on Mother's Day.
Free Admission to Hershey Park Attractions
You can receive free admission to Hershey Park attractions with
this coupon
, just for being a mom (with the purchase of another ticket at full price admission).
There are over 50 zoos around the country offering free admission for moms on Mother's Day.
Check here
to see if there is a zoo near you on the list.
Have you come across a special deal of freebie that's not on our list? We'd love for you to share it with us in the comments or post it to our Facebook page!
Happy Mother's Day to all of our special mommy readers out there!