Part of MBP's Summer Splash
My child has decided that he is going to be his own person. Truly, he is quick to let me and his daddy know what he does and doesn't like, or what he does or doesn't care to do. I really used to love picking out cute clothes for B. The cuter, the better, and the matchier, the happier! Suddenly, Balian wants to choose what he wears, himself. Since I do the majority of the shopping for Balian, when it comes to clothing and accessories, this poses an interesting predicament. To let him choose his own clothes, or not? We usually try to compromise, and I've even started letting him browse some designs online with me.
When I started looking for some cute summery designs for Balian to wear and enjoy during the hot NC summer months, I found Proud Cloud Creations. The faces behind
Proud Cloud Creations
are Rachel and Stephen, two twenty-somethings with a zest for life and a lot of talent. Rachel and Stephen hail from Wales- that's right, over in the UK, and have a knack for creating whimsical designs.
I fell in love with one of the t-shirts that I saw in the Proud Cloud Etsy Shop, the Whistling Bear Tee. When I reached out to Proud Cloud, Rachel replied quickly, and was pleased to send me a shirt for Balian, and even one for me! I had a lot of fun looking through all of the cute designs by Proud Cloud, and after I made my selections and sent them to Rachel, she and Stephen got to work on my order, and had them sent my way.
Our new Proud Cloud Creations t-shirts!
Proud Cloud t-shirts
are one of a kind. These adorable t's are mad with hand-cut stencils, and are hand printed! The actual t-shirts are well known brands, and 100% cotton, so you know they've got to be super comfy and breathable!
Balian couldn't wait to tear into is beautifully wrapped Proud Cloud t-shirt!
'Look mommy, a bear!'
Balian and I selected the Whistling Bear design for him to wear. He is a lover of animals, but he also loves music. I was drawn to the music notes on this tee, and I knew Balian would be thrilled to own a t-shirt that was oh, so musical! The light blue color was a great choice, too, as B has a lot of dark colors in his wardrobe. This shirt is also available in white and pink, so you could go neutral or more 'gender specific,' if you so choose.
The whistling bear, out for a walk and whistling his favorite tune...
We selected this cute tee in a size 3T for Balian. Sizing is always a gamble, because Balian is tall and broad, but this was actually the right way to go, and it fits him nicely. There's even a little room for him to grow into through the summer. The ink used on the shirt is a long-lasting, water based ink, free of chemicals and toxins... safe for little ones! Since each and every design is hand-stenciled and printed, each one is unique!
Playing the day away, with the Whistling Bear...
Since I was able to also select a design for myself, I wanted to go with something summery and fun. I don't have a lot of printed t-shirts, so I knew that a Proud Cloud Creations tee would be welcomed in my dresser drawer!
My cute jellyfish tee, all wrapped up...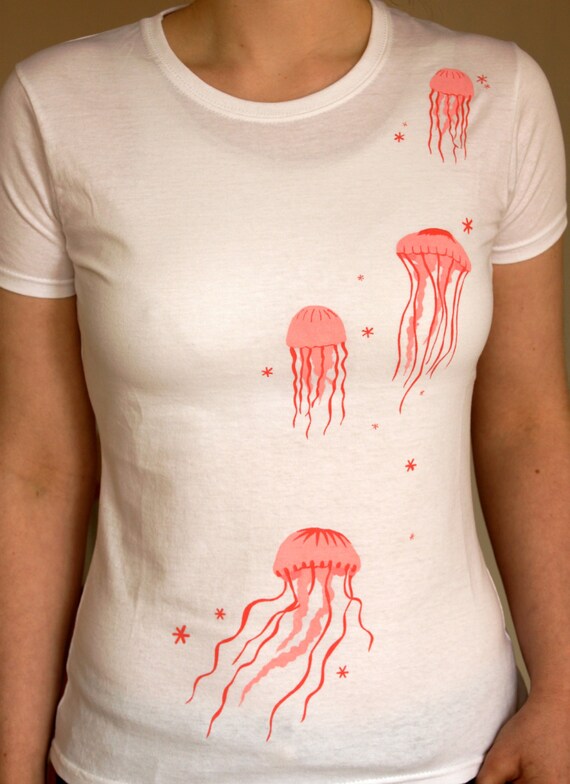 Also available in pink!
I chose to review the
Jellyfish T-Shirt
, because it looked cute, and seemed quite different from any of the other t's I owned. I was drawn to the jellyfish tentacles in the design, as they looked like they were doing a graceful dance in the water, just floating by. There are tiny little star prints all over the tee, as well, giving it a little add sparkle. I selected this shirt in grey, which is pretty typical of me, seeing as how I am drawn to grey, black, blue and green. I liked the look of the pink ink in the actual graphic, because it seemed flirty and feminine. I chose a size small, which was a great choice. The shirt fits well, and there's room through the waist for lots of moving and shaking! I can't wait to wear this when we're at the beach! It only seems fitting... just hope the jellyfish stay far out in the water, and don't wash up on the shore.
This tee is cute paired with jeans, a casual skirt, or great for casual wear. I wore it just the other day, while out for an evening walk...
Of course, Proud Cloud has designs the whole family is bound to love, and if you're looking for a unique gift for Father's Day, you should check out the Men's T-shirts! Here are a few other designs I am loving from proud Cloud...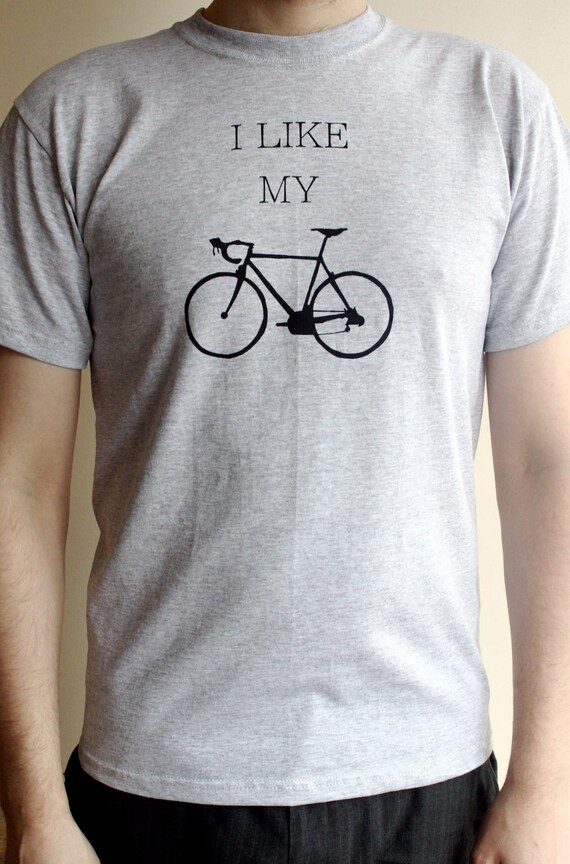 I Like My Bike T-Shirt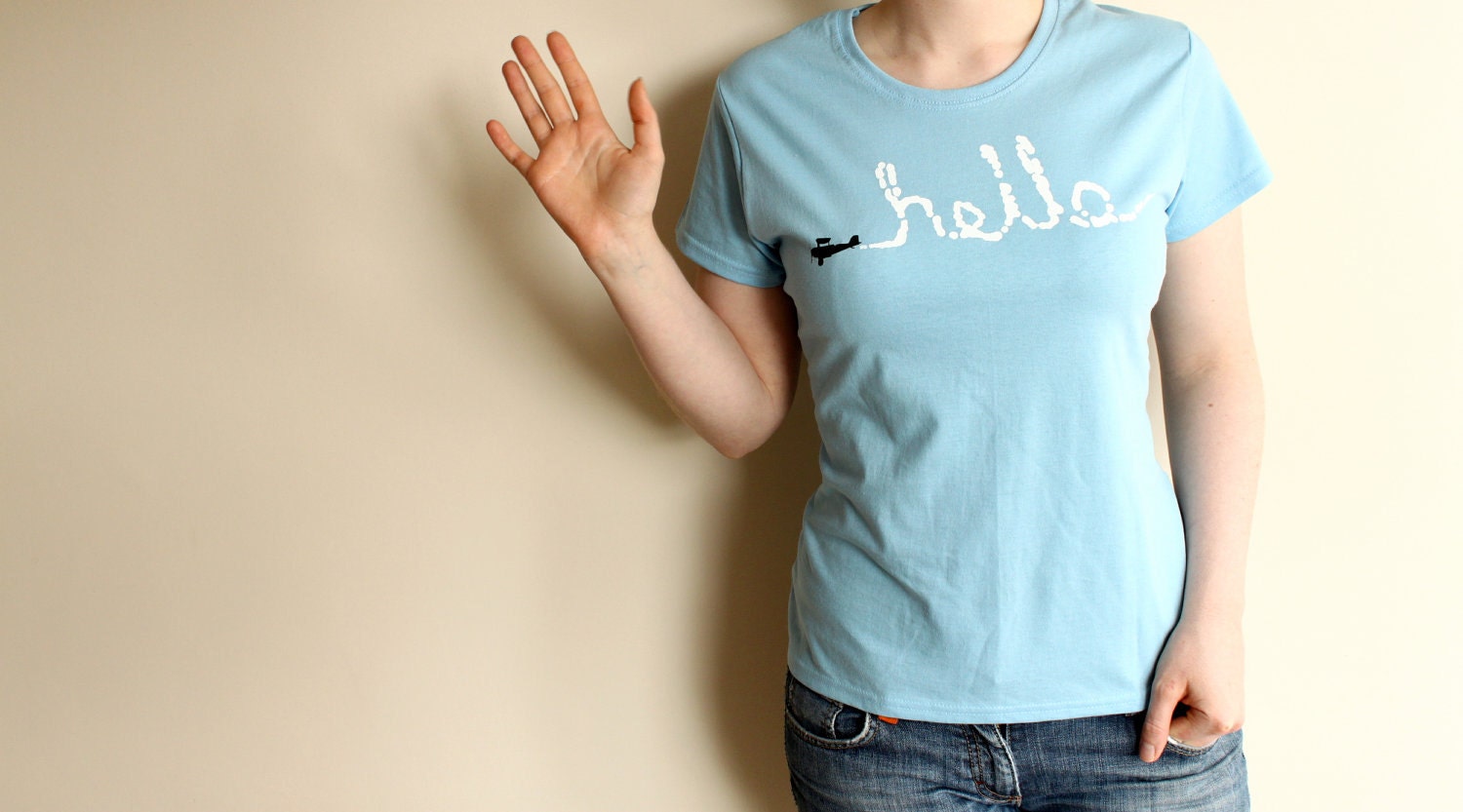 SkyWriting T-Shirt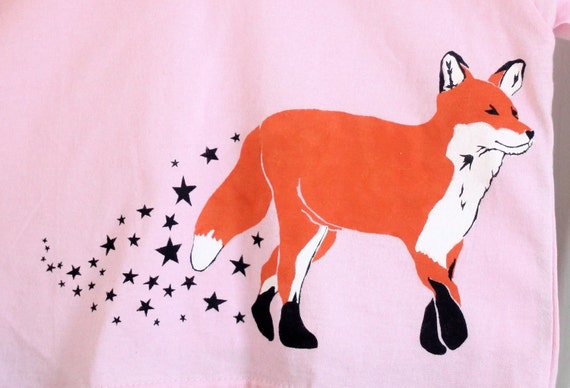 Fox T-Shirt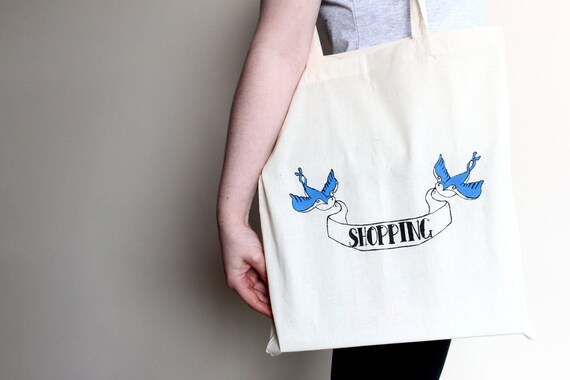 Swallows Tattoo Tote Bag
If you've been looking for fun designs that you won't find in a store, you've come to the right place! Proud Cloud Creations' designs are certainly unique, and one of a kind! All of their products are sent out, ready for gifting (did you see how nicely our shirts were wrapped?), so there's little to do, except give to the recipient and watch their eyes light up as they unwrap a little fun!
Don't forget about dad! Proud Cloud has a whole lot of great designs for men, so be sure to browse those t's for dad! I think my hubby would like the bicycle tee!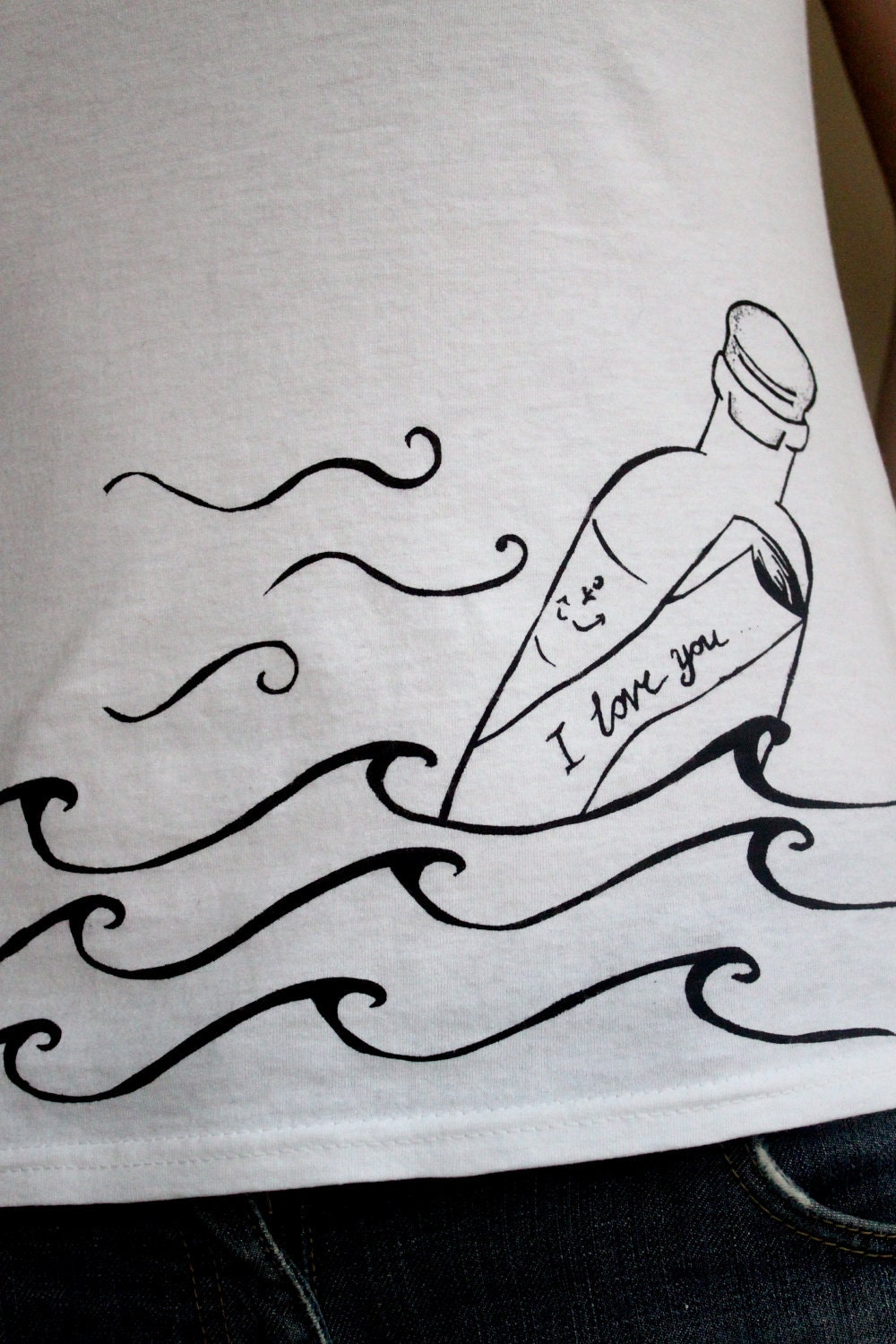 Want It? Buy It!
You can browse all of
Proud Cloud Creations
designs and available sizes, over on their website. Rachel and Stephen would love to hear what you think about their shop and designs, so don't be shy- leave them a comment, or send them a convo through Etsy! You can also connect with
Proud Cloud Creations on Facebook
.
Want It? Win It!
One lucky MBP readr will win their very own Proud Cloud T-Shirt of choice. TWO additional winners will receive a code for 50% off their Proud Cloud Purchase. Just use the Rafflecopter entry form below to enter for your chance to win! Open to US, CA & UK residents.
Special thanks to Rachel and Stephen of Proud Cloud for allowing us to review their wonderful designs and for offering this super giveaway for our readers!
Good luck!