MBP's Get Out and Play Week
One of our favorite things to do as a family, is to be outside, playing, working, and enjoying our surroundings. As Balian gets older, it becomes a little easier to allow him to play on his own with supervision. We've been cooped up inside the house for what seems like weeks on end, because we've had such a chilly, rainy North Carolina winter. We've been missing the sunshine, and now that it's warming up, and it's officially springtime, we're chomping at the bit to get outside and play!
Balian received a cute infant/toddler puch trike for his first birthday, which we've enjoyed having. Now that he's a 'big boy,' however, the little trike is still cool, but B wants to 'do it himself.' He can't quite reach the peddles, and refuses to let me help him or push him. Lucky for us,
Kinderfeets
has a wonderful solution for parents and kiddos who are going through this very same thing... their remarkable, beautifully crafted
wooden balance bikes
for toddlers and kids!
Kinderfeets was created by a Dutch designer, living in California. Originally, he crafted this type of bike for his own son, because he was unable to find anything like it, or what he wanted for his son to learn on. Kinderfeets offers these bikes for ages 2+, as a wonderful and smart alternative to training wheels or for kids who are making the transition to a big kid bike.
Our package from Kinderfeets...
I've read a lot about different types of
balance bikes
, and how they're so wonderful for kids and even toddlers to learn how to balance on two wheels. So, when reached out to Kinderfeets and they offered to send a bike for Balian to try out, I was ecstatic, and couldn't wait for Balian to have his very first 'big boy bike.'
Balian, exploring the Kinderfeets box.
I chose the
Green Chalkboard Finish Kinderfeets bike
for Balian. He loves the color green, and I knew that he'd love the extra fun of being able to draw on/decorate his bike with chalk! The bike shipped right to our door from the wonderful folks at Kinderfeets, and arrived in a nice box. We knew that there would be a little assembly required with this, so my hubby knew that he'd be the one to put it together.
After daddy laid out the pieces, Balian wanted to help build his bike!
There were only about five pieces to put together, so this little project didn't take very long.
Daddy and Balian, doing what they do best...
As soon as daddy had the bike together, and gave Balian the green light, he hopped right onto the seat, and started 'riding it.' Sacha and I were both pretty amazed that with B's first attempt on his new bike, he had amazing balance, and incredible determination to ride his bike in the house! It was way too cold to go outside, and B had a cold, so we let him do a little practicing in the house, at first.
A little fuzzy, but look at this kid go, go, go!
Balian zipped out of his room on his Kinderfeets bike one morning, wearing 1/2 of his shape sorter toy as a 'helmet.'
As it has gotten warmer outside, we've been able to do a little riding and practicing with Balian in the yard. We don't really have a driveway, but the Kinderfeets bike works great in the grass! It's so lightweight that Balian can pick the bike up by himself, he can push it with ease, and he really sits on it quite nicely, without his feet dragging along too much. Kinderfeets balance bikes are made from sturdy wood, so you can feel good about your child being on a 'safe' bike. It turns left and right, just like a regular bike. There is no air in the tires, and the turn with ease. The seat is washable (love that!), and instead of peddles, the bike feature two wooden footpegs.
Balian's bike, ready to be decked out with some cool chalk coloring...
Decorating with large chalk...
The green surface area on our bike is a chalkboard finish. This means that the bike can double as a canvas for a creative play break! Balian has been having a lot of fun decorating and personalizing his bike, just the way he likes it. When we're ready for a new design, we just wash it away, and start over again! The chalkboard finish is available in other colors, too: black, red, pink, orange, green, and blue. The Kinderfeets bike is also available in a natural wood finish, without the chalkboard finish.
Features of the Kinderfeets Balance Bike
Natural Wooden Bike
Footpegs for Cruising
Seat Lowering Feature
No-Air Tires
Washable Seat Cover
Max weight load 70 lbs
Chalk Board Finish Option
Ages 2+


Putting the bubbles away, and getting ready for a bike ride!
As parents who love to be active outdoors, we couldn't be happier with the
Kinderfeets bike
. It's a great way to get Balian active- outside, and playing. Plus, it's helping him learn balance, trial and error and patience. We have seen him take to this bike so quickly, and balance so well with it, that we seriously doubt he'll ever need training wheels when he's ready to transition to a true big boy bike. This balance bike has ben great for our yard, to ride at the park, and to take to all of B's grandparent's houses to ride in their driveways. It takes up very little space in the trunk or back seat of the car, and we plan on brining it with us when we head to the beach for our family vacation in May!
'Hey mommy- check me out!'
Kinderfeets would be a great gift for any little boy or girl for a birthday, a summer fun treat, or any other excuse you can think of to purchase one of these awesome bikes for your little loves!
Be sure to head to the
Kinderfeets
website to read more about Kinderfeets, check out some cool photos and videos, or to purchase a Kinderfeets bike. Right now, the chalkboard finish bikes are on sale for $109.00, and the Natural Finish Bike is on sale for $99.00!Shipping is free! Great deals there, so don't miss out!
Kinderfeets is social and would love to connect with you on
Facebook
.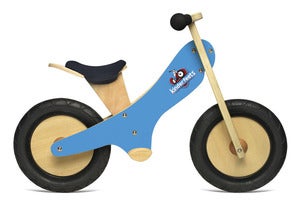 One super lucky MBP reader will win their very own Kinderfeets Balance Bike, in their choice of color of Chalkboard Finish or the Natural Wood Finish. Is this a great way to kick off springtime, or what? Just use the Rafflecopter entry form below to enter for your chance to win! This giveaway is open to US residents, 18 and older. No exceptions!
Special thanks to Oscar and the generous folks at Kinderfeets for allowing our son to experience their perfectly awesome balance bike, and for offering this amazing giveaway for our readers, as well!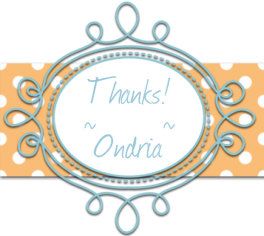 Disclosure: Other than the above mentioned products, which I received directly from this sponsor for review purposes, I was not compensated for facilitating this review. All opinions expressed are my own. Your experience may differ. Mommy's Block Party and its team members are not responsible for prize fulfillment or shipment- this is the understood responsibility of the giveaway sponsor.