We are big fans of creative play and art time time at our house. I am constantly trying to figure out ways to engage my son in different projects that will further his development and send his imagination soaring. However, Balian is only two, so our options are sometimes limited. I'm usually okay with him doing activities that more geared toward three year olds, as long as it's safe. Balian is pretty bright, so I'm not overly concerned. Balian loves coloring, finger painting, and making silly things with mommy- like paper bag puppets, etc. We're beginning to acquire a whole lot of art work, and running out of places to put them!
Everyone wants their child to feel like a little Picaso after they've created their masterpiece, so why not showcase these precious creations in an appropriate place? I was lucky enough to work with Terri Hicks, of
All About Words
. Terri and her husband Preston are passionate about children (especially their very own grandchildren), affirmations, creativity and joy. I love the sweet message from Terri and Preston to their Etsy Shop visitors and customers- they share their passion for positivity and creativity right from the start!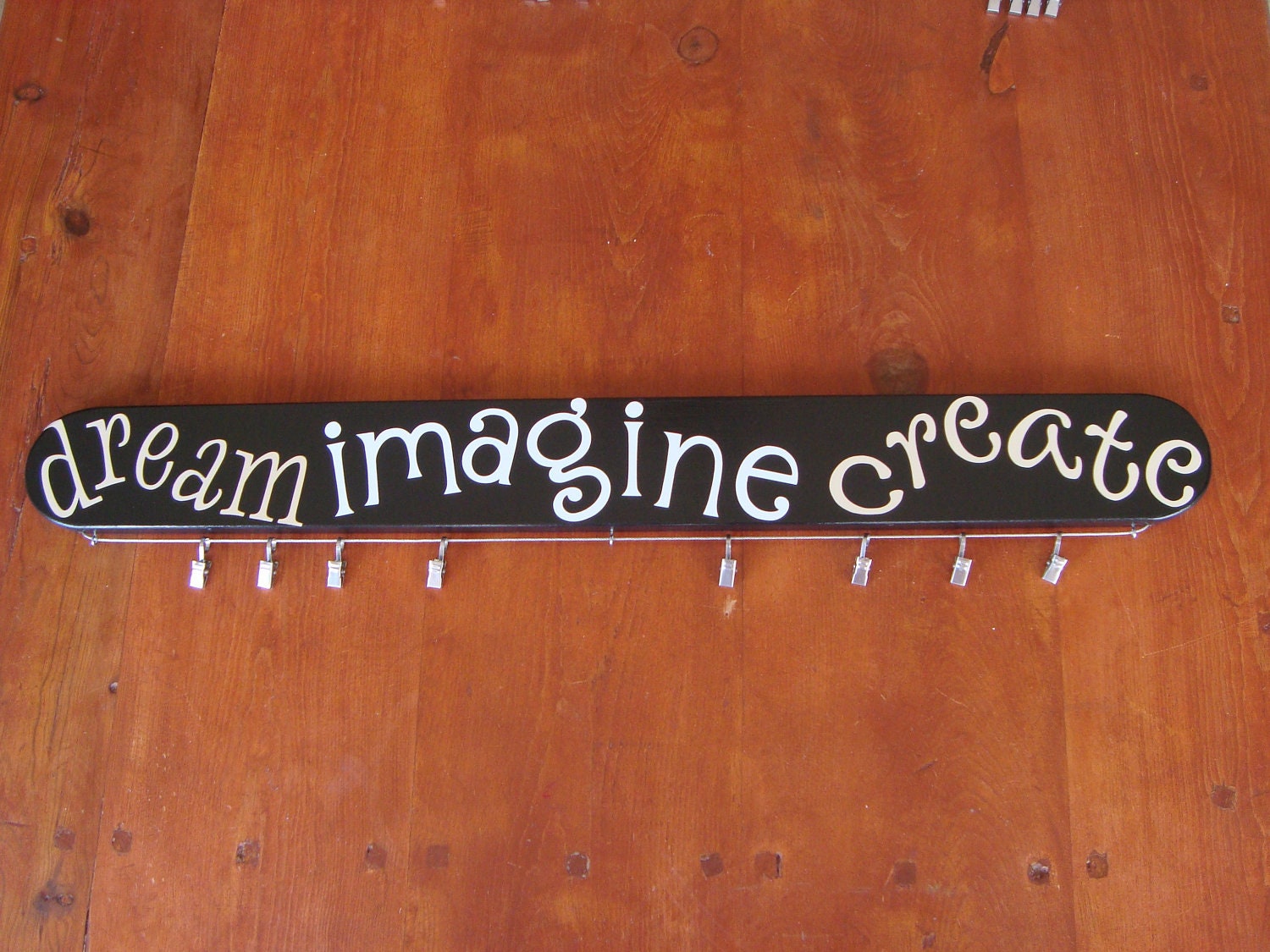 Children's Art Display Board from All About Words
I quickly fell in love with just about everything I saw in All About Words. From the
word block sets
to the affirmations and
artlines
, there's something for everyone in this adorable shop. I loved the Art Display Boards most of all, because as I mentioned earlier, Balian has been creating a ton of art work, and we have been running out of places to display them.
Terri very kindly offered to send me a
customized art display board
, and allowed me to choose the color of the board, the font, and the details. I was so excited for the opportunity to have a say in this special piece for Balian's bedroom. I explained to Terri that B's room is decorated in jungle animals, with greens, yellows, blues, oranges, browns, etc. She said she had just the thing, and went right to decorating my art board.
Within a week or so, Terri was shipping the art display board to my home...
Our new art display board from All About Words was nicely wrapped and protected during shipping.
The board was situated in between cardboard and wrapped in bubble wrap.
A new handmade jewel to love! Balian's custom art display board. The metal clips to hand the art work with, were also wrapped up and covered.
I couldn't wait to hang this
art display board
up, and to show it off! I truly was able to see the depth of the hard work that was put into this pretty piece! Our board is a nice, soft off white color, with brown lettering (decals), and colorful orange, yellow, light blue and green jungle vine decals.
Each board is 3/4" x 4" x 32" with rounded corners. They have been shaped, sanded, painted, lettered, decorated, and sealed with satin varnish. They are completed with a line of cable attached internally, with 8 small stainless clips to hold the art pieces, and come ready to hang.
(Description from All About Words)
Someone was incredibly intrigued by this board!
Our Art Display Board from
All About Words
was ready to hang, so I asked my hubby to put it up on the wall in Balian's room. It took him less than five minutes to get it hung up, and we were so happy to see it on the wall! I was especially thrilled to have a place to hang Balian's projects!
Take a look at how we're displaying B's artwork, now!
Here it is- all hung up and ready to hold some masterpieces!
We selected a few of Balian's recent projects to show off...
All of our friends and family who have seen this board have loved it! They just haven't been able to get over what a neat idea it is! When my mom saw it, she mentioned that this would be perfect for her to hang her quilted wall hangings from. She's a quilter, and I'm thinking this would be a great gift for her sewing room!
Along with these gorgeous boards,
All About Words
offers lots of other inspiring designs, perfect for the home, office, classroom, etc. Take a look at a few of my favorite items from All About Words...
Countdown to Christmas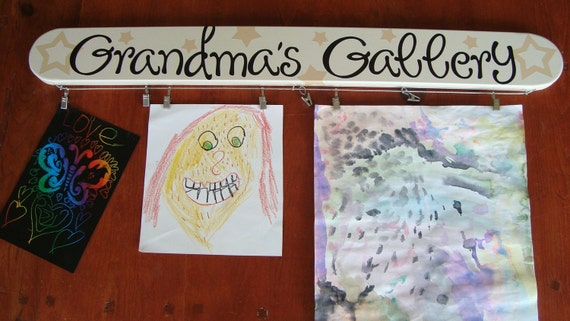 Grandma's Gallery Art Memory/Brag Board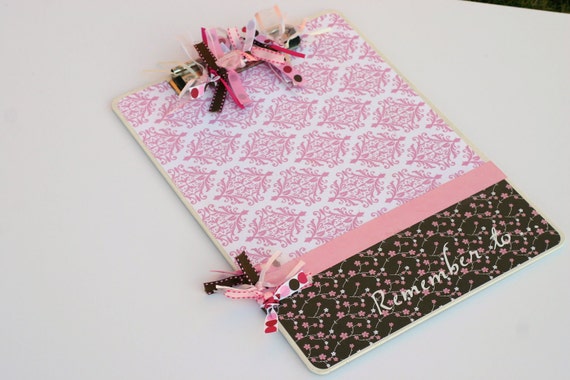 Customized Clipboard
We are so pleased with our
Art Display Board
, and I know it will be well loved and cherished for many years to come! I think that these boards would make the ultimate
holiday gift for parents
and grandparents, or even for a child, who loves to create their own masterpieces. Who wouldn't love their very own special way to display their works of art? Hey teachers, wouldn't these be cute to hang up in your classroom? These boards are completely customizable, and they are easy to create, with help from Terri and Preston! Just visit their Etsy Shop, click the photo of the board you like, and select your style and color. Then just convo Terri with your preferences, and she'll get right to work on your board!
Believe Word Blocks
Love positive words in your home or office? How about purchasing a special
Word Block
for yourself or for someone you love this holiday season? I love word blocks and place them on my mantle, shelves, even on top of the molding around my doorways. They're a great gift for teachers, or anyone you wish to show your love or appreciation for!
Head on over to
All About Words
and start getting some ideas for gifting this holiday season! You'll love the variety of art boards and more that are available!
Want It? Win It!
All About Words is offering one lucky MBP reader 50% off of one item of their choice! Use the Rafflecopter entry form below to enter for your chance to win the 50% off item of your choice!
Special thanks to Terri and Preston at All About Words, for allowing us to review this beautiful art board and for offering this wonderful giveaway to our readers!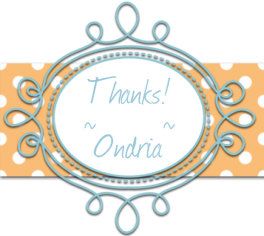 Disclosure: I was sent the above mentioned product free of charge for review purposes, directly from the sponsor. All thoughts and opinions shared are my own. Your experience may differ. This giveaway is not associated with Facebook in any way. MBP is not responsible for sponsor prize fulfillment or shipment.