Part of MBP's Fall Fashion and Beauty Feature
I woke up to a crisp forty-eight degrees the other morning, which tells me one thing is certain... fall is in the air. Fall is my favorite season, hands down. I love everything about fall- from the changing of the leaves to sipping apple cider, the skip in everyone's step, and fall fashion. I don't like to wear a lot of color. I don't think I'm a boring dresser, but there's just something about wearing classic colors and burnt tones- perfect for fall.
I couldn't wait to break out some of my cooler weather clothing, and as I did, I started noticing that a lot of my jewelry screams summer, and doesn't necessarily go with my fall hues. I own a lot of silver jewelry, and feel that it doesn't always coordinate well with my browns, golds and deep reds.
Tan Butterfly Jewels- Presented by Raquel
I was happy to come across a beautiful jewelry boutique on Etsy,
Tan Butterfly Jewels: Exquisite Accessories,
owned by Raquel. Raquel has been specializing in and creating beautiful jewelry for about five years. She enjoys following the current fashion trends, and her shop offers gorgeous necklaces, and earrings (occasionally bracelets, too). Raquel's jewelry is stylish, and has a vintage and romantic feel to it. Raquel offered to send me one of the beautiful necklaces from her collection, which I had been admiring.
Raquel sent me a beautiful
Oak Leaf and Acorn Necklace
. It only took two or three days for the necklace to arrive safely at my house, and I was excited to remove it from its packing and examine it. It came to me in a pretty box, with a bow tied around it, and a handwritten note from Raquel.
A pretty package and a note from Raquel...
Beautiful copper, brown and a tiny hint of green...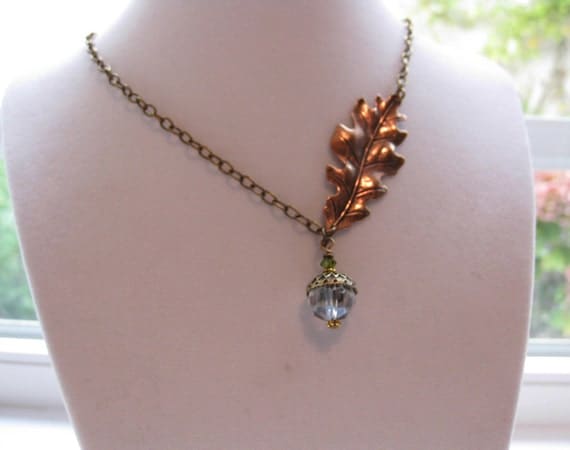 The acorn on this photo is a different color than the one I received, but the necklace is the same.
This gorgeous
necklace
features a mix of metals- a copper plated oak leaf, suspended from a brass chain, with an acorn dangling. Length of the chain is 20 inches. Length of the necklace can be customized, upon request. Oak leaf measures approximately 2 inches long.
I decided to wear the necklace paired with a simple rust colored top. I loved the way the coloring in the necklace complimented the color of my top.
Look at how beautiful this necklace is!
So pretty- like a leaf gently floating to the ground...
I love the delicate look and feel of this beautiful necklace.
It absolutely embodies the beauty of fall.
I haven't had this necklace for very long, but I know it's one that I am going to wear and enjoy over and over again. I wore it out one evening and received a lot of compliments! I just received a really great new pair of pants, and a nice blue knit sweater that I look forward to wearing this necklace with. I think it would also look great with some of my fall dresses, a nice tan colored skirt, pretty top and flats or boots.
If you're getting married this fall, think about what an absolutely gorgeous necklace this would be for your bridesmaids to wear with their fall colored dresses! Raquel does take orders for
bridal party jewelry
!
Along with this necklace, Raquel offers so many more beautifully designed an
handcrafted pieces
in her shop.
Here are a few of my top picks...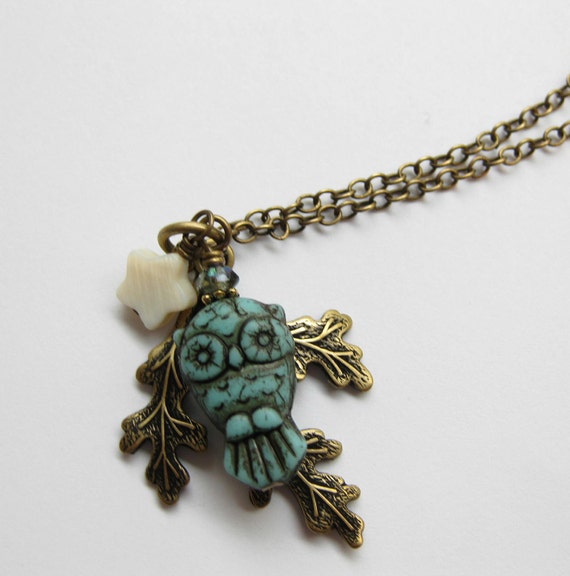 Bohemian Style 3 Pendant Necklace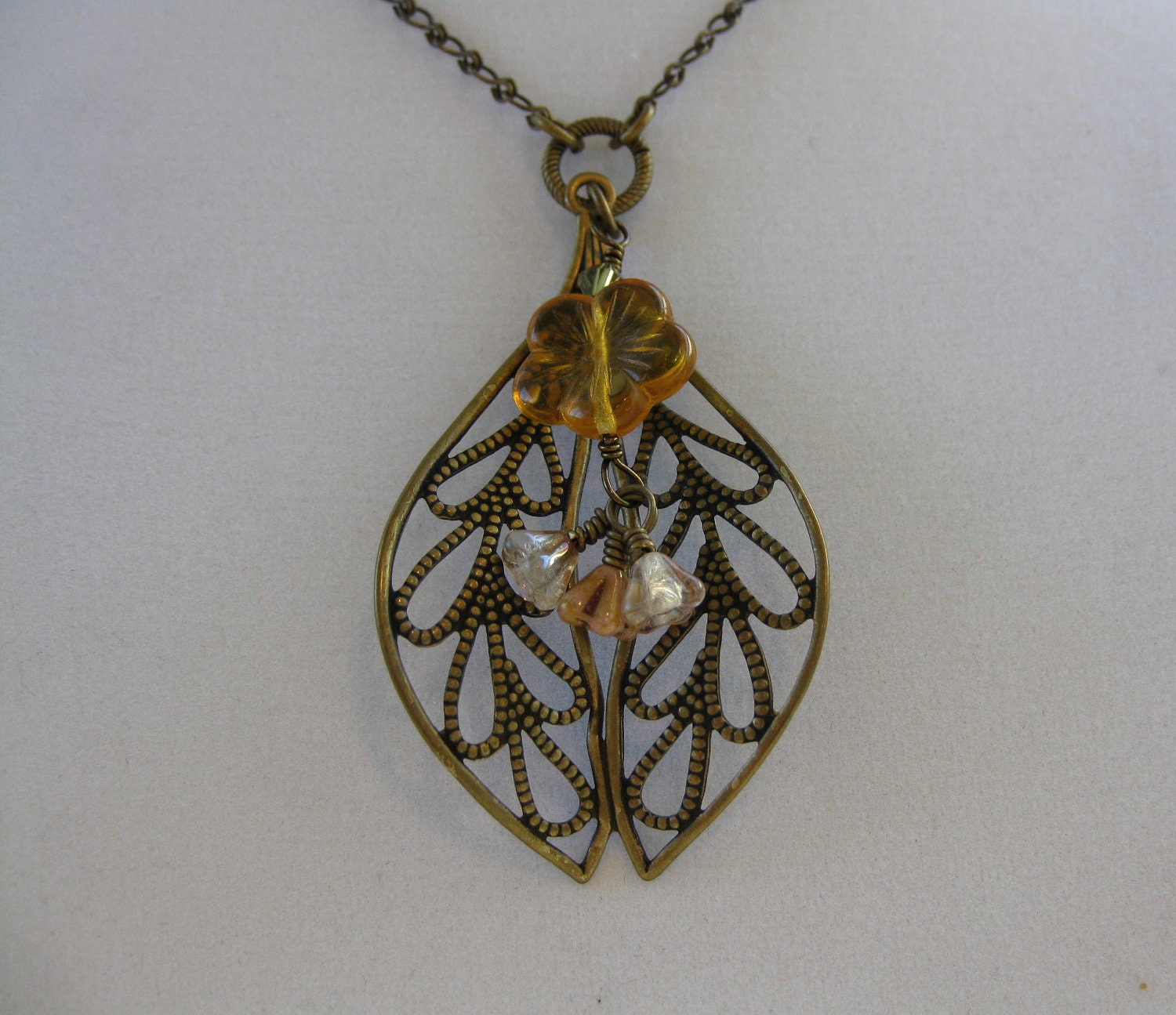 Cascading Flowers Necklace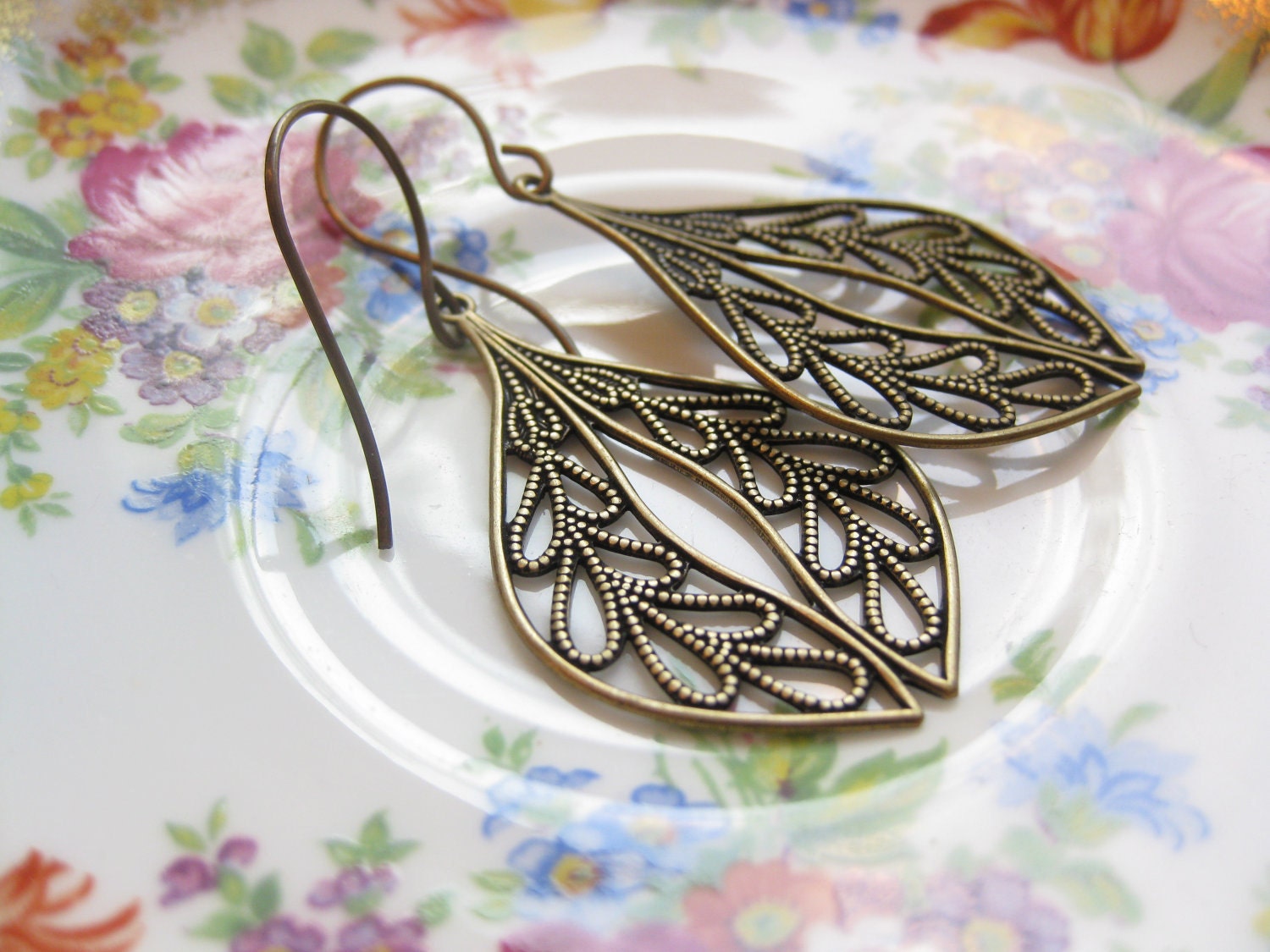 Morracan Drop Earrings
The beautiful jewelry presented by Tan Butterfly Jewels is perfect for every season, but the tones of brass and copper and the delicate accents definitely make these pieces must-haves for the fall season. The more I look through Raquel's shop, the more I like what I see. I am making additions to my Christmas list!
Want It? Buy It!
Head on over to
Tan Butterfly Jewels
on Etsy and take a look at all of the gorgeous jewelry Raquel has made. These pieces are wonderful accessories to add to your collection, and they make wonderful gifts! You can connect with Raquel on Facebook, by liking her page
Santa Barbara Designs
, as well!
Want It? Win It!
One lucky reader will win a necklace similar to the one I received from Raquel- just in time for fall fashion! Just use the Rafflecopter entry form below to enter for your chance to win!
Special thanks to Raquel for allowing me to review this exquisite necklace, and for offering such a great giveaway for our readers!
Good luck!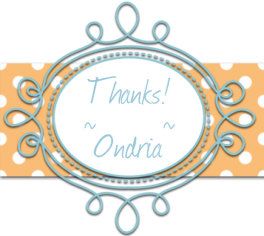 Disclosure: I received the above mentioned product free of charge for review purposes, from the sponsor. All opinions and thought shared in this review are my own. Your experience may differ. MBP is not responsible for sponsor prize shipment.