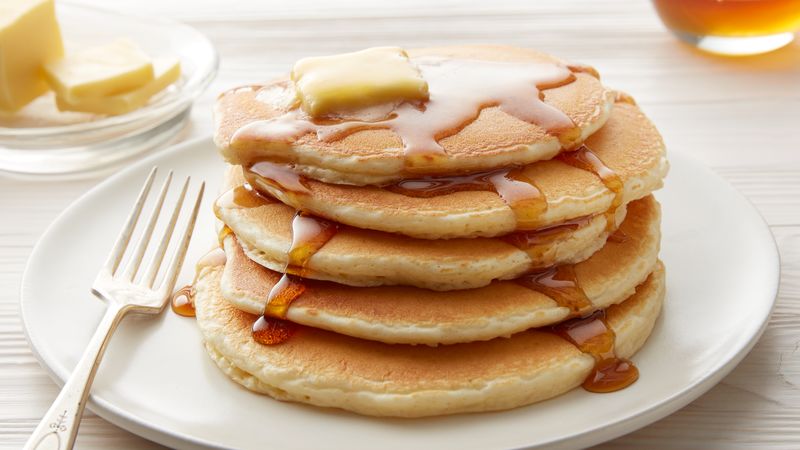 Whether you enjoy your pancakes the classic way with butter and syrup or with chocolate chips, this recipe is sure to be a hit with your family!
About four years ago, we went to visit a friend in Maryland. She spoiled us with breakfast when we woke up the morning of our stay and one of the things she served us was the best homemade pancakes I have ever had. I immediately insisted she share her recipe and she was thrilled that we loved them enough to want to make them at home for our family. I thought they were so good that I saved the recipe in my phone as "Best Pancakes Ever". Since trying these, we've not used a single box mix to make our pancakes. I've also made a few tweaks from the original recipe to make it my own.
My kids love these pancakes and request them pretty often. I usually serve them with butter and syrup, but they are also great to add chocolate chips while cooking or even fruit and whipped topping after they come out of the pan. My husband loves to add a copious amount of butter and a sprinkle of brown sugar to his. He is Canadian, so he often tops his with maple syrup. Any way you choose to make them, these pancakes are sure to be added to your breakfast lineup!
"Best Pancakes Ever"
- 2 cups of Flour
- 2 tsp Baking Powder
- 1 tsp Salt
- 3 Tbsp Sugar
- 1 Egg
- 1/3 Cup of Vegetable Oil
- 1 1/2 Cups of Buttermilk (if you don't have any on hand, you can add a little white vinegar - about a Tablespoon- to your milk and it will curdle to make a Buttermilk dupe. You may also just use regular milk.)
- 2 tsp Vanilla Extract
- Mix the dry ingredients together and incorporate the wet ingredients to the dry. Stir until your batter is smooth and most of the clumps have been worked out.
Note: It is best to let the batter sit for an hour or even up to overnight. I don't usually let mine sit for too long as my kids are typically like starving, feral animals in the mornings. So, if you don't have that time to let it rest, that's ok - They still turn out great!
Let me know in the comments if you make these pancakes! I hope you like them as much as we do!