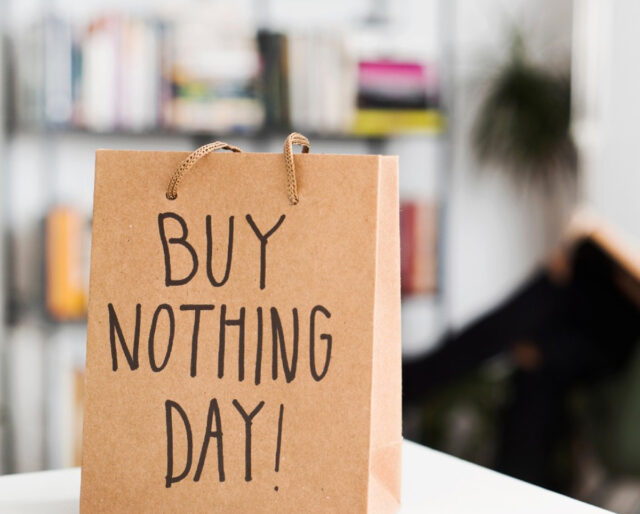 A favorite for shoppers looking to get a good deal, Black Friday is highly anticipated every year by many across the nation. However, this shopping holiday is one of the most dangerous. With incidents that have left 17 people dead and 125 injured over the last 15 years, many people observe National Buy Nothing Day.
When I was 22, one of my close friends begged me to go shopping with him and his family on Black Friday and I reluctantly obliged. We stayed up all night just to get to the mall at 1 AM for its 4 AM opening. Even though we were three hours early, the line had already begun to wrap around the building. We stood outside in the frigid cold for what felt like eternity. Our fingers and noses were numb from the bitter air when the doors finally opened.
Thousands of people poured into the entrance as the employees passed out door prizes. I had received a ten dollar gift card for my sacrifice of 3 hours- not too shabby, but 3 hours of sleep would have been worth much more. My friend, his parents, and I held hands as we navigated through the store, careful not to lose each other. We knew there was no way we'd find each other in that madhouse. I got a good deal on a pair of shoes I had been wanting, but besides that I left the store confused as to what the hype was all about.
Although I took a vow after my excursion to never go Black Friday shopping in person again, I have recently discovered that many others have taken a stand against Black Friday as well.
In 1992, artist Ted Dave came to the conclusion that the drastic shift of giving thanks on Thursday to unmitigated materialistic chaos on Friday was extremely off putting- Thus establishing National Buy Nothing Day. This anti-holiday is observed the day after Thanksgiving, the same day as Black Friday.
Presently, Americans observe this anti-holiday as an effort to bring awareness to the copious amounts of waste and debt that occurs during the holiday season. Those who actively protest consumerism on this day can be found sitting on the floors and dressing rooms of stores, or even participating in the yearly "zombie-walk", an activity where participants attract attention and raise awareness of National Buy Nothing Day by walking around with empty shopping carts and stare blankly like zombies. Some participants of National Buy Nothing Day opt to stay in the comfort of their own homes as they simply don't buy anything and others enjoy nature by taking a hike.
Whatever the approach, National Buy Nothing Day continues to grow in participants every year. What do you think, will you be observing this anti-holiday next holiday season?