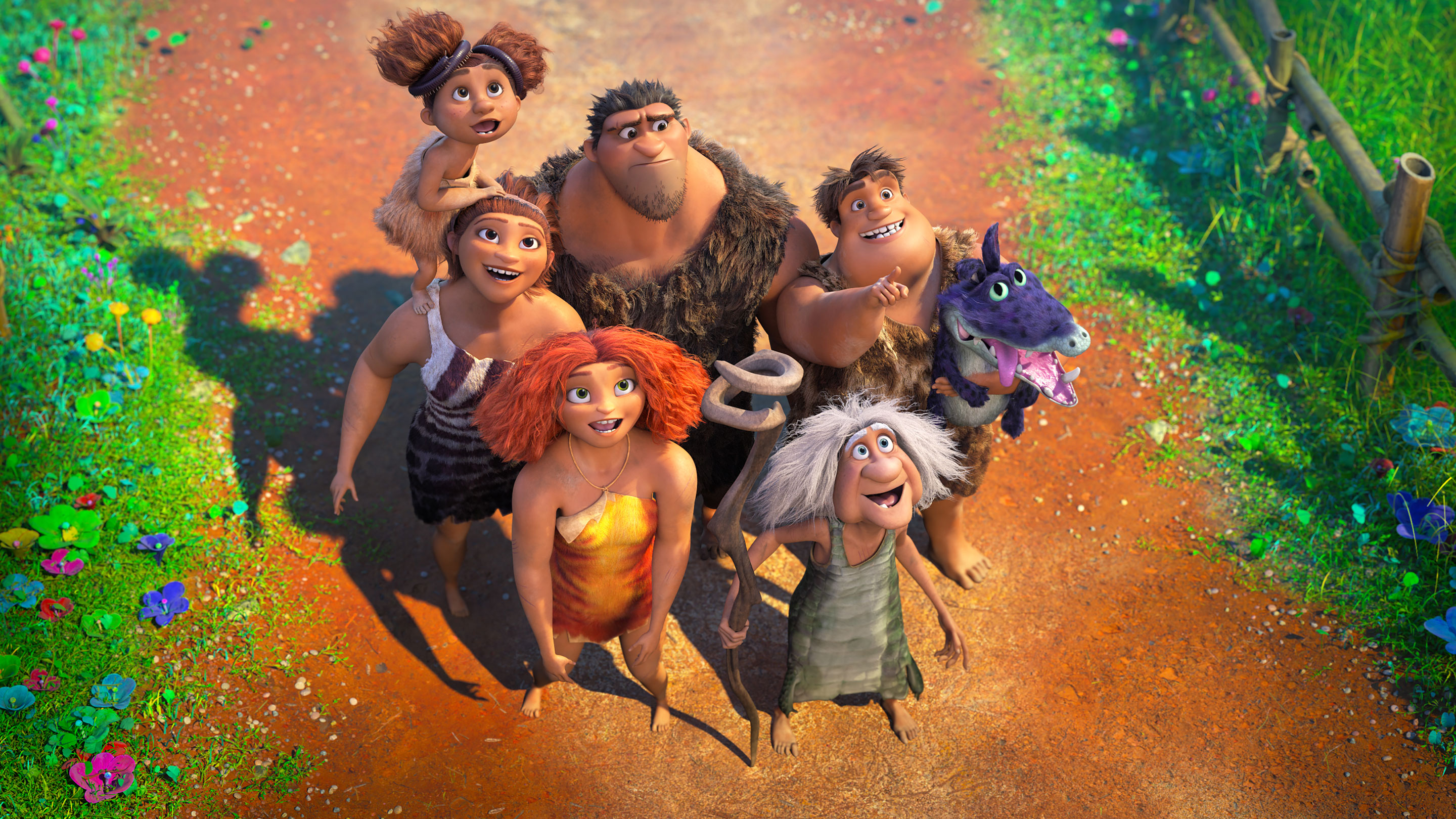 This post was made possible by Review Wire Media. All thoughts shared below are my own.
Coming to theaters, Wednesday, November 25, 2020, The Croods: A New Age is the long-awaited (especially by this family) sequel to the 2013 film The Croods. Starring Nicolas Cage, Emma Stone, Ryan Reynolds, Catherine Keener, Cloris Leachman, Clark Duke, Leslie Mann, Peter Dinklage, and Kelly Marie Tran; this soon to be released movie has us catching up with this generation's favorite prehistoric family as they are challenged by the Bettermans, a rival family who claim to be better and more evolved!
Synopsis:
The Croods have survived their fair share of dangers and disasters, from fanged prehistoric beasts to surviving the end of the world, but now they will face their biggest challenge of all: another family. The Croods need a new place to live. So, the first prehistoric family sets off into the world in search of a safer place to call home. When they discover an idyllic walled-in paradise that meets all their needs, they think their problems are solved … except for one thing. Another family already lives there: the Bettermans. The Bettermans (emphasis on the "better")—with their elaborate tree house, amazing inventions and irrigated acres of fresh produce—are a couple of steps above the Croods on the evolutionary ladder. When they take the Croods in as the world's first houseguests, it isn't long before tensions escalate between the cave family and the modern family. Just when all seems lost, a new threat will propel both families on an epic adventure outside the safety of the wall, one that will force them to embrace their differences, draw strength from each other and forge a future together.
The girls enjoyed the first Croods movie and have been looking forward to its sequel, so we were thrilled to be able to catch an advance screening of The Croods: A New Age. Although this particular screening was a bit different from those we've been fortunate enough to attend in the past (at home screening vs in the theater), we were pretty pleased to be able to do a dinner and movie night on a Tuesday and not have to worry (too much) about it being a school night.
D and R were happy enough just to have the opportunity to watch the movie, so when they found out we received a few goodies as well, they were delighted.
Opening the box, excited to find out what's inside!
Our "Swag Box" included 2 fanny packs (Belt and Sash), 4 pom pom plush keychains (Belt, Sash, Chunky, and Punch Monkey) 3 cell phone rings (Belt, Sash, and Chunky), a stationary set, and a rock painting kit!
The girls thought all the swag was great, but absolutely love the Sash and Belt fanny packs!

Here's the trailer, if you haven't seen it yet or if you just want to watch it again!
Are you excited for The Croods: A New Age? Be sure to mark your calendars and set a reminder on your phone because it'll be in theaters next Wednesday, November 25, 2020!
Connect with the Croods
Website: https://www.universalpictures.com/movies/the-croods-2
On Twitter @TheCroods
On Facebook @TheCroods
On Instagram @thecroods
You can view and download some great Croods-themed Zoom backgrounds here.
Enter The Croods: A New Age Fandango Gift Card Giveaway
One lucky MBP reader will win 2 Fandango gift codes
to see
The Croods: A New Age
in theaters.
Each gift code is worth 2 tickets! Please note that these gift codes are valid only for this film and will expire on January 31, 2021 or when the film is no longer playing in theaters whichever comes first.
You can use the handy RC entry form below to enter for your chance to win!
Mommy's Block Party is not responsible for prize fulfillment. Please see our policies page for details.
Good luck!
a Rafflecopter giveaway