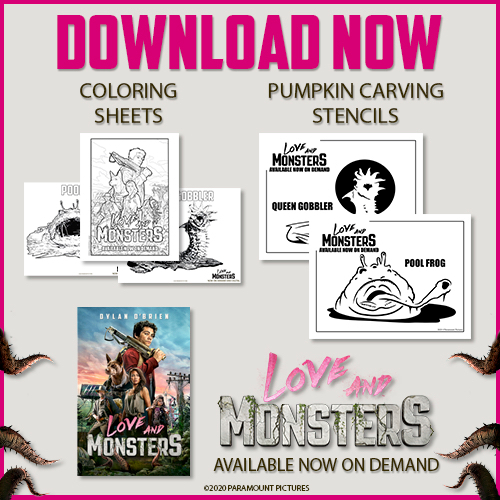 It's time to get ready for the spooky season and the Monsterpocalypse! In celebration of the release of Love and Monsters, now available On Demand and Digital, we're excited to share this monstrously fun activity packet, complete with coloring pages and pumpkin stencils inspired by the monsters from the film. Enjoy a monster-filled Halloween - coloring and carving are fun for parents, too!
Seven years after the Monsterpocalypse, Joel Dawson (Dylan O'Brien), along with the rest of humanity, has been living underground ever since giant creatures took control of the land. After reconnecting over radio with his high school girlfriend Aimee (Jessica Henwick), who is now 80 miles away at a coastal colony, Joel begins to fall for her again. As Joel realizes that there's nothing left for him underground, he decides against all logic to venture out to Aimee, despite all the dangerous monsters that stand in his way. The fun-filled and action-packed adventure also stars Michael Rooker and Ariana Greenblatt.
Love and Monsters is now available On Demand and Digital.
Starring:
Dylan O'Brien (Maze Runner, "Teen Wolf"), Jessica Henwick ("Iron Fist," "Game of Thrones"), Michael Rooker (Guardians of the Galaxy), Ariana Greenblatt (The One And Only Ivan, Avengers: Infinity War)
Director:
Michael Matthews (Five Fingers For Marseilles)
Producers:
Shawn Levy & Dan Cohen (Arrival, "Stranger Things")
Executive Producer:
John Starke (Sicario, Deadpool)
Writers:
Screenplay is written by Brian Duffield (Insurgent) and Matthew Robinson (Dora and the Lost City of Gold), based on a story by Brian Duffield
Rating:
PG-13 for action/violence, language and some suggestive material
Available on digital platforms:
Apple TV, Vudu, Amazon Prime Video, FandangoNow, Google Play, Xfinity and more!
Happy Halloween!