This post is sponsored by Sivan Social. All comments and opinions are my own.
One of the first 'worries' as a new mom for me, wasn't so much 'what do I do now?' after bringing baby home, rather it was more- 'what products do I use on my baby?' When you're totally new at the parenting thing, choosing the 'right' products can be really difficult. You're still learning about your baby, and one issue we quickly found that we would have to work with was skin sensitivity. There are hundreds of baby products claiming to be gentle and non-irritating for children's skin, but which to choose?
You could go by process of elimination, and that's oft what many families have to do- my family included. When my son (now almost ten years old) was a baby, we were introduced to Baby Magic. Baby Magic has been around since the 1950s', and parents have been using and absolutely loving their gentle formulas for generations.
My own kids (ages 9 & 4) have super sensitive skin, so we have to be extra careful about which products we choose to use at bath time and bed time. The first time we used Baby Magic Gentle Hair & Body Wash, I was so impressed, and quite happy with the results for my kiddo! My son has Eczema, and the Baby Magic formula was gentle enough to clean his hair and skin, without irritating it. B has been washing with this well loved formula from Baby Magic for nearly 10 years! It was gentle enough on his skin when he as a tiny guy, and it's still gentle, but works to remove the sweaty boy stink at the end of a rough and tumble day!
My daughter faces the same issues, and she has long hair- a double whammy! This fantastic formula is gentle on her skin, but also works wonders for getting her hair truly clean. We love it! The Baby Magic formula keeps her hair and skin clean, and works well for her naturally curly locks.
Every night, my kids are heading to bed, feeling clean and refreshed, thanks to Baby Magic's wonderful and gentle formula. Their skin is also incredibly soft, and neither of them complain about their skin being itchy or irritated. For added skin love and protection, the Baby Magic lotions are also fantastic.
Want it? Get it!
Baby Magic
has an entire collection of fantastic products for babies and kids! I love that we have been using their products for nearly a decade, and that they're gentle enough for newborn babes, as well as strong enough to wash away the playground dirt and finger paint off of older kids, as well.
You can check out the entire line of
Baby Magic products on Amazon
!
Grab this awesome coupon to save even more
The magic savings continue! Select households will receive an additional $1 off Baby Magic coupon from Valpak. Be sure to open your Valpak envelope to see if you received one.
Win a $100.00 Visa Gift Card! 10 Winners!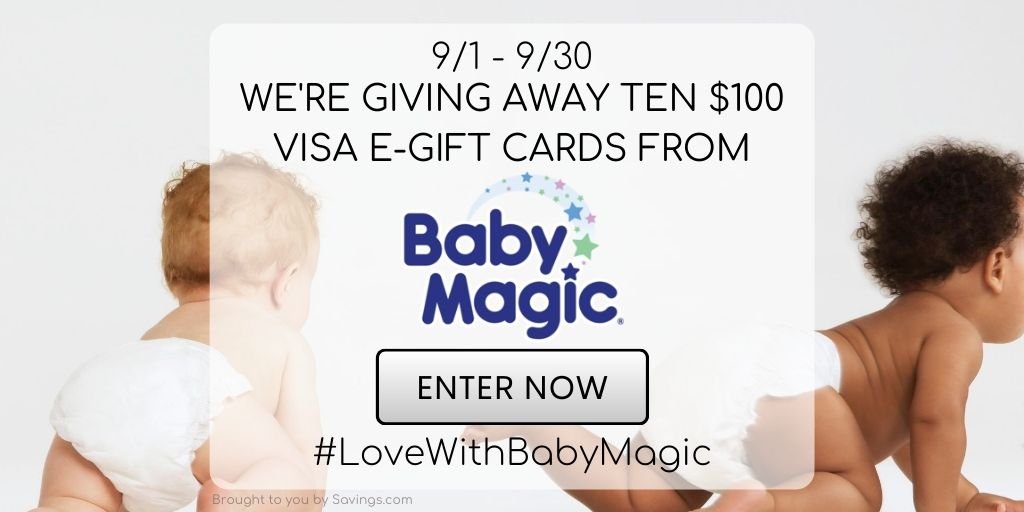 Want to win some Baby Magic products? Enter the Baby Magic Giveaway brought to you by Savings.com! Enter to win a $100 Visa e-gift card from Baby Magic. There will be 10 winners - will you be one of them!?
Enter the giveaway here
!
Giveaway details:
Tuesday, September 1st at 12:00 AM PT to Wednesday, September 30th at 11:59 PM PT.

Ten (10) winners will receive a $100 Visa e-gift card.

Users enter the giveaway by heading to the Grocery page on Savings.com and submitting their email address on the form on the page.

The winners will be chosen through a lottery drawing and notified on Thursday, October 1st via the email address they used to enter.

See complete Official Rules for entry instructions, full prize descriptions, restrictions and other important details.
Did you enter to WIN? Be sure to drop us a comment and let us know!
Good luck!