Even though it's hot outside, I'm always looking forward to the next season, especially if I'm in need of a wardrobe refresh. Fall is my favorite time of year, but it can be one of the toughest seasons to dress for. Cool mornings can quickly turn into warm afternoons, making that sweater you put on in the morning a terrible, sweaty mistake by mid-afternoon. I typically try to look for more transitional pieces, one's that can be worn during all seasons. Sometimes that can be a skirt or a dress, but lately, I've been getting into Jumpsuits, and if styled correctly, can be worn to the office or a night out on the town and perfect for every season!
I'm a sucker for a good bargain or sale, so most of the time when I'm shopping I steer clear of paying full price and look for the sales. One sale, in particular, that has caught my eye is Banana Republic's Summer Sale, where you can save up to 75% off Sale Styles. This is my kind of sale because, number one, I love Banana Republic, they are one of my favorite stores to shop at, and number two, because they make my all-time favorite perfume! But I'm not shopping for perfume, I'm shopping for one or two signature pieces that I can transition with from Summer to Fall. Immediately on the first page I was hit with several pieces that I just fell in love with, but the one that really caught my eye is their:
Strappy Flare-Leg Jumpsuit


This Jumpsuit which normally retails for $149.00 is on sale for just $35.00, can you believe that! The reason that I am in love with this Jumpsuit is because of its classic look. It looks like a beautifully tailored pair of dress trousers with a gorgeous, fitted cami tucked in. The waistband looks like a mid-width belt and it all fits together so seamlessly. This is such a great transitional piece because it can easily be paired with one of the many blazers that Banana Republic has on sale as well. At work, dressed up with a blazer and heels makes for a more refined look, but at night, take off that blazer, put on some cute wedges or chunky heels and you've got yourself a cute outfit for a night on the town. Add a cute t-shirt underneath during the Summer to wear to work, and during the winter, throw on a chunky knit sweater and you've got a whole new look. With its versatility, you can't go wrong with this Strappy Flare-Leg Jumpsuit.
If you're not into Jumpsuits, don't worry, Banana Republic has something for everyone, at a price to fit every budget. It's a great time to do back to school and work shopping as well. To help make that sale even sweeter, Savings.com has partnered with Banana Republic for their #BRSummerSale Giveaway where you can enter to win One of Five $100 Banana Republic e-gift card. With all of the great items on sale, it's going to be hard to decide what to buy, but an extra $100 sure would be nice. Then you can buy more stuff and who doesn't like that!
Enter Below For Your Chance To Win a $100 Banana Republic E-Gift Card, #BRSummerSale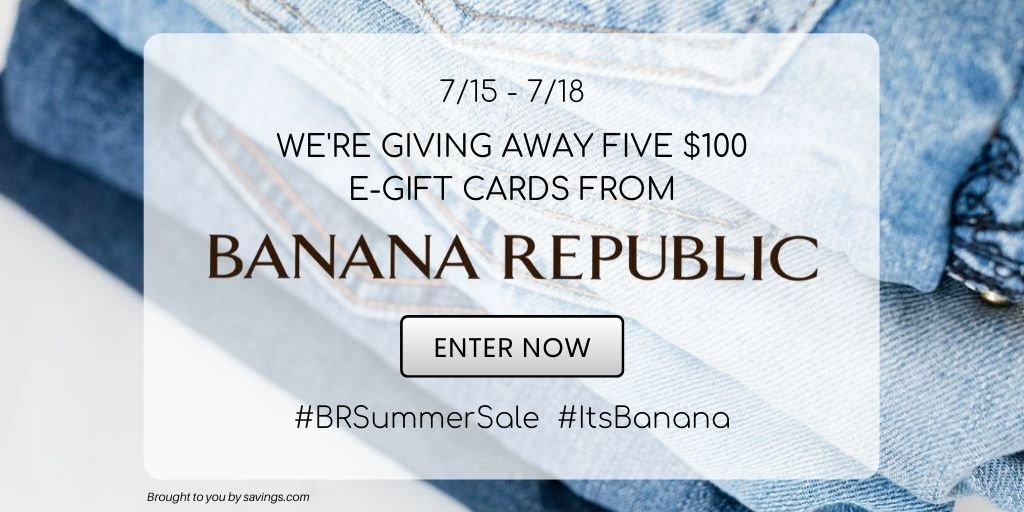 Sale runs through Jul 22, 2020 in the Us, Puerto Rico and Canada

Sweepstakes ends at 11:59 p.m. PT on July 18th, 2020

5 Winners will be chosen at random to each receive a $100 Banana Republic E-Gift Card and notified on July 20, 2020

Please read the Official Rules BEFORE entering the Sweepstakes.

Only 1 entry per person

Click on the Enter Now tab above to enter!
Good Luck!