Thanks to Disney Pixar & Click Communications for providing me with a copy of Incredibles 2 for my review. All thoughts are my own.
It's the family movie night we've all been waiting for! Disney Pixar's INCREDIBLE'S 2 is finally available on Digital, and will be available on Blu-Ray/Combo on November 6th! We were so excited to receive our INCREDIBLES 2 copy, and we just had to celebrate by watching it together as a family. Family movie night is just one of those things that I love. Everyone comes together, cuddles up, enjoys some yummy snacks, and chills out while watching a movie. We already knew this movie was pretty incredible, but of course, there were lots of fun surprises in store for our movie night.
True excitement- a Friday night treat!
My kids were out of this world excited when Sacha and I told them that we'd be having a family movie night, and we'd be watching INCREDIBLES 2 together! I have never heard both of my kiddos squeal with delight as much as they did for this. I actually wish I could have videotaped their reactions. Priceless!
No family movie night is complete without snacks. We actually had pizza for dinner, and also had some cheese sticks, fruits, and veggies along with it. If you want to go all out with themed snacks for your INCREDIBLES 2 Family Movie Nights, check out some of these awesome recipes!
Frozone Float
INCREDIBLES Oreos
INCREDIBLES Crispy Treats
Our Thoughts on INCREDIBLES 2
In "Incredibles 2," Helen (voice of Holly Hunter) is called on to lead a campaign to bring Supers back, while Bob (voice of Craig T. Nelson) navigates the day-to-day heroics of "normal" life at home with Violet (voice of Sarah Vowell), Dash (voice of Huck Milner) and baby Jack-Jack—whose super powers are about to be discovered. Their mission is derailed, however, when a new villain emerges with a brilliant and dangerous plot that threatens everything. But the Parrs don't shy away from a challenge, especially with Frozone (voice of Samuel L. Jackson) by their side. That's what makes this family so Incredible.
B and Sacha saw this movie in theatres over the summer, and they both absolutely loved it, and the proceeded to talk about it for several days afterward. I saw the film for the first time during family movie night. I love The Incredibles and loved the first installment in this franchise, so I had high hopes and big expectations for the sequel.
This movie has it all. Bob and Helen still have that loving, yet sometimes strained-by-life tension between them. I've always appreciated the way these characters support one another, and that comes into play big time in this movie, as we see a role reversal between the parents.
Your kids will love the humor, fun, and probably the attitudes of the Parr kids... they're incredibly real and relatable for today's kids. baby Jack-Jack is full of surprises, and we get to see his own incredible powers make their debut in this film.
Frozone is back (I've always liked him!), and there are lots of new characters which help play supporting roles in this super story. And of course, what would the movie be without a new villain? I quickly discovered that the villain wasn't who I thought it was. I also thought that the villain in this movie was kind of creepy, and might be a little too scary for young kids. The villain's motive, though- very relevant, and makes grown-ups, and maybe even the kids stop and think twice. Good job on that front, Disney Pixar!
We loved seeing the family work together as a team this time. Everyone was able to pitch in and help out with their fully realized powers.
If you're an Edna Mode fan like I am, you won't be disappointed! There's plenty of Edna, who offers some much needed comic relief to this story. Plus, there's a bonus Auntie Edna featurette on the BluRay disc. Don't skip it- you'll be so happy you watched it! My family cracked up the entire time as we watched Edna and her special guest.
You're absolutely going to want to own this movie if you don't already own a digital copy. With the holidays coming up, this movie would make an incredible gift or stocking stuffer!
Grab your copy of
Incredibles 2 on BluRay
on November 6th!
Look for it in our 2018 Holiday Gift Guide!
That's not all! Have an Incredibly Super Halloween with these INCREDIBLES 2 craft ideas!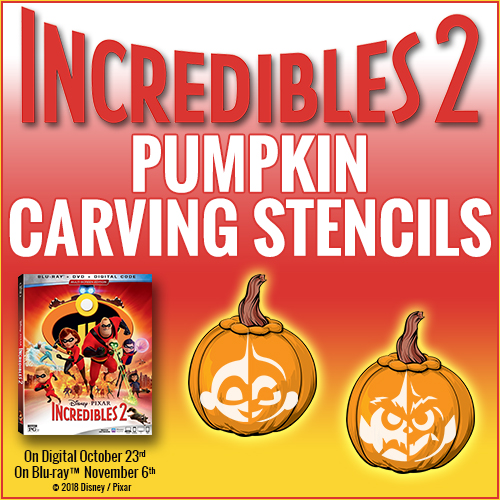 Thinking of making a Jack O'Lantern for Halloween? Well, why don't you make it a Jack-Jack O'Lantern?! We've got the perfect carving stencils to make your pumpkin INCREDIBLE this Halloween.