Thank you to Almondina for providing me with product in exchange for my honest review. All thoughts are my own.
When you think of snacks, what types of foods come to mind? Usually for me, it means something like brownies or cookies. I am addicted to sweets, and I know that's why I can't seem to lose these pesky 10 pounds that are left after having Baby S- a year later! I am always craving sweets, and I go for the bad stuff time and time again. I know that I should stay away from it, but I have less and less will power to do that these days. Luckily, there's a scrumtious alternative to those bad sweets, thanks to Almondina.
Get ready for a new addiction in
Almondina
cookies. Healthy, sweet cookies, made with natural ingredients, that combine the rich taste of toasted almonds and sweet raisins in a delicious, crunchy snack! Many cookies look alike – but no other cookie tastes like Almondina brand cookies. People really get addicted to them! These cookies are non-dairy and Kosher with no added fat, salt or coloring.
Say hello to Almondina Toastees, the newest addition to this wonderful line up of healthy, delicious snacks.
Almondina cookies have been on the market for over a quarter of a century. Almondina now introduces Toastees, a new snack/cookie, that is the first product introduced by the next generation of the Almondina family. I've been trying to watch what I eat lately, and that means trading the brownies for a better for me snack, like Almondina Toastees.
Almondina Toastees
come in a variety of flavors, like Sesame Almond, Cranberry Almond, and Coconut Orange Almond.
The perfect snack for a late afternoon sweets craving!
Almondina Toastees are small in size, and are the perfect bite-sized snack for any time of day!
I eat eggs for breakfast, and they usually wear off by about 10 am. Before 10:30 rolls around, I have already out in a good amount of daily work, housework, and have taken a walk with Baby S. Snack time is calling when S goes down for her nap around 10:45. I need a little something to tide me over until lunch at 12:45. I don't have to feel guilty about reaching for the Almondina Toastees. The cranberry almond flavor is my favorite. I love biting into actual pieces of cranberries and slices of almonds. The toastees are thin and crisp, and are nice and sweet. They're perfect to enjoy with a cup of coffee or tea.
Let's take a guilt-free snack break and enjoy some delicious Almondina Toastees!
The Almondina Toastees are so good, you'll be wanting more of them! You can enjoy them as they are, or pair them with cheeses for a delicious treat! I love to put out Toastees and cheese for friends and family. I recently helped to host a baby shower for a friend, and brought along some Almondina Toastees to share. They were a big hit!
There are just 69 calories per serving of Almondina Toastees, so snack away!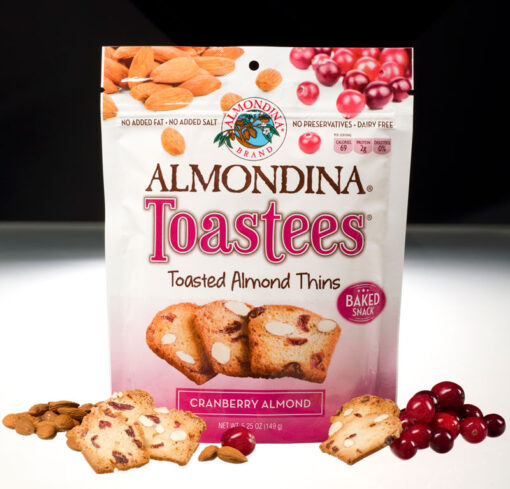 Packed with almonds and cranberries. This bite sized snack has no salt or fat added, no cholesterol and no preservatives. Made from simple ingredients that are baked then toasted for a crispy crunch. Great with coffee & tea, yogurt or ice cream, excellent paired with cheeses and a great snack for children of all ages. A family recipe proudly baked in Maumee, Ohio.
I love that the toastees are a healthy snack that my whole family enjoys. My husband isn't a fan of sesame, but once he tasted the Sesame Almond Toastees, he couldn't put the bag down. He yelled from across the house, 'Hey sweetie, we have more of these, right?'
Check out some of the other Toastees flavors available...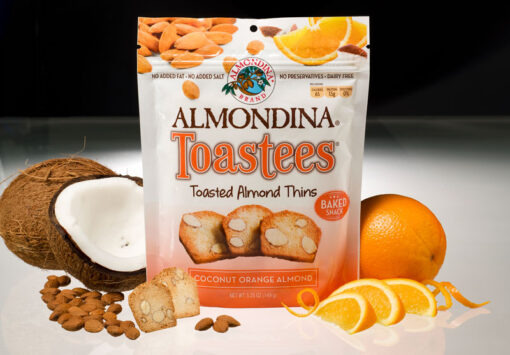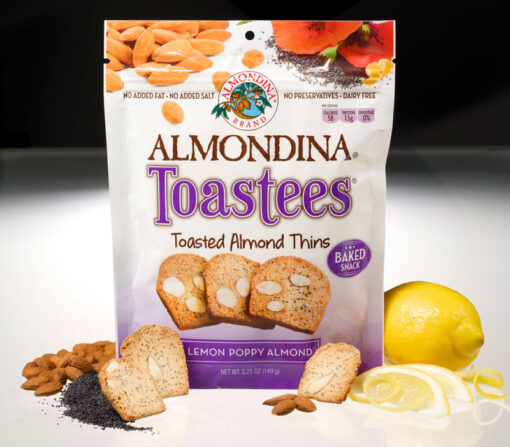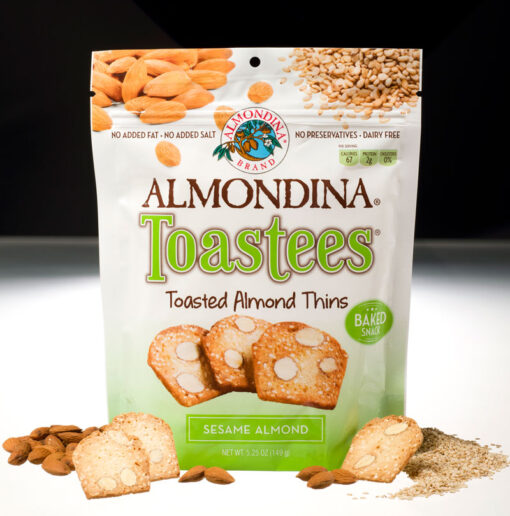 If you want to share healthy and delicious snacks with your friends and family this summer, check out Almondina Toastees! They'll be the talk of all of your summer gatherings, and you can feel good about indulging a little!
Want them? Get them!
Head on over to
Almondina's website
to learn more about the new Almondina Toastees. Toastees are being carried coast-to-coast by stores including all Sprouts Markets, Bed Bath & Beyond, Publix, Giant Eagle, Lowe's Foods, Fairway Markets, Kroger Michigan, Amazon,
Almondina.com
and others.
Want them? Win them!
One lucky winner will receive a sampling of Almondina Toastees ($40.00 RV). Giveaway is open to US residents (Continental 48 States), 18+. Only one winner per giveaway and previous winners are not elegible. Just use the RC entry form below to enter for your chance to win. MBP is not responsible for prize fulfillment. Please see our policies page for details.
Special thanks to Almondina for allowing me to share about their wonderful products and for offering this fabulous giveaway for our readers.