Thank you to M & M Chalkboards for providing me with product in exchange for my honest review. All thoughts shared are my own.
One of the things that I have enjoyed when party planning in the past, is finding a way to include cute little facts and information about my kids. Bein able to share about their milestones, and the things they like. Baby S has a strong personality, and she has grown so much in the past year- from a tiny little bean to a beautiful (now) toddler. Her first year of life went by so quickly... I want to be able to capture all of those special moments so I will remember them, always!
A fun way to display cute facts about your child at their party or celebration, is to have a personalized birthday chalkboard at their party. Now, I have tried my hand at making a handmade personalized chalkboard for a baby shower, and let me tell you- it's not as easy as it looks! Digitally-made birthday chalkboards are the way to go, and I found
M & M Chalkboard
Creations
, and connected with Jennifer. Jennifer designs adorable chalkboards digitally, and sends the completed digital file to the customer, so they can print the file themselves, and then use the chalkboard for a party, celebration, or photo shoot.
Jennifer basically designed a custom chalkboard for us, and she did it so quickly! I sent her the party theme colors, etc., as well as some of the information that I wanted included on the chalkboard. We used some of S's favorite words, things she likes to do, her weight, how many teeth she has (zero!), as well as a few other tid-bits of fun info.
We placed the chalkboard by the party favors, so that it would be in a place where everyone would see it.
Jennifer designed the chalkboard, and sent it to me in a digital file. I saved the file to a flash drive, and then took it to Office Depot, and had them print it. I had planned to frame the poster, but had trouble finding an inexpensive frame that would fit the size of the file I had printed.
Take a look at how it turned out... so cute!
The birthday chalkboard came out so beautifully, and it really did have that chalkboard effect that I wanted. This is now a very special keepsake that will be packed away with S's other birthday trinkets, an she'll be able to look back on it when she's older. The birthday chalkboard was a hit at the party. Our guests enjoyed reading all about the birthday girl, and it really was a sweet addition to our special party for our special girl.
There are so many cute designs available from M & M Chalkboards! There are back to school boards, wedding boards, gender reveal boards, and more!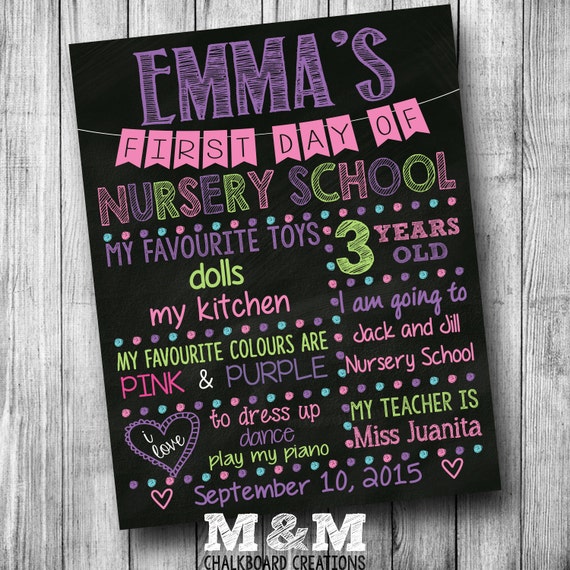 School Board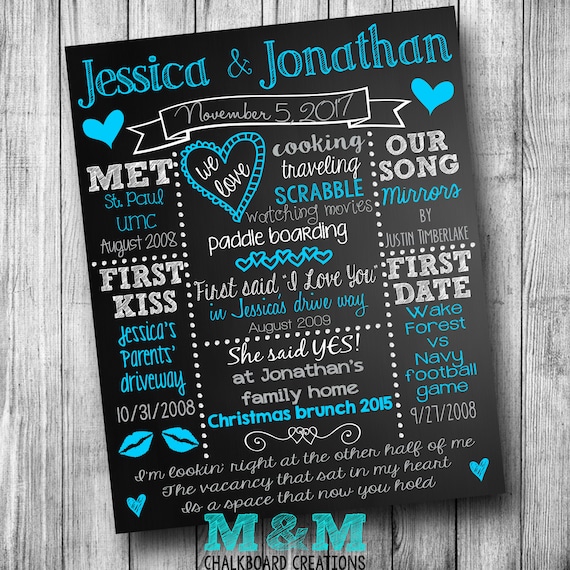 Wedding Board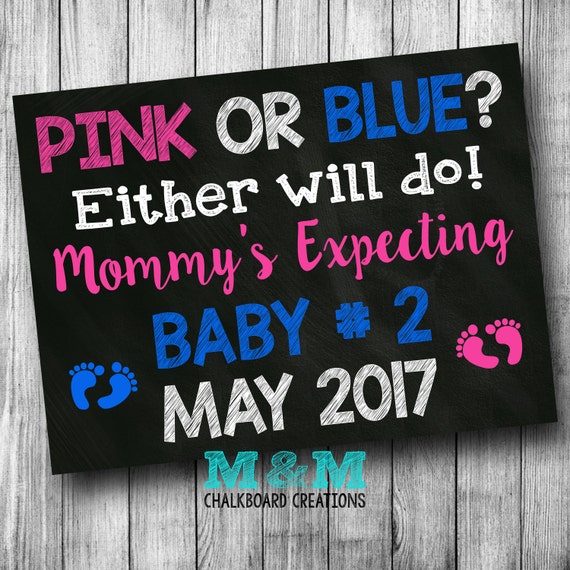 Gender Reveal Board
If you have a special announcement to make or a special celebration coming up, check out M & M Chalkboard Creations! You'll love how many different designs there are to choose from, and if you can't find exactly what you're looking for, Jennifer can work with you to create a custom design! There's no extra fee for rush orders, and you can have your board in a matter of a day or two! For less than $10.00, you can have a special chalkboard to share at your celebration!
Want it? Get it!
Head on over to
M & M Chalkboard Creations
to take a look at all of their adorable chalkboard designs. Keep in mind that your purchase includes a digital file only- no actual product is shipped. You will have to print the file yourself.
Want it? Win It!
One lucky reader will win their own Birthday Chalkboard (digital file- not an actual product) from M & M Chalkboard Creations! Giveaway is open Worldwide. Just use the handy RC entry form below to enter for your chance to win! Mommy's Block Party is not responsible for prize fulfillment. Please see our policies page for details.
Special thanks to M & M Chalkboard Creations for allowing us to review and share about their gorgeous chalkboards, and for offering this fun giveaway for our readers! Look for them in Sabine's 1st Birthday Bash Guide!