Thank you to Emmy J Creations for providing me with product in exchange for my honest review. All thoughts and opinions shared are my own.
When I began looking for party decor to match a purple butterfly theme for Baby S' first birthday party, I knew that I wanted to incorporate a few different colors. Shades of purple, white, silver, and gold seemed to fit the festive bill. I was certain that I would never find exactly what I wanted as far as birthday banners went. If you know me, you know that I am a stickler for details, and I want perfection when it comes to the parties I host. This was a very special party, and I wanted the very best for my sweet girl.
One of the very first pieces of decor that I found for S's special day, was indeed a handmade birthday party banner. I found it while browsing on Etsy, and I reached out to the shop owner of
Emmy J Creations
, Mick. Mick is an awesome wife, mom, and a teacher. She has a passion for children and family, and loves sharing her beautiful banner creations. Mick's banners are gorgeous fabric banners that can be customized to fit any decor scheme or party. Mick sent us a beautiful
purple and gold butterfly fabric banner
for S's birthday party, and I knew I wanted it to be the focal point for the whole party.
The purple and gold butterfly fabric banner was so beautiful hanging up on the mantle in the living room, where all of the guests gathered to watch S open up her gifts and to visit.
The banner features strips of coordinating purple, white, and gold fabrics. The very center of the banner features a burlap pendant, with a '1' in the middle, and two little purple butterflies. The banner looked so beautiful as part of our birthday party decor. All of our guests loves it, and I had a lot people asking where it came from.
Baby S loved the banner, and kept trying to stand on her own to take a closer look at it. She was a very happy little birthday girl!
Not only did we use the banner for the party, I also used it as a
photo prop
background for the photos we used for Sabine's birthday invitation. It turned out way too cute! It was the perfect choice for the background, and I plan to hold onto it so we can share it with friends and family who may want to use it down the road.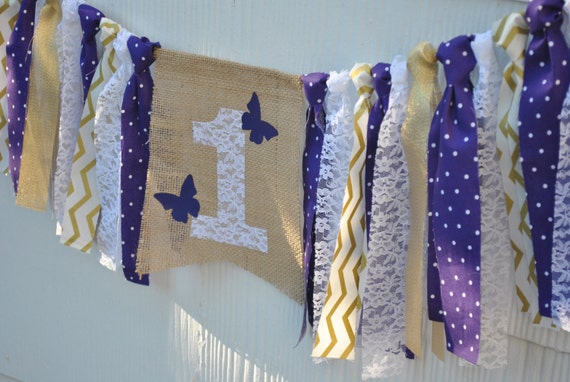 PURPLE and GOLD Birthday, BUTTERFLY birthday, highchair banner, 1st birthday, first birthday banner:
$28.00
Beautiful handmade shabby chic 1st birthday fabric garland.
This banner is perfect for a highchair, 1st birthday photo backdrop, or party decor.
The banner is 30" wide and each fabric strip is approx 8-11" long.
The burlap pennant is approx 7" wide and 9" long.
There is approx 15" of natural jute on each side leftover for hanging.
The pennant can be customized if wanted.
The colors of fabric include purple, white, and gold fabric in various patterns.
The pennant has a lace number 1 and purple butterflies. The pennant can be customized or altered as needed, JUST MESSAGE ME BEFORE ORDERING!
Colors can also be customized, just message me!
The material is purposely frayed which adds to the shabby chic charm.
Check out some of the other gorgeous banners available from Emmy J Creations...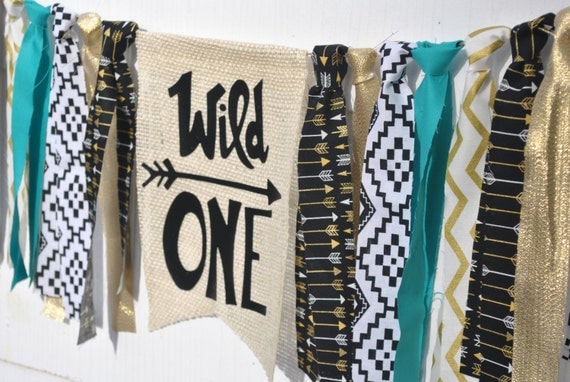 Wild One Banner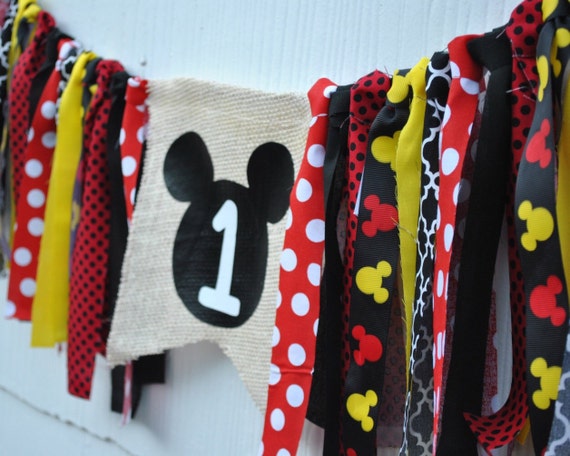 Mickey Banner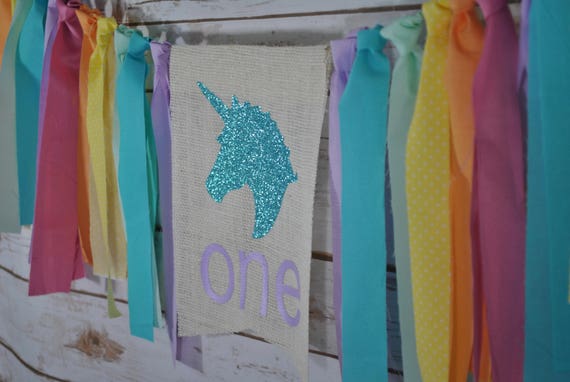 Unicorn Banner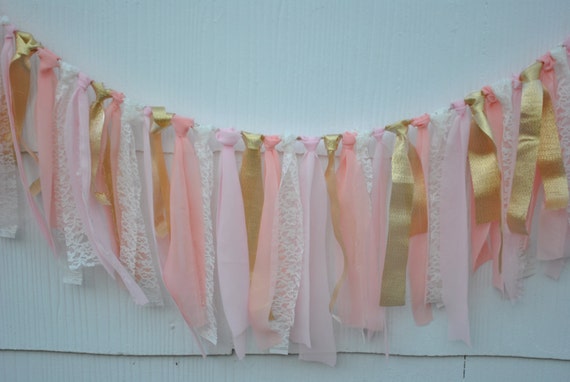 Fabric Garland, only
Mick was fabulous to work with. She was wonderful to communicate with, and really shared her heart with me when it came to why she is so passionate about her work. She would love to share the inspiring story of how she chose the name for her shop with you.
Want it? Get it!
Head on over to
Emmy J Creations
to take a look at all of Mick's beautiful, handmade banners. They're the perfect addition to any sweet celebration!
Special thanks to Mick of Emmy J Creations for allowing me to share about her beautiful banners. Look for them in Sabine's 1st Birthday Bash Guide!