Thank you to Kim Getchell for providing me with product in exchange for my honest review. All thoughts and opinions share are my own.
What's my go-to gift of the holiday season? It's Scentsy, y'all! Yep- I am a Scentsy addict, and I'm proud of it! If you've never experienced the goodness that is Scentsy, you're really missing out. Scentsy has been a part of my home life for over 5 years, and there's no turning back for me! I enjoy giving meaningful gifts that will delight the gift recipient, and Scentsy has gift ideas for everyone in the family, and others on your gift list!
Presented by Kim Getchell, MBP Spotlight Sponsor
I am thrilled to once again be sharing about Scentsy, thanks to the wonderful Kim Getchell. Kim os one of our awesome MBP Spotlight sponsors, and she brings us the latest and greatest from Scentsy every few months here at MBP. Kim is a hardworking wife and mom, and she loves her Scentsy business. Not only does she believe in their wonderful products, she is an amazing businesswoman, and truly takes care of her customers- near and far.
I received a beautiful package from Kim this holiday season!
I love getting Scentsy packages. You know it's Scentsy, because it's clearly labeled on the shipping box. Scentsy products are always nicely packaged, and I never have to worry about fragile warmers being damaged. All Scentsy warmers are packaged in beautiful gift boxes, and my Scentsy package came with the latest Scentsy catalog. I love to look through the catalog, as well as look online!
My Scentsy Box showed a picture of my new warmer, right on the pretty box.
I couldn't wait to open up the Scentsy box to see my new warmer. I poured over a ton of beautiful warmers on Kim's website before I landed on the one I really wanted to see in person this holiday season.
Underneath the lid of my Scentsy box was this inspiring message!
My Scentsy warmer was well packaged, with this instruction sheet lying right on top.
It's important to read through the directions for using your Scentsy warmer, even if you've purchased lots of different warmers in the past. They're not all the same, and you want to make sure you're using the product correctly, and safely. The directions are easy to follow, just take a look and you'll be on your way to enjoying your new warmer,
The warmer was wrapped in plastic, and the cord and bulb were tucked inside of the base for safe keeping.
Take a look at the gorgeous Reimagine Warmer by Scentsy!
At first glance, this may look like a boring black and white warmer with pretty designs on it. This beautiful
Reimagine Scentsy warmer
is actually meant for you to color! Yes! It's like an adult coloring book printed on a beautiful Scentsy warmer. Just use your favorite permanent markers to color in the lovely designs, and awaken your artistic soul! The markers are not included with the warmer, so if you're gifting this warmer, make sure to also include a pack of markers.
Here's the other side of this beautiful warmer, which I cannot wait to color!
To use the warmer, simply place the warming tray on top, add a Scentsy bar piece, plug in, and turn on!
This warmer is by far one of my favorites by Scentsy. I love that I can choose the colors I want to use with the warmer, and color in the designs myself. I'll be able to proudly display my handiwork, and show off the beautiful warmer in my home. This warmer is just a great gift idea! It's perfect for holiday gifting, as well as a wonderful gift for college students, new home owners, the artist, teens and young adults, teachers, or anyone who loves to be creative!
Add your favorite seasonal scent to the warmer to add a depth of delightful scents to your home!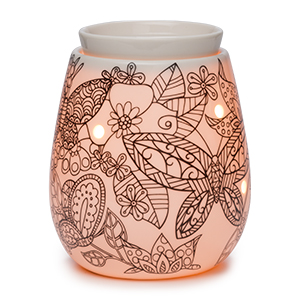 Take time for yourself. Reimagine your life in full color.
It's your canvas, brought to life through your own unique vision. Reimagine lets you take the artistic lead and design a one-of-a-kind piece with inspired creativity and color.
Use permanent colored markers to bring your warmer to life. Markers not included.
$35.00
I also received the Peppermint Rush Bar, which smells amazing!
I love the scent of peppermint, so the
Peppermint Rush Bar
was a great choice for my home. My husband really loves peppermint, and we both enjoy how fresh it smells, and how it makes the house smell all wintry!
To use, just break off one or two pieces, and add to the warming dish of your favorite Scentsy warmer!
The warmer will safely melt the wax bars, and your home or office will be on its way to smelling delicious in no time! There are tons of great scents from Scentsy! I love their seasonal scents for the holidays, and love their cafe and bakery scents, too! Hubby loves their masculine scents, which is what we normally have going in our warmer in our bathroom.
I have Scentsy in just about every room of our house. I have tons of warmers, and I love to use lots of different scents through out the year. I certainly have my favorites!
Check out some other great Scentsy gift options for the holidays!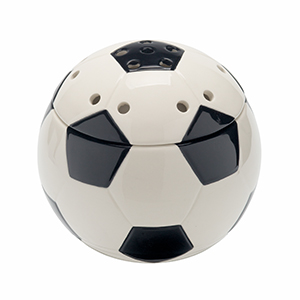 Goal Warmer
English Breakfast Warmer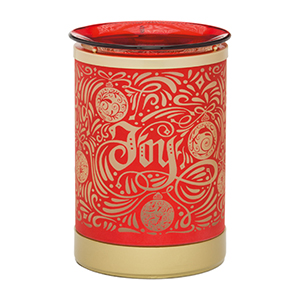 Rejoice Warmer
Chasing Fireflies Warmer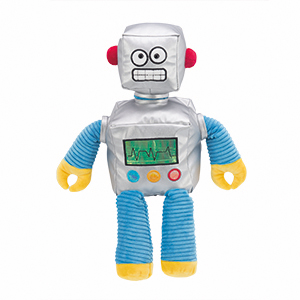 Scentsy Buddies
Car Bar
There are so many great
Scentsy products
available from warmers and bars to car accessories, laundry products, and Buddies for the kids! You'll have to take some time to look over Kim's Scentsy website to see everything. Have paper handy- you're going to want to make a shopping list!
Want them? Get them!
Head on over to
Kim's Scentsy website
to browse holiday gifts from Scentsy. The bars are a great deal- just $5.00, and you can sign up to have them auto-shipped, so you never run out of your favorite scent! Warmers are priced at $20 for plug-ins, and go up from there. Great options, even if you're on a budget. Want to earn free Scentsy? Host a party with Kim! Want to start your own Scentsy business? Kim would love to share more about the Scentsy opportunity with you! If you're shopping for the holidays, go ahead and get those orders in so you'll have your Scentsy product in time for Christmas.
Special thanks to Kim Getchell for allowing me to share about these beautiful gift ideas from Scentsy this holiday season. Look for them in our 2016 Holiday Gift Guide, and look for another post on Scentsy with Kim in the new year!