Thank you to Staples for providing me with product in exchange for my honest review. All thoughts and opinions shared are my own.
I love it when I can do a good bit of my Christmas shopping all in one place. I have a lot of people in my family to shop for, so the easier I can make it on myself, the better. I also love when I can save money on those gifts. Finding great deals helps me to stay within a certain budget, and allows me to buy more gifts for the people I love.
This season,
Staples
is making it easier than ever for me to purchase awesome gifts for everyone on my list! Best of all, there are so many gifts under $40.00! Where else can you stay withing a $40.00 limit and still get all of the gifts you need? Staples has it all- from adult coloring books, colored pencils and markers, to decor, gifts for your office mates, game and toys for the kids, and more!
I was able to select a couple of gifts from the Staples holiday look book, and was so thrilled with their selection of gifts under $40.00. I saw plenty of gifts for those on my list, and couldn't wait to start earmarking some of them for my family members.
We received the Boogie Board Scribble & Play- a great gift for kids!
I have a few littles to shop for this holiday season, and one of my favorite little girls is going to be getting the amazing Boogie Board Scribble & Play. This fun board allows kids to scribble and draw, just like they would on a piece of paper. The images come out in rainbow colors, and look so cool against the black background!
The
Scribble and Play
comes with four different writing instruments that can be used to write and draw on the board with. Just press a simple button and the drawings magically disappear, so you can draw again and again!
I had a little too much fun drawing a winter scene on the Scribble & Play!
We have another Boogie Board, which is very similar to this one, and B absolutely loves it! He can draw for hours on end with it, entertain himself when we;re on trips, and he loves to play with it at home, as well. This special board is going to be shared with a special friend of ours. We can't wait to surprise her with it!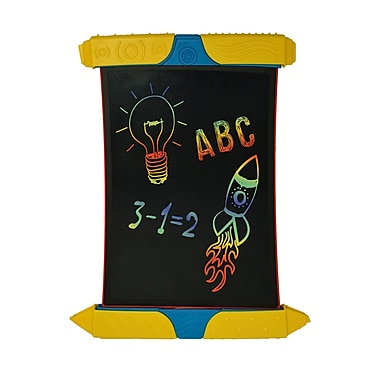 Boogie Board Scribble N' Play allows kids to express their creativity
Boogie Board Kids Scribble N' Play Learning and Creative Doodle
Writing experience is comparable to pen on paper
Create different effects with 4 unique Stylus tools
Write and draw in multiple colors
Use any Stylus
Save and share your creations with our free app
$29.99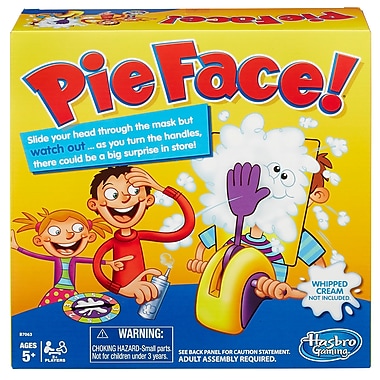 Another awesome gift idea for kids from Staples is the super popular
Pie Face
game! B has been asking for this game for months, so he's going to be very excited when he finally gets to play it! This game is fun for the whole family, and is recommended for ages 5+. Set up the game and take turns going round and round... who will wind up with whipped cream in their face?
To play this game, you have to be willing to get a little messy. Yes, it uses real whipped cream (not included with the game), and you're probably going to get messy when you play! It's great fun for all, and it's the perfect game for family game night!
The hilarious Pie Face game is filled with fun and suspense, and somebody's bound to get surprised! Players load the arm with whipped cream (not included) or the included sponge, then take turns sliding their heads through the mask and spinning the spinner. But, watch out! The game unit could go off at any time giving someone a face full of whipped cream! (Whipped cream not included.)
Game: Family Gaming
Ages 5+
Multi
10.512 x 10.512 x 3.150
2+ Players
Hilarious, family fun
Pie-throwing arm could go off at any moment
Players score points every time they avoid getting whipped cream in the face
WARNING: Choking Hazard -- Small parts. Not for children under 3 years
$19.99
If you're still looking for fun gifts for your kids, your co-workers, neighbors, friends or family members, check out Staples! You can shop in store or online and catch some amazing deals- even at the last minute!
Want them? Get them!
Special thanks to Staples for allowing me to share about these awesome gift ideas! Look for them in our 2016 Holiday Gift Guide!