Thank you to Violets in Your Hair for providing me with product in exchange for my honest review. All thoughts shared are my own,
I love to dress my baby girl up during holidays, and I have been so excited to dress her in her very first cute little Christmas outfits. I have tried not to go overboard, and have stuck with just a handful of outfits for this year, and some special little accessories to go with them. Every little girl needs a few pretty bows and headbands to wear during the holidays, which is why I just had to show you some of the beautiful designs available from Violets in Your Hair.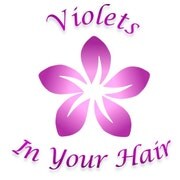 I was lucky enough to connect with Silviya, who owns Violets in Your Hair on Etsy, and creates gorgeous crocheted baby headbands for holidays and everyday! Silviya is so sweet- she's a wife and mom, and is incredibly talented, as well. I had so much fun just looking around her Etsy shop at all of the pretty pieces that I could just picture Baby S in during the holidays. Silviya was kind enough to send me a few baby headbands to check out and model with Baby S.
We received three beautiful hand crocheted headbands from Violets in Your Hair...
A sweet pink bow with a pearl accent...
...a whimsical Christmas headband...
...and a cute snowflake headband.
Each headband was individually wrapped and packaged. Each headband came fastened to a card, and secured with tape. I had high hopes that Baby S would wear these headbands with ease (she's been pulling headbands off of her head lately), and I knew they were going to look absolutely adorable on her!
Baby S wasn't feeling super well when we took this photo, but she still looked so sweet in her pink bow headband!
The pink bow headband is just cute, cute, cute! It reminds me of Audrey Hepburn. It's such a vibrant pink, which stands out and catches attention. The subtle pearl detail is just a classic addition to this cute accessory piece. The headband is very thin, so there isn't much there for baby to pull on. It can be worn comfortably all day long.
The Christmas flower headband is a favorite!
I love this beautiful Christmas flower headband. It looks so cute with Baby S' little outfits! It certainly goes witha number of her holiday outfits, but it matches her sweet little Christmas dress perfectly, and I can't wait for everyone to see her in it! The crocheted flower is just stunning in red, white, and green! It has a red and white dot band with it that just makes it look even more adorable!
Another favorite- the snowflake headband!
This is the headband that S has worn the most thus far, and will probably wear well into the new year. It's just so sweet! Every time S has worn this headband, she's been complimented on it, and how cute it looks on her. It's a gorgeous headband, and the snowflake band that accompanies the crocheted snowflake is lovely!
I am really looking forward to purchasing some more headbands from Violets in Your Hair. These are one of a kind headbands that you won't be able to get anywhere else.
Check out some of the other designs I can't wait to buy...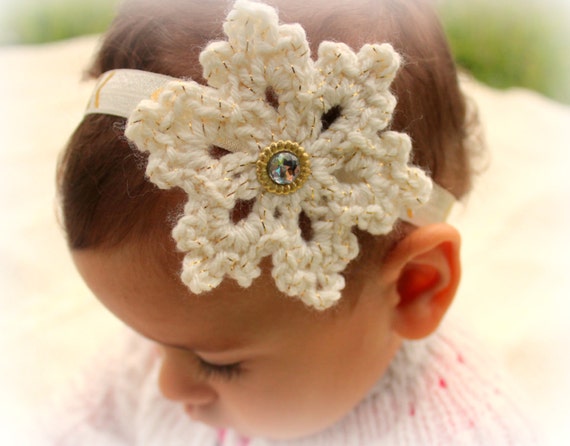 White Snowflake Headband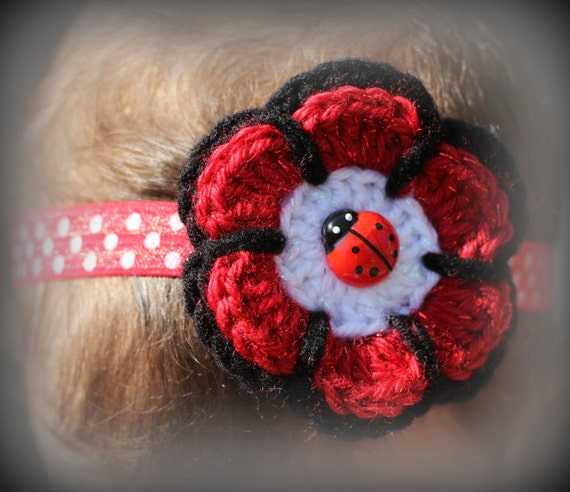 Ladybug Headband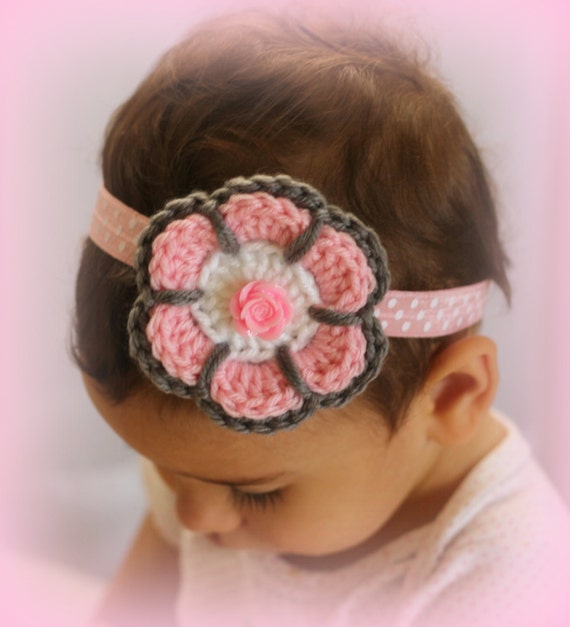 Flower Headbands
These beautiful headbands are perfect for precious baby girls! There are also lots of other gorgeous crocheted gifts available from Violets in Your Hair, such as ornaments, garlands, scarves, etc.
Want them? Get them!
Head on over to
Violets in Your Hair
on Etsy to browse all of the beautiful crocheted gifts! Connect via
Facebook
and
Instagram
.
Want it? Win it!
One lucky reader will win the beautiful headband pictured above from Violets in Your Hair! Open to US residents, 18 and older. Just use the handy RC entry form below to enter for your chance to win! MBP is not responsible for prize fulfillment, Please see our policies page for details.
Special thanks to Violets in Your Hair for allowing me to share about these gorgeous crocheted headbands and for offering this wonderful giveaway for our readers!
a Rafflecopter giveaway