Thank you to the Southern Closet 101 for providing me with product in exchange for my honest review. All thoughts are my own.
I remember my son's first Christmas like it was yesterday. He was just two months old for his first Christmas, and it was a very special time for our little family. I cherish the memories from that first Christmas with him, and I still remember all of his little Christmas outfits. Of course, I want Sabine to have the same experience (though she won't remember), and I want to have those same special memories with her. I have been looking around for cute Baby's First Christmas outfits, and found just the most adorable ensemble at The Southern Closet 101!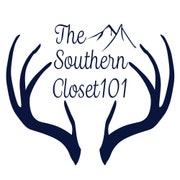 The Southern Closet 101
is an adorable shop on Etsy, owner by Corrana Cook. At The Southern Closet 101, there are plenty of adorable holiday outfits to choose from for men, women, and children. I was excited to connect with Corrana and to select a holiday outfit for Baby S. There were so many cute options that I had a hard time narrowing down my selection.
I received this darling My First Christmas Outfit- perfect for Baby's very first Christmas!
The outfit includes a cute bodysuit...
...leggings...
...a headband...
...and a hat!
I couldn't wait to get Baby S all dressed up in this cute Christmas outfit! My plan is for S to wear this outfit on Christmas Day. I know it'll be a big hit with friends and family. I am already looking forward to taking lots of adorable photos! S didn't want to cooperate for our at-home photo shoot. She's mobile now, and loves to worm and wiggle around when we try to take pictures. Nevertheless, she looked so adorable in this 4-pc outfit!
S, modeling a 6 mo bodysuit, with matching legwarmers.
I love the bodysuit. This is a Carter's brand onesie (yours may differ), which is a brand most moms know and trust. I was happy that it fit S, and am glad that she has a bit of room to grow into this onesie over the next few weeks. The onesie features 'My First Christmas,' with cute little snowflakes underneath.
The leggings are so cute! They are red, white, and green- perfect for the festive holiday! They are snug-fitting, and feature snowflakes, hearts, and reindeer! I am crossing my fingers that S will still be able to wear them in a few weeks... she's growing so fast!
S, modeling the cute headband!
The headband matches the leggings, and features a simple knotted bow. S figured out how to grab the bow and pull the headband off of her head. If I can get her to keep it on long enough, everyone will be able to see how adorable it is with the rest of the outfit!
The cute little cap is the perfect accessory to this must-have outfit for Baby's First Christmas!
I love the little cap- it's so cute! It's also a little snug fitting, but I am so glad to have it this holiday season. It's been so chilly and windy here in NC, i know S will need to have something on her head. It's so great to pair with other holiday outfits, too- the colors will coordinate with several other pieces she already has. Everything can be worn, washed, and dried. For my own peace of mind, I like to air dry these types of items. You should be able to dry them on a low setting in the dryer, and be just fine- but do not dry the onesie in the dryer- hang that one to dry.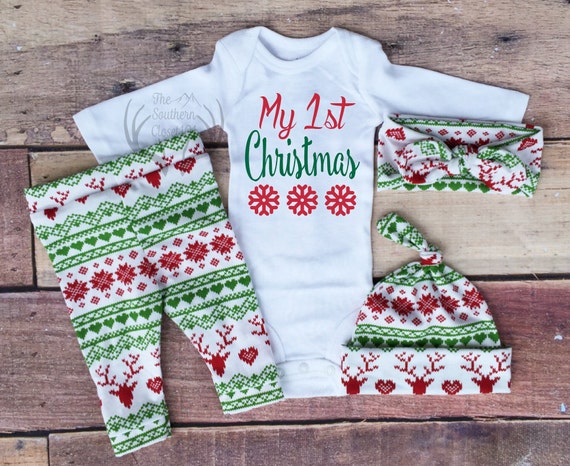 Features of Baby's First Christmas Outfit
-WORDS ON SHIRT, My 1st Christmas
******************************************************
COLOR OF LETTERING ON SHIRT/ONESIE
When checking out, put in "NOTE TO SELLER" box
what color/colors of lettering you would like.
if you do not want to Choose your color/colors,
you will be receiving what ever color/colors
are on the first picture of this listing.
""PLEASE NOTE ALL COLORS WILL LOOK A LITTLE DARKER
IF IT IS GOING ON A DARKER SHIRT/ONESIE""
******************************************************
--ONESIES ""PLEASE NOTE"" You may not receive the brand in picture, we use CARTERS, GERBER and RABBIT SKIN Brands, so if you have a certain brand that you would like, please message us and ask if we have it in stock, after confirming with one of our representatives that we have the brand you need, when checking out please put in the "NOTE TO SELLER BOX" what brand you would like and we will be more then happy to get you that brand.
--SIZING Newborn fits 5 to 8lb and 0-3 Months fits 8-12lb, Please message us if you would like to know about other sizing.
PLEASE NOTE ALL OF OUR ITEMS ARE HANDMADE :)
--SHIPPING: Please see the "frequently asked questions" drop down tab below, if you have any questions regarding shipping time and upgrades.
--FABRIC, This fabric is a 50% Cotton/50% Poly and Stretch: 30%
-- WASHING INSTRUCTIONS. for leggings and hat : Machine Wash Cold/ Tumble Dry Low, For onesie: Machine wash cold hang dry only ""DO NOT DRY IN DRYER""
Check out some of the other adorable options available from The Southern Closet 101...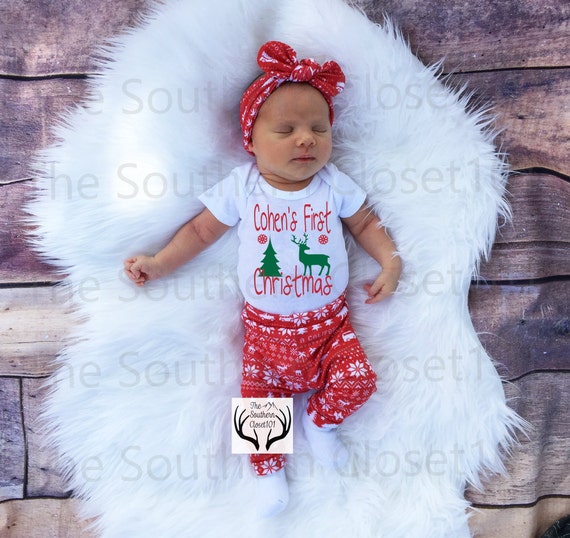 1st Christmas Outfit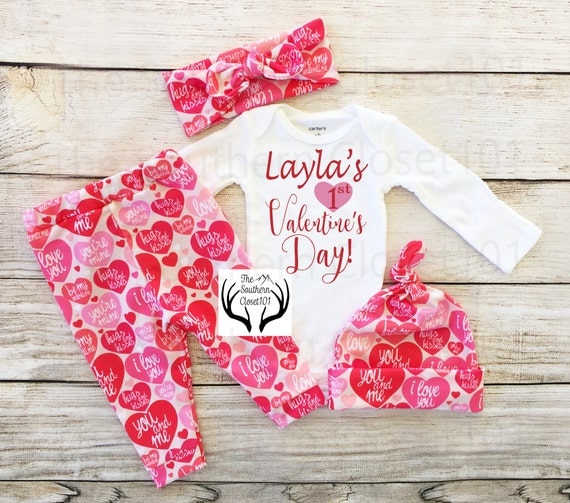 1st Valentine's Day Outfit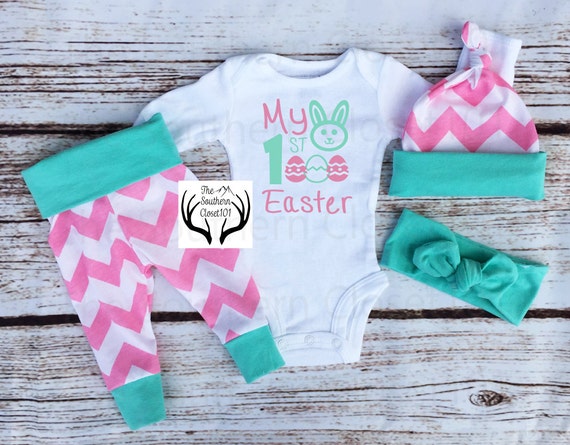 1st Easter Outfit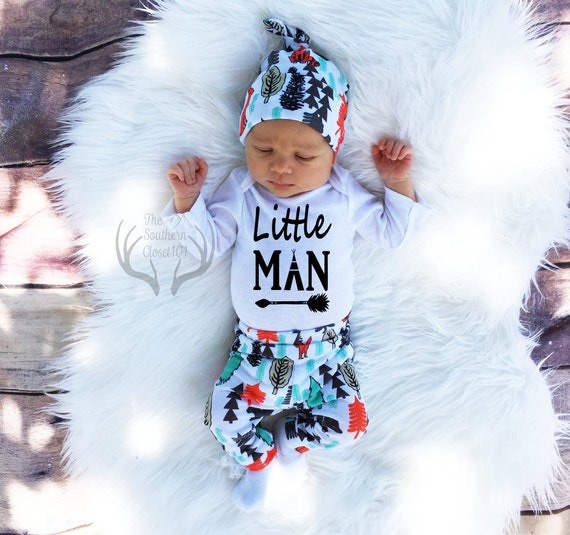 Coming Home Outfit
There are so many beautiful outfit options over at The Southern Closet 101! Seriously- there are over 800 items to look through and choose from! I can't wait to buy S some more outfits for the upcoming holidays, like New Year's, and Easter! She's going to look so cute for Christmas in her sweet little outfit. All of the items from The Southern Closet 101 are handmade, so you're truly getting a unique product each and every time. These outfits are cute, durable, and are perfect for photo sessions, holidays, or everyday wear and play!
These outfits would make super cute gifts for Christmas, birthdays, baby showers, or special occasions!
Want it? Get it!
Head on over to
The Southern Closet 101
to browse all of Corrana's adorable handmade baby clothing and holiday outfits! Connect with The Southern Closet 101 on
Facebook
and
Instagram
.
Special thanks to The Southern Closet 101 for allowing me to share about their cute holiday outfits for baby. Look for them in our 2016 Holiday Gift Guide!