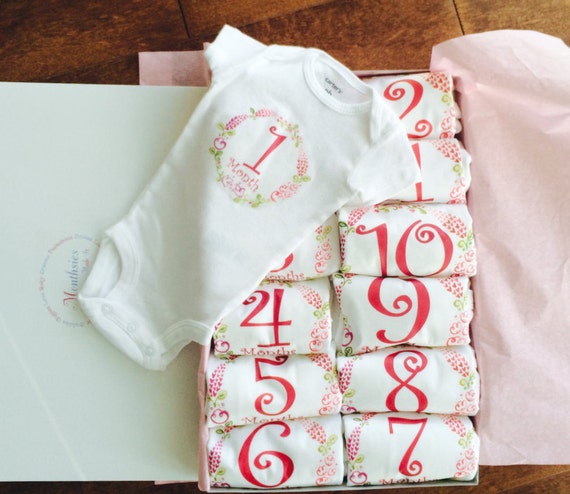 Thank you to Minnie Made It for providing me with product, free of charge, in exchange for my honest review. All thoughts and opinions shared are my own.
Part of the MBP Maternity & Newborn Guide
When B was a baby, I was totally new to the world of photographing babies. I was excited for all of the milestones he would reach, and I knew I would want to capture those moments. I didn't know a whole lot about how to capture those milestones, though, and years later, I started to come across friends who were sharing photos of their adorable babies in monthly outfits, or with wooden blocks to share the baby's age. I thought it was such a cute idea- but to purchase stickers and remember to stick them on a onesie once a month and snap a photo of baby just seemed like one more thing I wouldn't have time to do with Baby S.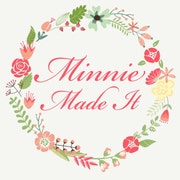 Minnie Made It
makes is easy for parents to capture those monthly milestones by photograph, with adorable Monthsies Baby Suits (
custom monthly onesies
). Minnie Made It is owned by Minnie, who creates cute monthly onesies for babies to wear for those special monthly photo opps. Minnie hails from Canada, and loves to share her love for cute and creative baby outfits with customers and shoppers through her Etsy shop.
I was thrilled to connect with Minnie. I expressed my love for her Monthsies, and she graciously sent a whole year's worth of Motnhsies for Baby S!
The Monthsies set came packaged as a gift set, ready for gifting for a special gift or shower present.
Baby S' Mothsies set came nicely packaged with tissue paper, and a personal note to me from Minnie, which was so, so sweet!
The Monthsies were presented so prettily!
The
Monthsies 12 mo set
from Minnie Made It is a set of 12 onesies/bodysuits for baby. The onesies are plain white cotton onesies, and each one has a special number and coordinating design on it to mark each month of baby's first year of life. There are newborn to 3 mo sizes, 3-6 mo, 6-9 mo, and 9-12 mo sizes in the onesies. They can easily be cleaned. Baby S spit up on her 1 month Monthsie, and I spot cleaned it, and then washed it inside out, and laid it flat to dry.
The designs are all the same in this series, so you can make a side by side collage of baby's growth in their first year.
As baby grows, the onesies (of course) are larger to accommodate baby.
The 12 month Monthsie - a big milestone before baby's first birthday!
The perfect gift- a whole stack of Monthsies for baby's first year- 12 in all!
You can purchase the Monthsies individually, but I love the idea of purchasing or gifting them as a complete set. Just think- you'll be gifting a precious photo prop, but you'll also be outfitting baby in each quarter of his/her first year of life! I remember feeling very blessed to receive lots of onesies as baby shower gifts. Babies can go through several outfits a day, so there's no such thing as having too many onesies.
I couldn't wait to divide the Motnsies by size and put them away in Baby S' dresser drawers.
I have been showing off the Monthies to family and friends, and they have all agreed what a cute idea they are! For any of my friends or family members who may have babies in the future, this set will be at the top of my gift-giving list for them. It's such a special and unique gift!
I couldn't wait to be able to take a photo of S in her 1 month Monthsie!
It's amazing how quickly a baby's first year goes by. Baby S is already five weeks old, and it feels like I just announced my pregnancy with her! It all goes by so fast! I was so excited to be able to take a sweet photo of Baby S in her first month Monthsie by Minnie Made It. This was such a special way to capture her first month of life in this unique way.
And the big photo moment- Baby S in her very first Monthsie!
The Monthsies are soft cotton, and fit S just as well as her other onesies. She basically lives in onesies right now, so this was very much the norm for her. I kept S in the Monthsie all day. I couldn't justify just taking a photo of her in the outfit, taking it off, and then not having her wear it again. I'll also have her wear it again off and on during this month, as we lead up to the second month photo!
Minnie Made It offers Monthsie sets for baby boys and girls, or gender neutral sets. You can also purchase individual onesies by month, or for birthdays! I absolutely adore this set- and as special as the Monthsies themselves are, the best gift of all will be the photos that I will have of S after the first year of her life.
Want them? Get them!
Head on over to
Minnie Made It
to browse all of Minnie's beautiful custom monthly onesie designs, and more! If you're looking for a unique baby shower gift, you'll definitely want to check these out.
Connect with Minnie Made It on
Facebook
&
Instagram
.
Special thanks to Minnie of Minnie Made It for allowing me to share about these adorable Monthsies!