Thank you to Kalencom for providing me with product, free of charge, in exchange for my honest review. All thoughts and opinions shared are my own.
One of the things that I remember struggling over when my firstborn was a baby, was what kind of
diaper bag
to use. With so many different diaper bags out there, it can be hard to know which one to select to best suit your needs. After trying out lots of different styles through the years, I have found that it's not a bad idea to have more than one bag in various styles. I like different types of bags- from totes to messenger style bags. I like having a lightweight option for outings that will have us out of the house for extended periods of time. For me, the diaper bag has to be stylish, practical, functional, and it also has to be something that my husband can/will carry without complaint.
Kalencom designs beautiful diaper bags that have all of the features I look for in a good bag.
Kalencom
was founded in 1971. Both their corporate headquarters and main plant are located in New Orleans in their own four-story, 60,000 sq. ft. facility, and our 2 secondary self owned 62,000 and 30,000 sq. ft. distribution and manufacturing plants in Mississippi. They have five extensive manufacturing plant resources located in Asia, and additional subcontracting facilities located both in the U.S. and overseas. Their marketing distribution concentrates in the U.S., Canada, Caribbean, South and Central America and Europe. Our customer base concentration varies with each division, where we range from manufacturing under contract for manufacturers and wholesalers to manufacturing directly to distributors and retailers.
I was lucky enough to receive the opportunity to try out one of Kalencom's newer diaper bag designs- the
Sidekick
. I was drawn to this bag because of its slim design, and lightweight feel. I also knew that my hubby would proudly carry this bag while on daddy duty.
The Sidekick is a multi-functioning diaper bag with all of the amenities you'd expect, without a bunch of obnoxious bells and whistles.
The Fantasia Geo pattern is a great style for a bag that is shared my mom and dad. The Sidekick is a large diaper bag, and is larger than Kalencom's original Sidekick bag. It has plenty of outer pockets for storage of essential items.
Along with large, open pockets, there are also zippered pockets inside and outside of the Sidekick.
Having lots of pockets is a must for a good diaper bag- otherwise, you won't be able to organize your items and ind what you need. The pockets of the Sidekick allow for plenty of room for diapers and wipes, and extra sets of clothes for your little one. Items we never leave home without.
Inside of the Sidekick, you'll find features like this thermal/insulated bag for a bottle.

The fact that this diaper bag comes with an insulated bag for a bottle is a dream come true. Right now, I am exclusively BFing Baby S, so she hasn't had a bottle yet. Once we've been nursing for around one month, I'll be able to start pumping regularly, and will be able to tote along breast milk- which can stay at room temperature up to four hours. Being able to carry it along- either in bags or in a bottle will make traveling with S much easier. I'm all for nursing on the go, but sometimes it's just not possible.
The insulated bag has a zip top and a handle for easy lifting and carrying. You can keep it strapped inside of the bag or you can loop it through the carry strap on the outside.
Stroller straps make it easy to attach this bag directly to the stroller when out and about.
One of my favorite features of this bag has got to be the stroller straps. We have yet to take Baby S out somewhere using the stroller, other than a walk around the neighborhood, because she is barely four weeks old. I can't wait to be able to just hang the diaper bag onto the stroller when we're out shopping or running errands. We have a trip coming up in a few weeks, and plan to take the stroller along. Being able to hang the diaper bag and have easy access to the things we need for S will be a time saver! If you don't want to use the stroller straps, they just clip right off, and can easily be put back on when you're ready to use them.
Adjustable, removable shoulder strap.
The shoulder strap is also adjustable, and can be removed, if you wish. I like to tighten the strap to make it shorter, so the bag isn't swinging around. Since it's so lightweight, I don't like it feeling like it's flopping around while I am carrying it. I like that it's so easy to carry/manage while I am also carrying S in my arms.
Extra exterior pockets on the back side.
The back of the Sidekick diaper bag also has two additional exterior pockets. This is the perfect place to stash extra diapers. No one wants to be caught off guard without enough diapers.
Another fantastic feature- a changing mat that snaps onto the outside of the diaper bag!
This full size changing mat attaches to the diaper bag with two snaps. It's lightweight and flexible, making it easy to carry and use. Just unsnap it from the diaper bag, and lay it down to change baby. It easily wipes clean, and goes right back onto the diaper bag.
The back of the changing mat acts as a fold over flap on the diaper bag- you can choose to leave it attached or remove it and carry it on the inside of the bag.
Sometimes, I remove the changing mat from the outside out the diaper bag. It has a magnet so it sticks to the front of the diaper bag when the flap is folded over, but it does sometimes come apart on me. I prefer to carry it on the inside of the bag.
Here's the bag with the changing pad attached and in place.
This bag is perfect for quick trips out, day trips, or long trips. I love that I have space to bring along everything I need for a day out with Baby S. My hubby likes the design, and doesn't mind carrying the diaper bag himself. Even my five-year-old son can carry the Sidekick bag, if I need him to. This is definitely a bag to consider, if you're in the market for a new diaper bag.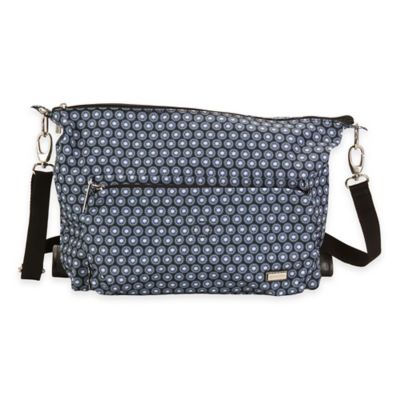 Features of the Large Sidekick by Kalencom
The Large Sidekick: Larger than the original Sidekick
Detachable, roll out changing pad wraps around bag when not in use
Matching ThinsulateTM insulated bottle holder included
Multiple exterior and interior slip pockets
Bottle strap to keep bottle from spilling
Adjustable shoulder strap
External and internal zippered pockets
Removable stroller straps
Eco-friendly -- Kalencom diaper bags are AZO-free and utilize no Phthalates
Dimensions: 13.25"L x 3.25"W x 10"H
-$90.00
Want it? Get it!
Head on over to
Kalencom
to check out all of their fabulous bags! Connect with Kalencom on
Facebook
,
Instagram
, and
Pinterest
.
Special thanks to our friends at Kalencom for allowing me to share about their wonderful Sidekick Diaper Bag!