Thank you to snu:mee for providing me with product, free of charge, in exchange for my honest review. All thoughts and opinions shared are my own.
Part of the MBP Maternity and Newborn Guide
We're continuing our countdown to Baby S' arrival, and I find it so amazing how much products have changed over the past five years. The last time I prepped for baby was in 2010, before the birth of my son, B. When B was a baby, he hardly ever let me out him down to sleep. I had a
baby
monitor
, but didn't get to use it a whole lot, because he hardly ever slept far from my side. This time, I am crossing my fingers that S will be a better, more independent sleeper. For my own sanity, I need for her to be able to sleep on her own- if not in her crib, at least in her bassinet.
Having a five-year-old and a baby in a small house will be interesting. B is all boy, and loves to make noise, so I will need to be able to put S down for naps, and crack the door when she's a little bit older. I still want that peace of mind, knowing that she is sleeping safely, though.
When music producer and keyboardist Sven Martin was visiting his old school friend Joachim W. Hamann, entrepreneur and father of two, during a touring break in 2010 they both noticed: 'we have to wait a while to play our kids the music we grew up with until they are bit older'. They both are into "louder" music, not quite suitable for baby ears. Joachim was thinking: "Imagine they had Rammstein in music toy boxes..." With this idea in mind Sven went back into his studio and started to try out things. After a few months of work with his fellow musicians in Los Angeles the first album was finished. "Wilkommen im Leben/Welcome to Life" – rock and pop songs carefully arranged for baby ears with suitable instruments. Joachim's kids loved it. The two friends gave away their music to day cares, midwives, teachers and young mothers. The feedback was overwhelming:"Babies and children love it! They calm down and relax."
Over time they released more albums and received much more feedback from moms and dads: "Why don't you have music toys with your music?" And so the simple music idea slowly developed into snu:mee – baby monitor, music box and mp3 player in one device.
With the HABA family of companies Sven Martin and Joachim W. Hamann found the ideal partner to realize their vision: Baby Stars – rock2sleep belongs into every kid's bedroom all over the world.
I was sent a snu:mee Rock 2 Sleep to check out for myself, and couldn't wait to see all of its features!
The snu:mee Rock 2 Sleep came packaged in a beautiful box, ready for gifting!
The actual snu:mee music player and monitor was well protected in its box.
snu:mee Rock 2 Sleep came with clear, easy to follow instructions for set up.
I'll admit it, I was so excited about this product! Where else can you find a baby monitor, and music player in one, which plays the music you want to play for your baby? When B was a baby, he loved music- and not just classical music. We played a variety of music from Contemporary Christian tunes to rock favorites like Muse and Lady Gaga. In fact, we had mommy/baby Lady Gaga dance parties every afternoon at 5 pm. We wanted B to have a love and appreciation for different types of music, which he now does.
Here's a look at the compact size of the snu:mee.
The snu:mee is so cute and hardly takes up any room. I can set it on the dresser, near S's crib, and then play some gentle music while she sleeps. I can add music over the WiFi in our own home, and can adjust the playlist. I can even control the volume from my phone or tablet, from another room in the house. snu:mee can also be used as a baby monitor, which will be so helpful! In order for B to have his play time, I'll have to crack the door to the room S sleeps in. The floors in our house creak, and I'd hate to keep walking over them to check on her as she gets older. I look forward to using the snu:me as a monitor so I can know that she is safely resting.
The settings for the snu:mee are located right on the back.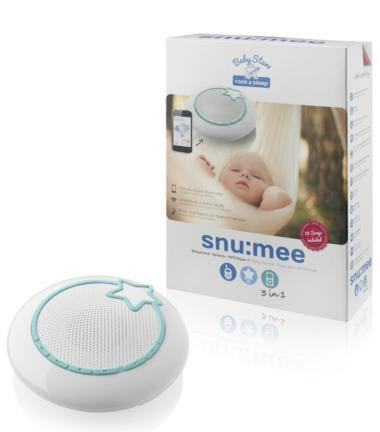 Baby monitor with up to 300m signal range
Feature packed MP3 player
Free app for iOS and Android
60 decibel volume limiter for babies' sensitive hearing
Headphone connector
Sleep timer allowing you to decide how long the music plays
Wi-Fi music streaming
Secure connection
Variety of cuddly sleeves to choose from!
4GB memory, enough for more than 500 songs
I also received this cute little owl plush sleeve for the snu:mee.
The sleeve includes a zip pocket with a cut out space for the speaker.
Simply slide the snu:mee in, and zip it closed.
The snu:mee is kept safe and secure in the sleeve, and then it can be placed in the crib with baby.
I love the snu:mee, and can't wait to use it when S is here. It'll be great to have this multi-functional monitor and music player for her infancy, and then as she grows. I love having it as an alternative to a traditional baby monitor that is clunky, has to be shuffled from place to place, and has to be charged or have batteries replaced. I always have my phone with me, so I'll never have to worry about not being connected to the snu:mee, and being able to hear my baby.
Want it? Get it!
Special thanks to Baby Stars Rock 2 Sleep for allowing me to review and share about the snu:mee.