Thank you to Dots on Tots for providing me with product, free of charge, in exchange for my honest review. All thoughts and opinions shared are my own.
Part of the MBP Maternity & Newborn Guide
At 28 weeks pregnant, I am starting to become both anxious and excited for sweet Baby S to be here. I have a lot to learn about raising a baby girl, but one of the things that is super important to me is protection. I was very cautious with B, and still am. I know I'll be the same way with S. Protecting a baby's head during their first few days and weeks of life is a must. Even as baby grows, their head still needs proper protection from the elements- especially the sun.
B was a fall baby, so I used little caps to keep his head warm. Since S will be a spring baby, she'll need safe, comfortable sun protection that won't be too warm on her precious little head.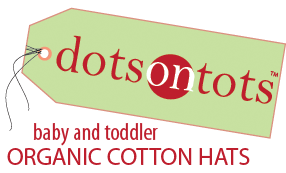 Dots on Tots
specializes in organic cotton hats for babies and toddlers. A mother of two from New York, Olivia Entin stumbled upon what would become the inspiration behind her flourishing business when she was searching for the ideal clothing for her children. Perusing sites, shopping malls and clothing aisles, Olivia noticed that missing among the numerous racks of clothing was a line of baby accessories that provided safety and optimal comfort for children as well as a fashion-forward appearance. As newborns and toddlers have sensitive skin and are vulnerable to ENT ( ear, nose and throat) complications, Olivia knew that she, as well as other new parents, needed a line of accessories that keep babies safe by covering their ears and at the same time not harming their sensitive skin. With her Master's Degree in Fashion Design and Technology and an experienced mother, Olivia set forth with the support of her family to provide the children's market with a niche product that would provide safety and comfort to children and began her small business, Dots on Tots.
Company name came about after the incident when Olivia's youngest son placed colored dots on his hat while playing with crayons. Dots on Tots is a baby headwear company specializing in ear flap hats made from natural, certified-organic cotton.
I received a cute little package from the kind folks at Dots on Tots.
I was so excited to receive an adorable headband from Dots on Tots. The sun can be extremely intense in NC during the summertime, and I know that I will need to keep S' head covered properly when we're outside, or out and about. My
Dots on Tots headband
came packaged and wrapped in tissue paper, and also came with a little pillowbox. This makes it so easy for gifting! Just slide the product into the sweet little box and gift on!
I couldn't wait to unwrap this little pink headband!
The Dots on Tots Headband comes in pink or light blue.
This sweet headband is intended for 3 mo+. It includes scalloped edging, and cute little white daisies embroidered onto the fabric. It's made from organic cotton, so I don't have to worry about it irritating baby's skin. Cotton is still breathable, which is perfect for summertime. Not only will the headband keep her head protected from the sun and other elements, it will look absolutely adorable paired with a cute onesie, romper or summer outfit- even a baby bathing suit!
B offered his help to show how the headband works! Silly boy!
The
baby headband
has Velcro sides, which can easily be attached behind the back of baby's head. The headband is one size, and appropriate for use with babies 3-8 mo. Made in the USA, from 100% certified organic cotton. $19.99
The headband is very soft, and I can't wait until S is here, and is old enough to wear it! She's going to look so sweet this summer, in her cute headband from Dots on Tots, and I will rest easy, knowing that her sweet head is protected.
Check out these other great products available from Dots on Tots...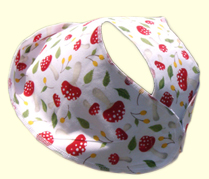 Sun Hat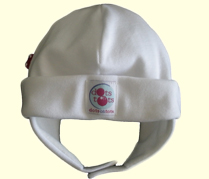 Noise Reducing Hat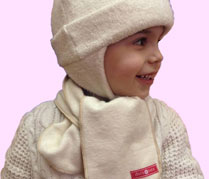 Sherpa Hat & Scarf Set
Dots on Tots has lots of cute options for baby hats- no matter the season! Be sure you're ready for baby with one (or a few) of these cute hats!
Want it? Get it!
Special thanks to Dots on Tots for allowing me to share about their sweet baby hats! Dots on Tots is a sponsor of the MBP Maternity and Newborn Guide.