Thank you to Cibo for sending us a product free of charge, in exchange for my honest review. All thoughts and opinions shared are my own.
In my house, mealtime has always been a bit of a headache. From the day I got married, I knew that I had a picky eater on my hands. I had hoped that my son would be an adventurous eater (like his mom), but sadly, he takes after his daddy, and likes plain old everything- from rice to noodles and boo hoos at the sight of veggies. B is easily distracted, and always seems to have a hard time sitting at the table when it's time to sit and eat, making our meal time a little less enjoyable.
The older he gets, the less of mess B tends to make while eating, but there are still certain foods that make a huge mess, no matter what- like noodles, rice, anything that leaves crumbs- cookies, crackers. I wind up sweeping the dining room after every meal- that's three meals a day- plus snack times. Frustrated by the mess on the table and floor after every meal, I started thinking about just throwing a cloth down on the floor, so I could shake it out, and not have to sweep so often... and then realized that would probably be a big pain in the rear. I later came across a really cool product, The Cibo, which is designed to help eliminate messes at meal times!
The Cibo
was created by a mother of two, who loves her kids, but doesn't love cleaning up mess after mess at meal and snack time. The Cibo is an adorable
children's placemat
with a deep pocket, which catches spills- including food and beverages. It's easy to pick up and wash clean after each use- watching as spilled food and drink just go right down the garbage disposal.
As a mom with similar struggles, I couldn't wait to try out The Cibo!
We received The Cibo in Green, and B was totally intrigued by what on earth this thing was.
Our Cibo Placemat came neatly packaged inside a slim box, all rolled up inside.
The back of the package gave us instructions for use.
Here's a look at The Cibo, all rolled up inside of the box.
B couldn't wait to get The Cibo out of the box, and onto the floor, so he could get a good look at it. He loved the green color, and once he saw the big, googly eyes on the placemat, he was ready to get it onto the table and use it at dinner time.
Here's our bright green Cibo placemat!
I was impressed by how thick the placemat was. It's certainly durable, which is great for kids who tend to be a bit rough at times. I was looking forward to using The Cibo at meal time, to see if it really would spare me the headache of having to clean the floor afterward.
To use The Cibo, we simply laid it on the table, letting the pocket flap over the edge, hanging down to catch the spills.
The deep pocket allows for dropped food or spilled beverages to collect, instead of winding up in laps or on the chair/floor.
There's a nifty little cut out area for you to place a plate.
B enjoyed eating and using The Cibo placemat.
I was worried that the pocket of The Cibo might get pulled on or caught on B's clothing somehow, but we managed to keep it on the table through out the entire meal without any accidents. We did have a few food drops, but the pocket of The Cibo caught them all! Score!
We've enjoyed our experience using The Cibo. It's great to use for meal times, and we also use it during snack time. We sometimes get a bit creative with our snacks, so this definitely cuts down on the potential messes. I am looking forward to using The Cibo this holiday season, when we make and decorate cookies, and attempt our first gingerbread house! We might even make a haunted gingerbread house for Halloween!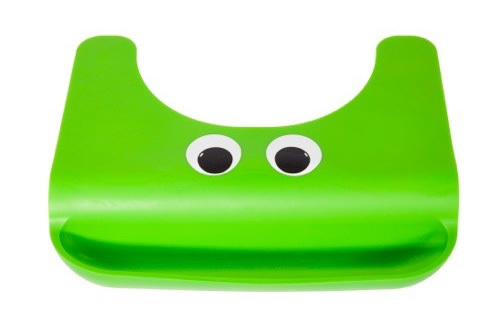 BPA Free
Phthalate free
No harmful dyes
Easy to clean, just wipe or rinse
Dishwasher safe - top rack only
Roll up for easy storage or travel
Sticks to most table surfaces
Cleaning - Wash before initial use
Great for Crafts & Cookie Decorating
Recommended for Toddlers, kids
Dimension: 15"L x 3"W x 12" H
Weight: 10 ounces
Available in four colors- pink, red, blue, and green.
We love to use The Cibo at meal and snack time, at craft time, and have even found it helpful when we're putting together LEGOs... the pieces are caught by The Cibo, instead of getting lost on the floor. I definitely recommend this product to anyone who has children who are prone to making messes. As B outgrows this placemat, I'll just pass it on to our little bean, who I'm sure will get lots of use out of it!
The Cibo would make a fantastic gift this holiday season, so be sure to save this post and keep it on your idea list!
Want it? Get it!
Head on over to
The Cibo
to check out the Cibo story, learn how Cibo gives back, and more! You can
purchase The Cibo
directly from the Cibo website. You can also connect with The Cibo through
Facebook
,
Twitter
,
Pinterest
, and
Instagram
.
Special thanks to our friends at The Cibo for allowing us to try and share about their wonderful product! We think it's a winner!