One year ago today, the world lost an amazing human being in a way that I don't think anyone could have imagined.
Robin Williams was a big part of my childhood. From Mork, to Peter Pan, Genie, and Mrs Doubtfire, I knew that in whatever capacity he appeared on the screen, he would be bringing on smiles, giggles, and (more often than not) uncontrollable fits of laughter.
I decided that I would make a list of some of my favorite Robin Williams characters. After working on it for quite some time, I opted to whittle the list to ten and to put the list in chronological order to avoid obsessing over it and possibly working on it forever.

I hope that it'll bring you happy memories and smiles! If you have your own list, I'd love to see it, so share it in the comments section.
My Top Ten Favorite Robin Williams Characters
1. "Mork". My favorite "Mork" moment was the first appearance of the character on
Happy Days
. Although this aired before I was even born, thanks to syndication and an awesome Mom who is a big fan of
Happy Days,
I have seen it quite a few times.
2. "Peter" in
Hook.
Even though he played the detached dad role at the start of the film rather well, he really shined as "Peter Pan".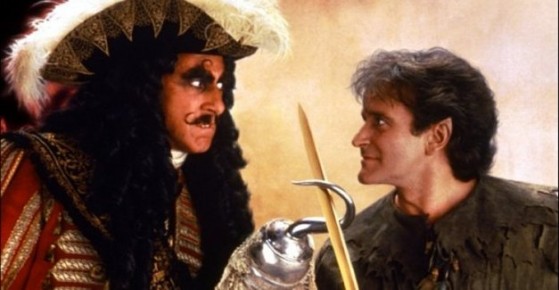 3. "Batty Koda" in
FernGully: The Last Rainforest
. Batty was easily my favorite character in the film, especially with lines like: "Human tails? Humans don't have tails. They have big, big bottoms that they wear with bad shorts. They walk around going 'Hi Helen'.".
4."Genie" in
Aladdin
. Again, Genie was my favorite character in the film. You can see how much Robin comes through in the character, the impressions and silliness are just fantastic.
5."Daniel Hillard/Mrs.Doubtfire" in
Mrs. Doubtfire.
As a kid I wanted a father like this so much! As an adult, I can imagine being married to someone like Daniel Hillard wouldn't be so easy, but my oh my what a loving father! This movie is one of the ones that caused uncontrollable fits of laughter and I loved every minute of it!
6."Alan Parrish" in
Jumanji.
This is one of our family's favorite movies to watch together! I remember seeing it once around the time it was released, but we watch it at least once every few months as a family.
7."Jack" in
Jack.
Although the ending is quite sad, the movie in which Robin played a boy who ages 4 times faster than his peers, is just amazing. Can you imagine what fun it must have been to the kids who got to act alongside of him?
8."Tomas" in an episode of
Friends
. I still wonder what Monica was planning on telling the rest of the gang.
9."Bob" in
RV.
Another instance of a film where I wished Robin Williams (the character he was playing at least), was my father. Yes, he's kind of corny, yes he rented "the rolling turd", but he loved his family!
10."Simon" in
The Crazy Ones.
I was so excited about this show. I loved the fact that Robin was coming back to television, and he was bringing along Sarah Michelle Gellar (BUFFY!) . The two were great together as a father and daughter team, where the daughter played the role of parent more often than the father. One of my favorite moments though, was the reunion of "Mork and Mindy" when Pam Dawber made an appearance!