Mama calls it Sophie's imagination, but Sophie calls it magic. Everything Sophie draws comes to life, and one day when Sophie feels lonely, she decides to draw a friend. But the polar bear cub isn't very happy in Sophie's room, where it is much too warm. So Sophie tries again. But the duck wants to swim in a pool full of water. And the giraffe is too tall for the tiny room! It isn't long after the elephant shows up that things begin to get a little too wild and Sophie must demand that everyone go outside. In the backyard, with all her new friends, Sophie meets someone new—someone who happens to be an expert lion trainer. It looks like Sophie's magic may have worked after all!
Featuring a charming crew of animals and two children who believe in magic, this sweet and funny picture book teaches children to combat loneliness with creativity, persistence, and a little imagination. Filled with the lovely watercolor illustrations of Katia Wish, Amy Dixon's Sophie's Animal Parade takes children on a journey toward friendship.
We have been enjoying participating in the Summer Reading Program at our local library. This program encourages children (and adults) to read for a certain amount of time each day, and check off boxes on their reading sheet. Each week, we visit the library to show our progress, and pick out a prize. Our reading goal for B, who is four, is 20 minutes a day, though we usually spend extra time reading, because we have story time before bed each night. B loves to read, and though he isn't fully reading on his own yet, he is well on his way. Having plenty of engaging picture books at home is a wonderful way to pique his interest in reading, and wanting to tell the stories to mom and dad.
It made my heart so happy to find B, cuddled up with his stuffed animals one morning, reading the story of Sophie's Animal Parade!
Sophie, dreaming up things to draw...
Sophie is a little girl with a big imagination. Everything she draws comes to life. B certainly identifies with Sophie, because for the time being, he is an only child, and loves dreaming up ways to surround himself with more friends! Thank goodness for play group. Sophie starts out drawing just one new friend, but each new friend is a bit uncomfortable in some way. Sophie takes care to make sure each new friend is well taken care of... a characteristic that B displays, as well.
Sophie draws and draws, to make sure each animal has what they need, but it doesn't take long for things to get a little out of hand.
Before long, there are so many animals crowded in Sophie's room, that she can't take the madness anymore, and orders them all outside! One by one they march out the door, in a big animal parade.
Wow- how would you like to have all of these animals in your house!?
Sophie makes a new friend, who also has a fantastic imagination!
All Sophie really wants is someone to share her dreams with. She makes a new friend, who also loves to dream things up- and play Lion Tamer! They spend so much time together, and Sophie begins to draw for two people, instead of just one. It's such a cute story of friendship, sharing, dreaming, and encouraging little ones to let their imaginations come to life! Of course, their favorite game is Animal Parade, one that we, too have come to love!
We love Sophie's Animal Parade, and definitely recommend that you look for it, and add it to your personal book collection, gift it to a friend or family member, or request it for your local library! This creative picture book is one to enjoy this summer!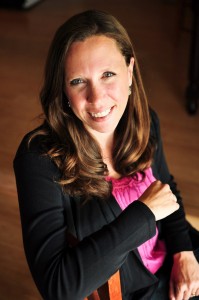 About the Author and Illustrator
Amy Dixon grew up as one of seven siblings, and the only peace and quiet she ever got was inside a book. Once she had her own kids, she rediscovered her love for picture books at the public library. It was the one place she knew all four of her kids would be happy . . . and quiet. She is the author of Marathon Mouse. She writes from her home, where she lives with her four little inspirations and her marathon-running husband in Clovis, California.
Katia Wish is a children's book illustrator. She is the winner of the 2011 Tomie dePaola Award from the Society of Children's Book Writers and Illustrators. In addition to illustrating children's books, Katia teaches illustration at the Massachusetts College of Art and Design, and her work has been exhibited in galleries throughout New England. She Lives in Boston, Massachusetts.
Want it? Get it!
Special thanks to Amy Dixon and Sky Pony Press for allowing us to experience the magic of Sophie's Animal Parade, and share with our readers!