Ah, endless summer! I don't usually like summertime, but this season, I am finding the time to appreciate all things summer. One of the most important things to me these days, is making sure that my family is well protected against the sun's damaging UV rays. The older I get, the more I notice that I am having sensitivity issues after being out in the sun. I experience heat rash, itching, etc- after just being out in the sun for a few minutes. My grandmother has extreme sensitivity to the sun, and has had to spend beach vacations indoors, missing out on making fun family memories, because of it. I don't want to have to worry about skin issues, but I don't want to miss out on special moments with my family, either. When I was introduced to Coolibar last year, I was introduced to a whole new level of sun protection for the whole family.
We've had the pleasure of working with
Coolibar
a few times, and we have been so ipressed by their
sun protection clothing and accessories
for men, women, and children. Coolibar was founded in 2001, by an Australian who knows a thing or two about what it's like to endure the harsh sun and summer climate. With sun protection in mind, has evolved to be the leader in innovative sun protective fabric design. Headquartered in Minneapolis, Minnesota, Coolibar takes its name from a eucalyptus tree native to the Australian outback - offering welcome relief and reliable protection from the sun's damaging ultraviolet rays, on the continent where sun protection began.
The sun can cause some pretty serious damage to our skin. My own son has sensitivities to certain sunscreens, so we have to take extra sun protection precautions with him. Coolibar's clothing and accessories offer built-in SPF 50+ protection.
The kind folks at Coolibar sent a couple of fabulous items for myself, and for B this summer. Just because we have to be careful when it comes to the sun, doesn't mean we have to sacrifice our personal style.
Rugged, resourceful and fashionable! The Adventure Crop Pant features a capri length, mid-rise, straight leg design with cooling side vents. All by itself, the shaped waist looks great on you; an internal drawcord makes it easy to fit it just right. The pant also features three zippered and two slash pockets. Breathable nylon/spandex blend has a slight stretch.
Breathable, quick-drying lite SUNTECT®: nylon/spandex
Slight stretch for ease of movement
Active fit: closer fit at hip and thigh
Mid-rise: hits about 1" below navel
Straight leg with side vents at leg opening
Zip front fly with shank closure
Front pockets at waist; concealed back zipper pockets
Right leg zipper pocket for extra storage
Inseam: 20"
Easy care: machine wash, tumble dry
Imported
UPF 50+
Blouse- Style Nut Boutique
Sandals- Rialto
Bracelet- Paparazzi Accessories
I was so excited to give the Adventure Crops from Coolibar a try. Those they are designed to be cool and casual, I was determined to dress them up. If you have been reading the MBP blog for a while now, you've probably noticed that I won't wear just anything. I have what I like to call a casual/chic style. Most people don't know this about me, but I hate wearing shorts. I want to wear pants year round, but when it's 100 degrees and humid outside, I can't take the added warmth that pants or jeans pack along with them. I often turn to capris, but often find those to be too warm to wear, as well.
What I love most about the Coolibar Adventure Crops, is that they are super lightweight! They're really thin, with a little bit of stretch to them, which make them the perfect choice for just about anything you could see yourself doing during the summertime, from running errands to a day out at the lake. I have worn my adventure crops with tanks and tees, and have dressed them up (as you can see above) with nice sandals and a boutique blouse, for a dressier look. The fact that I chose the crops in white was a big step for me, as I never wear white (just one of those things that truly terrifies me). I love having a go-to pair of white bottoms that can be dressy or casual, though. I know I am not going to want to put them away after Labor Day! I might just have to order some more in different colors!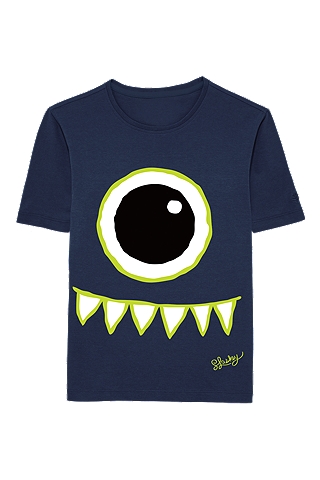 Coolibar Boys Chompers T-Shirt
Highly breathable ZnO SUNTECT® cotton/viscose from bamboo/spandex blend fabric
Super soft against the skin, lightweight, cool and comfortable
Crewneck
Relaxed cut
Easy care: machine wash, tumble dry
Imported
Rated UPF 50+
B was sent the adorable
ZnO SUNTECT Chompers Graphic T-Shirt
. My little guy is full on boy, and loves anything and everything related to monsters. One if his favorite movies is Monsters University, so this shirt was a big hit with him! Ever since B was around the age of 2, he has experienced sensitivity to the sun (like his mom, and his G. G.). B is no stranger to skin rashes from the sun, so I want to make sure he is protected. He plays outside off and on through out the day- at play school, and at home, and Coolibar helps us make sure that he's covered when it comes to sun protection.
B felt like one cool dude in the hot summer sun, in his ZnO Chompers Tee from Coolibar!
Aside from the super cute graphic design on this t-shirt, it fits B perfectly. It gives him a little growing room, in the boys Small. B is fairly tall and well rounded for an almost 5-year-old, so we always go 1-2 sizes up. Right now, we're going with a 6/7 in most things for him. B loves his silly little monster shirt, and I love that he's protected from the sun when he's playing outside. I can't be with him every moment of the day, so by applying sunscreen to his exposed skin, and then having him wear Coolibar clothing (esp. on those super hot, and very sunny summer days), I feel that he is well protected.
This t-shirt is available in a variety of sizes and colors. It's durable, and washes/dries well, which is always a plus!
Check out even more cool styles we're loving from Coolibar...

Boys Rash Guard Outfit
Girls Swim Cover-Up Dress
Baby Hooded Cover-Up Rash Guard Outfit

Women's Crochet Ruche Outfit

Men's ZnO Quarter Zip & Shorts Outfit
ZnO Sun Wrap (My personal favorite by Coolibar)
Coolibar knows how to keep their customers cool, stylish, and protected. Their beautiful clothing, swim wear and accessories are perfect year-round. Don't go another summer, or take another vacation to a sunny location without Coolibar! The Coolibar
ZnO Sunwrap
is my ultimate go-to piece for the beach, travel days, and lounging at home. I sort of want one in every color!
Want them? Get them!
Special thanks to Coolibar for keeping us cool, and protected this summer, and for allowing us to share about these fabulous pieces with our readers!