Do you love ice cream? If so, this post has your name all over it. Actually, it has Graeter's name all over it, but you're going to want to jump on the Graeter's band wagon after you read this! For years, my husband has been telling me about Graeter's Ice Cream. Until just a few days ago, I had never tried it, and I had been missing out!
Based in Cincinati, OH,
Graeter's Ice Cream
has been delighting families for over 100 years. Graeter's is the only ice cream company in the world that still uses the French Pot method to make their ice cream. Batched are made 2 1/2 gallons at a time- pretty small batches, in fact. This method has much to do with the amazing flavor each bite of Graeter's ice cream holds. If you love chocolate in your ice cream, you'll appreciate the generous chunks of velvety chocolate in Graeter's! The melted chocolate is poured in while the ice cream is being made, frozen, and then broken up, giving you all different sizes of chocolate bites! Graeter's is still family owned and operated today, just as it has been through the past four generations!
Graeter's Ice Cream is hitting the road with their 2015 Ice Cream Truck Tour, which will be in NC in June. I had the incredible opportunity to chat with Kristen Miranda of WBTV News Charlotte on Saturday, and do a little live segment for local viewers. It was so much fun to be able to talk about (and eat) fabulous Graeter's Ice Cream at 6:45 am!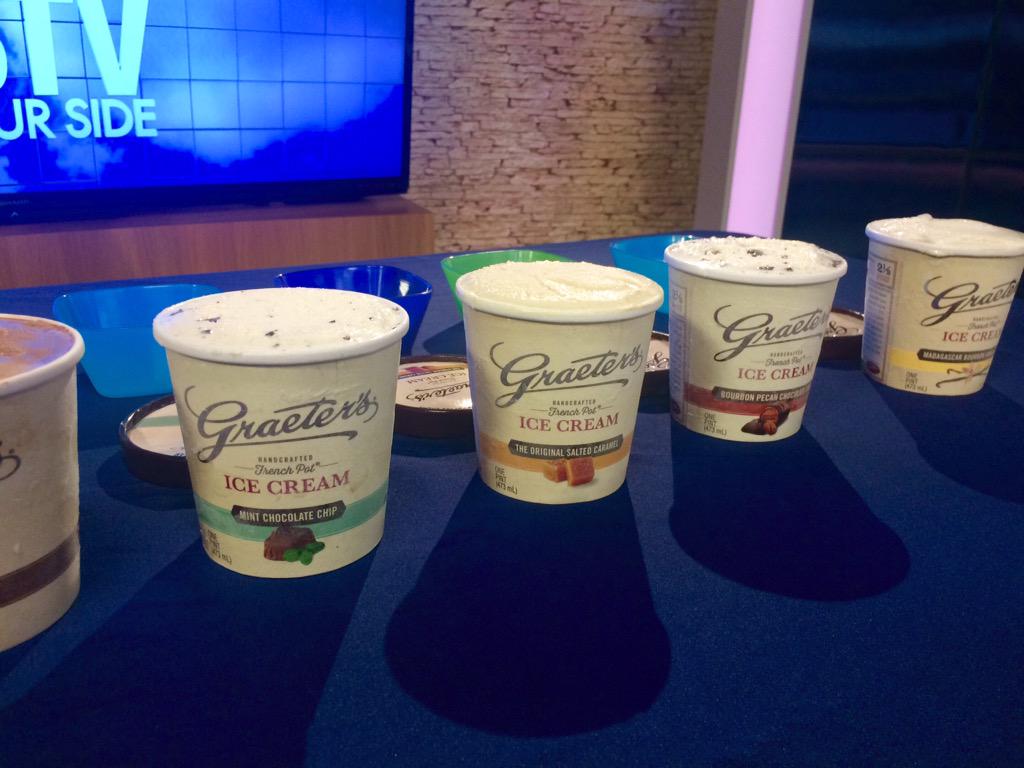 Courtesy of Kristen Miranda, WBTV
Here I am at the WBTV Studio, Charlotte, waiting to go on the air with Kristen!
Check out the video from our LIVE Graeter's segment...
We were able to find pints of various flavors of Graeter's Ice Cream at our local Harris Teeter Grocery Store, in the freezer section.
Mint Chocolate Chip is a staple in our house, and I couldn't wait to try Graeter's!
Graeter's had some amazing flavors to choose from in the freezer section of our Harris Teeter, including Salted Caramel, Bourbon Pecan, Vanilla, Mint Chocolate Chip, Coconut, Chocolate Chip, etc. I am hoping that they'll carry even more flavors soon. I've heard their Raspberry Chocolate is amazing, and is a signature flavor!
To me, this is what ice cream should look like!
Creamy, full of bits of chocolate, and packed with mint flavor!
Graeter's is unlike any other ice cream I have ever tasted. I am very picky when it comes to ice cream. If it's gritty or chalky, it's not for me. I'm not one who believes ice cream has to be super smooth, either. I like the little flakes and uneveness that appears in real ice cream. The flavor of Graeter's Mint Chocolate Chip Ice Cream is incredible! I took one bite, looked at my husband and said, 'Wow, this is really minty!' Seriously- none other can compare! The chocolate was so smooth and creamy, and it just melted onto the tongue. I don't like hard chocolate in ice cream. I don't want to have to chew through big chips of chocolate, because it messes up the consistency. I want everything to sort of meld together, and Graeter's makes it happen in a delicious, beautiful way!
I'm on the South Beach Diet right now, so it was incredibly hard to only have a few bites of Graeter's for taste-test purposes. I wanted more... I still want more! I can't wait until I can have more! My four year old son made incredibly short work of the rest of our pint of Graeter's, and I plan on taking him to visit the Graeter's Ice Cream Truck this weekend!
Be sure to head over to Kelly's Thoughts On Things & check out
Kelly's thoughts on Graeter's
! Kelly and her family had the opportunity to try some different flavors of Graeter's from the ones I tried, and they loved them! A huge 'thank you' to Kelly- she was approached by Graeter's to do the WBTV spot, and she wasn't able to do it, so she passed my name along, and worked it out for me to go in her place. For those who may not know, Kelly and her bloggin' sis Nancy are my cousins, and it's so cool for me to be able to work with and collaborate with them from time to time. You will probably be seeing some posts from these ladies on MBP in the near future, so be on the lookout for those, and in the meantime, be sure to visit Kelly's Thoughts On Things to check out their awesome posts, and giveaways!
Don't miss the Graeter's Ice Cream Truck Tour!
*Grab coupons and goodies, too!
WED. JUNE 24
Harris Teeter
11pm-2pm
4100 Carmel Rd
Charlotte, NC 28226
Harris Teeter
4pm-7pm
8538 Park Rd.
Charlotte, NC 28210
THURS. JUNE 25
Harris Teeter
11pm-2pm
6701 Morrison Blvd.
Charlotte, NC 28211
Harris Teeter
4pm-7pm
1227 East Blvd.
Charlotte, NC 28203
FRI. JUNE 26
Harris Teeter
12pm-3pm
1704 Central Ave.
Charlotte, NC 28205
Harris Teeter
4pm-7pm
8600 University City Blvd.
Charlotte, NC 28213
SAT. JUNE 27
Harris Teeter
12pm-3pm
2720 West Mallard Creek Church Rd.
Charlotte, NC 28262
Harris Teeter
4pm-7pm
358 George W. Liles Pkwy NW
Concord, NC 28027
SUN. JUNE 28
Harris Teeter
12pm-3pm
1245 Concord Parkway North, Suite 1
Concord, NC 28025
Harris Teeter
4pm-7pm
9900 Poplar Tent Rd, Suite 124
Concord, NC 28027
TUES. JUNE 30
Harris Teeter
11pm-2pm
9925 Rose Commons Dr.
Huntersville, NC 28078
Harris Teeter
4pm-7pm
9759 Sam Furr Rd.
Huntersville, NC 28078
WED. JULY 1
Harris Teeter
11pm-2pm
431 Peninsula Dr.
Davidson, NC 28036
Harris Teeter
4pm-7pm
19815 North Cove Rd.
Cornelius, NC 28031
For more information about
Graeter's Ice Cream
, head to the Graeter's website. Look for Graeter's in Harris Teeter stores! You can also connect with Graeter's through
Facebook
and
Twitter
.
Special thanks to the fabulous Graeter's team, WBTV Charlotte, and Kelly's Thoughts on Things for allowing me to experience and share about Graeter's!