One of the things that my family looks forward to most during the spring season, is getting back outside! By March, I am totally over winter, in April, I am busy in my garden, in May, I am ready to hit the beach, and in June, I am ready to enjoy summer in its fullness. Springtime doesn't come without its major headaches for moms, though... getting out to play often means getting dirty! I am very active with my son, and we play outside together a lot. We love running, jumping, playing soccer, playing in the sandbox, and sometimes tackling one another and rolling around in the grass. My little man plays rough and tough, so I need his clothing to be tough and stain resistant, yet gentle and comfortable for him to wear. Finding the right pieces keeps B comfy, keeps his clothing lasting all season long, and keeps me from spending hours in the laundry room, which means I get to spend more time with my family.
\
I was recently introduced to
Nanotex
and its parent company Crypton Fabrics. Nanotex was founded in 1998, by Dr. David Soane, former polymer chemist and Vice Chairman of the Department of Chemical Engineering at the University of California at Berkeley. Today, Nanotex is a leading fabric innovation company providing nanotechnology-based textile enhancements to the apparel, home and commercial/residential interiors markets.
When I heard that Nanotex was being integrated into apparel from some of our favorite children's clothing brands, I was really intrigued. There are so many brands that claim to be tough on dirt, easy to clean, etc., but really don't live up to the hype. Nanotex is being used in select pieces of apparel from
Gymboree
, one of brands of children's clothing we really love, because of the way they work for B's tall, broad structure. We were sent a couple of pieces to try out from Gymboree, that were made with Nanotex, and I couldn't wait to see how they would perform.
Play proof pieces from Gymboree, using Nanotex technology!
We were sent a lovely Green Polo Shirt, and Light Twill Shorts, both pieces Play Proof with Nanotex.
This would be our first experience with Nanotex in the clothing. B is like his daddy, and is very picky about the fabrics that touch his skin- he's a tad bit sensitive. I was pleased to see that these are still 100% cotton, of of the same, if not even better quality than the polo shirts we were used to from Gymboree. We went with a size 6 in both the polo and the shorts. I knew the polo might be a bit large on B, but at the rate he has been growing, I'd rather have his clothing be a little loose than take the risk of something running too small.
I'll admit that the polo shirt felt different, but not at all in a bad way. It seemed more durable, and breathable. I worried that B might react adversely to the change in feel of the shirt, but I didn't mention to him that anything was different about it. I just laid it out as part of his outfit, as I normally do.
The Twill Shorts were an instant hit!
I love the inner lining of the twill shorts. They have an adorable nautical themed inner waist band, which B also loved. The shorts did feel a bit stiffer than usual, but hey- if we're going for durability, that's okay. The length was perfect for B, not too short, and they gave him plenty of room to sit, stand, play and jump in. Plus, these shorts have an adjustable waist- perfect for growing boys!
The shorts also came with a corresponding belt.
B wasn't so sure about the belt, but because the pants were a tad loose on him, I was happy that we had it. One he got used to the belt being there, he had no problem with it. I love that the belt sort of pulls the whole look together, and helps keep his shorts where they belong.
When it came time for us to try this whole outfit out, we decided to wear it on a Sunday. B wore both the shorts and polo to church. It was a great choice, because it's nice, but not too dressy, and B could sit and move comfortably in these pieces. We have refreshments before the worship service, and B loves to dive right into the orange juice, fresh fruit, and mini powdered sugar donuts. We had have a little spill with the juice, and of course, the powdered sugar went everywhere- including all over the green polo shirt, but I wasn't worried or upset about his clothing, because I knew they were going to wash well, and look as good as new again.
My sweet big boy, lookin' all spiffy for church in his new Play Proof with Nanotex pieces from Gymboree!
Another reason why I chose to let B wear his new outfit from Gymboree to church, is that he loves to head out to the church playground after the service is over. The playground is covered in black rubber mulch, which has ruined more than one pair of my lightly colored shoes, and has marked and stained many of the children's pants, shirts, and dresses. Let me tell you- those marks don't come out of clothing! I didn't have to yell after B, telling him not to play on the slide, or on the tire swing when he wore his new outfit. I figured that if he got dirty, oh well- the clothing wasn't going to be soiled forever.
We did make it back home with a few black smudges on the shorts, and B played so hard that he was sweaty, but his clothing was dry and cool. After church, we removed the Gymboree clothing, and I started a load of laundry. I washed the pieces without any stain remover- just with our regular detergent, with has Oxi-Clean boosters in it. I wanted to see if the clothing would wash up well without the extra work involved for me. I am happy to report that the shirt washed clean like a dream, and there were no marks left on the shorts! I was completely amazed that I didn't have to soak and re-wash the shorts! Wonderful.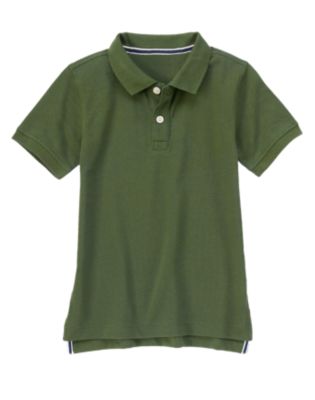 100% cotton pique
Play Proof with Nanotex®
Half button placket
Twill tape trim inside collar and shirt vent
Machine wash; imported
Collection Name: Uniform Shop
Sizes 4-12
Various Colors
Regular Price: 17.95
100% cotton twill
Play Proof with Nanotex®
Snap button closure with zip fly
Adjustable waist
Front and back welt pockets
Detachable twill ribbon belt
Machine wash; imported
Collection Name: Uniform Shop
Sizes 4-12
Colors: Khaki and Navy
Price: $22.95
B does not have to wear uniform pieces for preschool, which he has one more year of, but once he gets into kindergarten, we'll be buying many uniform pieces for him. I feel that it's a good idea for him to get used to wearing these pieces, and for right now, they're great for everyday, or for special occasions that may take place during the summer- parties, showers, church events, picture day, etc. I love knowing that B can look nice in these pieces, and if they happen to wind up dirty, cleaning them is as simple as tossing them into the wash. These are pieces that will stand up to B's rough and tumble play, and will keep him cool and comfy when it gets hot, hot, hot here in the Carolinas this summer.
I am so happy to know that I can find these wonderful pieces (and more) at Gymboree. I think that using Nanotex fabrics in their clothing was a great choice, and won't leave kids or parents feeling disappointed. We can't wait to shop Gymboree for more pieces like the ones we received!
Resists spills
Releases stains
Repels liquid
Speed dry
Cool comfort
Dry inside
Odor Neutralizer
Resists Static
Wrinkle-free
With all of these wonderful features of Nanotex fabrics, what parent wouldn't want them incorporated into their child's clothing? As a mom to a handsome and sweet, but often dirty, sweaty and smelly little boy, I am glad to now have Nanotex in my life!
Want them? Get them!
Special thanks to Gymboree for allowing us to share about their wonderful Play Proof with Nanotex apparel for children.