Okay, time to be honest, who here remembers (and maybe owned) fanny packs? During the 1980s and early 1990s, fanny packs were a wildly popular accessory designed to be worn around the waist while holding almost anything you wanted to bring with you, but didn't want to carry in your hands or a purse. I know that I had a fanny pack at some point during my teen years, but I was unable to find any pictures of me wearing one. Darn.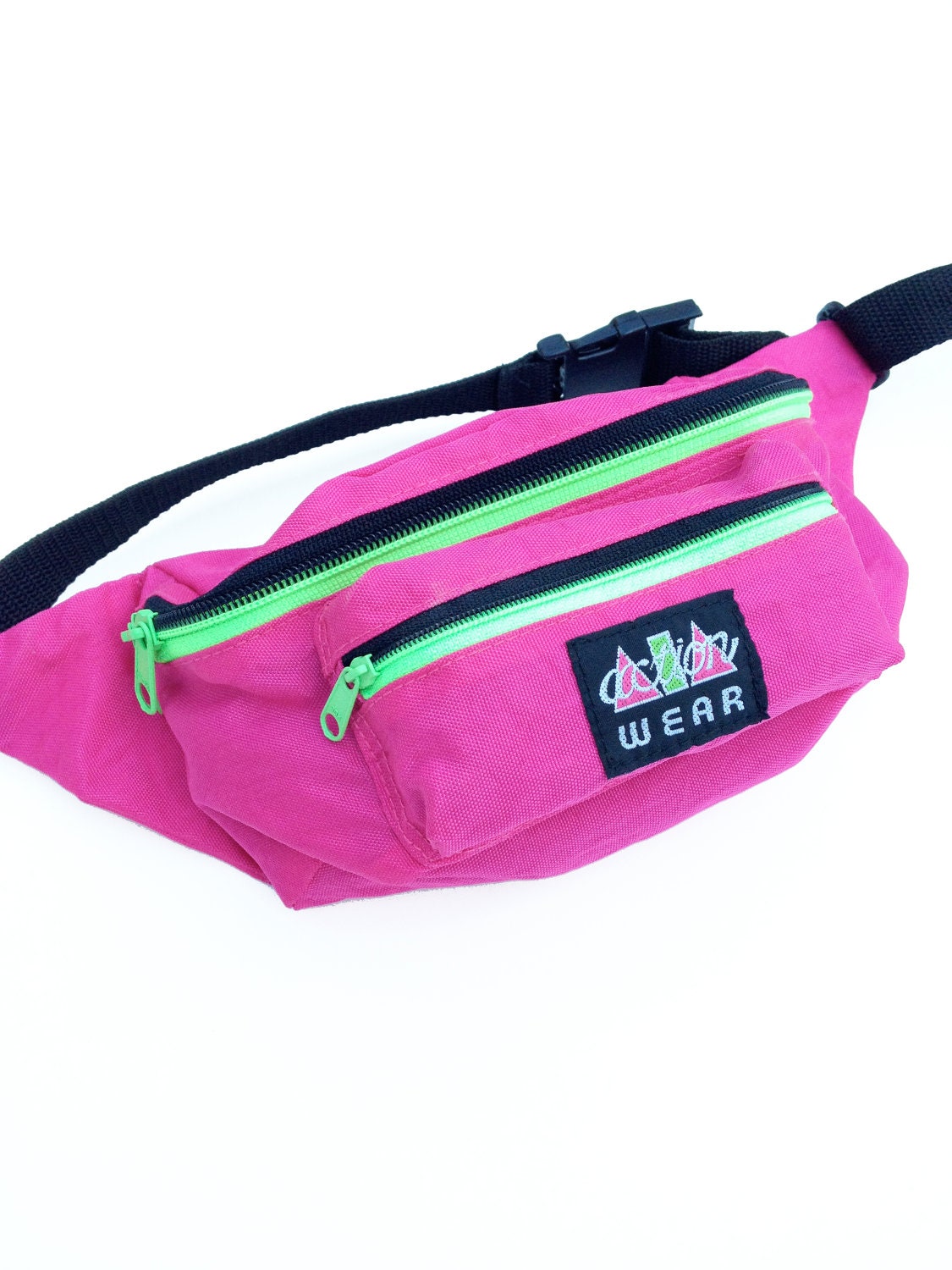 My Fanny Pack Was Similar to This One.
I think we can all agree, the fanny pack is functional, but nothing about it screams fashionable. While it does look like they might be making a comeback, it seems one would have to spend hundreds of dollars to get one that passes for stylish. I
typically don't
never spend money like that, mostly because I don't have it to spend and I think that even if I did, I would rather put it to better (for me) use.
I love the idea of wearing something that would help me not have to carry a purse, or in my case a backpack (it makes it easier to carry my stuff and the girls' stuff) every time I wanted to run an errand, like heading to the post office or to the grocery store. I usually end up taking just my wallet inside, but I don't want to carry it the whole time and I don't feel comfortable placing it in a shopping cart. Thankfully, we know Benquita Brown, a representative for
Fusion Belts
!
I recently got to work with
Benquita
on a review of Fusion Belts. Benquita is a single mom to a handsome 10 year old son and she is a wonderfully sweet woman. In addition to raising her son and running her business, she is attending college full time to earn her Bachelor's Degree in Business Administration, specializing in entrepreneurship. Benquita, or "BB" as she is known to some of us, truly believes in working toward making her dreams a reality.
Fusion Belts are wraps designed to be worn around your waist or hips. They feature two 7-inch zippered pockets that can carry all of your small personal belongings. I've used my
Pink Camo Fusion Belt
a few times when I have gone to the grocery store to avoid having to bring in my bag or wallet. I can easily fit my license, some cash, a credit card, and my cell phone in the pockets and I don't worry so much that they could fall out because I know they are zippered in. It's also really comfortable to wear and if your pants tend to fall a little low, it could serve as some "added coverage". Once the warmer weather hits, I will be rocking my Fusion Belt at the park and if we make it to Disney World this summer, guess what's coming with me?
Perfect for Dressing Up or Dressing Down!
My License, Cell Phone, Debit Card, and Cash Fit in One Pocket!
All Zipped Up!
Want It? Buy It!
Fusion Belts would make an awesome addition to your wardrobe.With a variety of designs, and the ability to
custom design
one, you could easily match it to anything you own! They are just perfect for holding your small belongings while you exercise (be sure to check out the selection of
Non-Slip Headbands
too), run errands, or attend a concert. If you need to carry life saving medications, the Fusion Belt would be a great way to do so. Right now you can get 20% off of your first Fusion Belt at
Benquita's Website
with the code
Fusion
. Be sure to connect with Benquita "BB" Brown on
Facebook
for updates and specials.
This Zebra Fusion Belt is Pretty Awesome
The Fusion Belt in Black- I need this one!
Available in Sizes 0-22 and Some for Men and Children Too!
Want it? Win it!
One lucky reader will win their very own Fusion Wrap from Benquita! Winner may choose what size and style wrap they would like from the 7 styles that retail for $28.95. This giveaway is open to US residents, 18 and older- one entry per household. Just use the RC entry form below to enter for your chance to win!
A special thank you to Benquita for the opportunity to review this wonderful product and share my experience with our readers, as well as offering this awesome giveaway!
Good luck!