Happy Sunday, everyone! I apologize for posting so late today! I have had quite the busy day, and praise God for it, because I got to spend a few hours at my very favorite place (other than home)- my church. This morning, we focused on the story of Moses, leading the Israelites out of Egypt, found in Exodus 14. My pastor's message today focused on one verse in particular, which I highlighted in my Bible, and wanted to share with you today...
Moses answered the people, "Do not be afraid. Stand firm and you will see the deliverance the LORD will bring you today. The Egyptians you see today you will never see again.'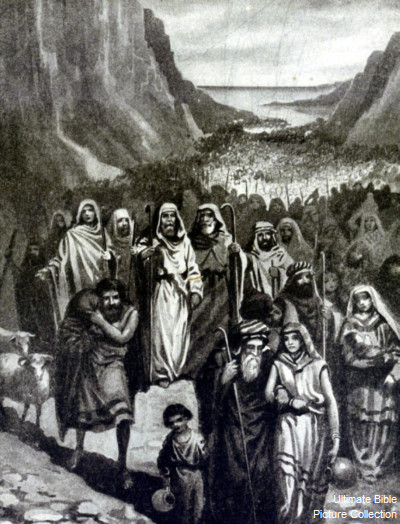 Moses leading the people across the Red Sea.
As my pastor preached around this verse, 'do not be afraid,' and 'stand firm' truly stuck with me. So often, we find ourselves fearful. I loved how my pastor talked about the different ways we view fear (from the perspective of a child, to the different ways we experience fear as adults). The truth is, we live in uncertain times. There seem to be so many misguided (as my husband likes to say) hearts in this world, and many are left- fearful, hurt, lost, broken, suffering, mourning, as a result... I can imagine the Israelites experienced much of the same. To be honest, I know that it can sometimes seem hard to keep our heads above the waters, but God is with us. God parts the waters for us now, just as he did so that Moses and his people would have safe passage as they fled from Egypt.

Enjoy the song 'Lifeline' by Hillsong Young & Free
We used this song in worship today, as it really tied in with our text. It's a great song to add to your play list and sing over and over again, and serves as a great reminder, that God is our lifeline. He's our hope. He never lets go of us. He sets our feet on solid ground, even when we feel like we're drowning in a sea of chaos. My prayer for you this day, is that you'll let your fears be swept away in the raging waters, and that you'll hold onto God's promises, and stand firm in your faith.