Part of Balian's 3rd Birthday Bash
It's almost party time! Balian's big birthday bash is this Saturday, and I can't wait to have all of our family and friends join us for a fun-filled afternoon of food and surprises, and best of all- celebrating a special little boy who is turning three on Friday! We wanted to find the perfect themed birthday party invitations to go along with the Disney CARS party we're hosting, so I took to Etsy, where I knew I would be connected with a myriad of choices from skilled designers.

I was immediately impressed by one designer in particular. I found
FunCuts
, and saw a ton of well designed, fun, eye-catching invites! I connected with designer, Kenia, right away and we chatted about the upcoming party. Kenia is a mother of three, who graduated from the Ontario College of Art and Design. She likes to spend her time with family, and making up original designs and making her own jewelry, as well! Kenia kindly offered to make a party invitation for Balian's big day, and I jumped at the chance to work with her, and show off the adorable design we chose to all of you!
There were quite a few
birthday party invitation
designs to choose from, even with the Disney CARS theme, in the FunCuts shop. I fell in love with an adorable design, which allows you to place a photo of your child's face on a little pit crew member, and send out as the party invite. So, we went with that design, and I sent all of the party details over to Kenia. She worked her magic, and a day or two later, I got an e-mail from Kenia with the download instructions for my invitations! I saved the images to a flash drive, and then took that to an office supply store in town, where they printed my invitations- two 5x7 invites to one cardstock page. In total, I spent around five dollars getting them printed, and already had envelopes at home.
Here's our invitation- all printed out, two to a page!
Our invitation to B's pary is so darn cute! It features his name in big, bold letters, the number three, as he's turning three years old, has his favorite CARS characters Lightning McQueen and Mater on them, has party balloons, a cupcake, Lightning McQueen's racing number (95), and of course- the most adorable little boy, dressed as one of Lightning's pit crew team members!
Race on over- LIGHTNING FAST for Balian!
The invite also features all of the important party details- the who, what, when and where. Sorry, I had to deface the photo and black out the party address. I simply cut the invitations to size, stuffed them into their envelopes, addressed them and sent them out in the mail to the folks we wanted to invite. I loved getting their reactions when they received the invitations. Everyone thought they were the most adorable invitaions they had ever seen, and were very fitting for Balian and his special CARS party! My mom loves it so much, she framed hers and is displaying it in her living room!
Oh, so adorable!
Plus, Kenia threw in an extra special surprise for us! She designed a special coloring page for Balian, and I actually printed them out to have for the kiddos to color at his party on Saturday. He absolutely loves having a personalized coloring page to share with his friends!
Personalized Birthday Party Coloring Page
I have been so pleased with these invitations and how easy it was to have these printed and send them right out! I could have printed these at home, myself, but we were out of ink at the time, and it was just easier for me to have someone else print them, so I wouldn't mess anything up! I will definitely be returning to FunCuts for future party invitation needs, because Kenia is fabulous and so are her designs!
Check out some of the other designs I love from FunCuts...
Superman Party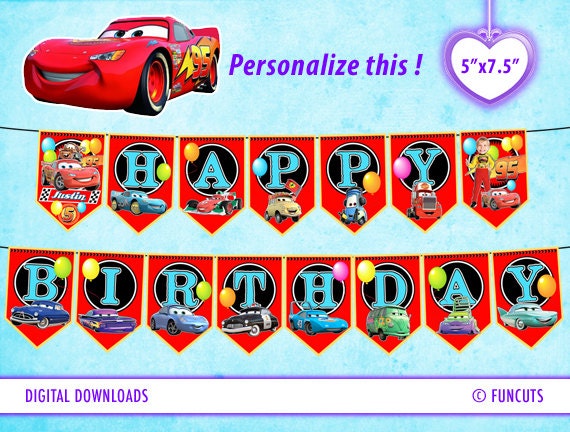 McQueen Banner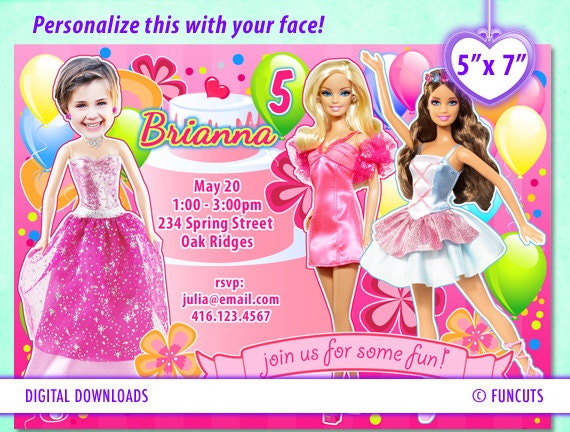 Barbie Invitation
SuperCuts also features stickers, wedding and event designs, awards and certificates, Halloween designs, and more! If you can't find what you're looking for, just send Kenia a little note and tell her what you're thinking you might want. If you can dream it up, and articulate your thoughts, Kenia can design it for you! She's so wonderful and talented!
If you're looking for out of this world awesome invitations, thank you cards, etc for your special party or event, be sure to head over to
FunCuts
and browse all of the available designs. You're going to love what you find there!
Special thanks to Kenia at FunCuts for designing a special invitation for us! We'll be pasting one of the extras into our special birthday scrapbook, and will be able to look back on it and remember what a wonderful tie we all had!