Part of Balian's 3rd Birthday Bash
When I was little, I loved going to birthday parties. I couldn't wait to celebrate with my friends, watch them open the gift I selected for them, and enjoy all of the fun birthday activities that were planned for us. This year, Balian asked if he could invite a couple of friends to his birthday party. We've only invited family to his birthday parties in years past, so this would be a completely different animal. When you invite children to a children's birthday party, so sort of have to keep them entertained and have things available for them to do. So, I thought that a pinata would be a lot of fun for the little kiddos to play with, and to get some neat surprises from, too!

I don't know much about
pinatas
, other than they look like fun, and the kids love them. I wanted the pinata for the party to go along with the theme, so I reached out to Ana Zamora, owner of
Ana Isabel Creations
on Etsy. Ana is incredibly talented, and hand-makes her own pinatas! I can't even begin to imagine the amount of time it takes, and the amount of work that goes into making a pinata by hand. Ana was very sweet, and offered to make a custom Lightning McQueen pinata for Balian's party, and send it along to us for review! I was so excited, and couldn't wait to see the Lightning McQueen pinata in person!
Lightning Mcqueen Pinata, upside down, in the box it arrived in...
Our
handmade pinata
arrived in a huge box, which Ana cut to fit the shape and size of the pinata. I couldn't wait to lift Lightning McQueen out of his box, and take a good look at him.
Lightning McQueen Pinata... he looks great, huh?
Side view of Lightning McQueen Pinata with a '3' for Balian...
This flashy pinata is a fantastic, festive party addition! Everything from the shape to the colors and little embellishments on the pinata, resembled our pal, Lightning McQueen. The pinata is made from cardboard, newspaper and lots and lots of tissue paper, with paper and foam add-ons. There is a hanging loop on top, for an adult to hold, or to hang the pinata with, and there is a cardboard flap/opening in the back, where you can add the candy/prizes.
The pinata loot- all tucked inside the pinata, waiting for the kids to free it!
The back of the pinata, where you can see the little prizes through the back...
I had so much fun buying some little candies and fun prizes to for the kids. I added some candy pieces from the party store, red, black and gold colored coins, and little prizes like play-dough, and tiny shape cutters, little balls, etc. I knew the pther parents wouldn't be too happy if I only included candy. It was easy to just drop the candy and prizes into the pinata by the handful.
Now, my husband doesn't take pictures, even at family events like this, so I am pretty disappointed that I don't have a picture of the boys' faces from when I brought the pinata out. They were so excited when I brought Lightning McQueen out and they took a good, hard look at him before asking me, 'How do we get the chocolate out?' Smart kids! I was too nervous to let the boys whack the pinata with a stick... they're still pretty little, and it just seemed dangerous. So, I placed the pinata on a platic sheet in the yard, and let them whack at it with little play hammers for a few minutes. We wound up dumping the goodies out, but man, did they have fun!
The boys, working at cracking Lightning McQueen...
Filling their treat bags...
So many goodies to choose from!
By the end of the party, we had very happy little boys, who were thrilled to have their very own special treat bags, filled with candies and prizes from the very cool
Lightning McQueen Pinata
that Ana made for us! The adults all loved the pinata, too! Everyone was impressed that it was made by hand, and wanted to get a closer look at it. The pinata was definitely the star of the show at the birthday party!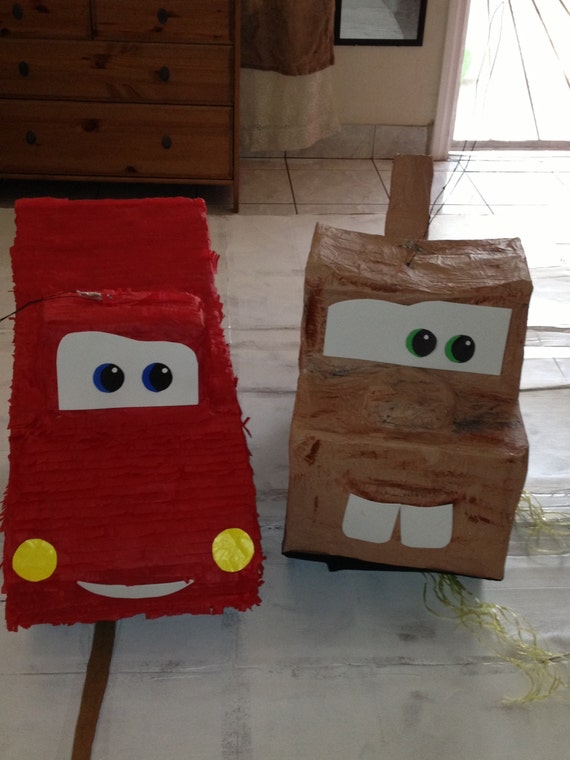 Details of the Lightning McQueen Pinata by Ana Isabel Creations...
Choose your favorite Cars character from Lightning Mcqueen or Mater of many pinataa,
with kid pull strings option available.
Custom size, colors and any other details. upon request, price may vary.
Any other character is also available.
*Special price for Etsy Followers.
Ana is incredibly talented, and I hope you'll take a look at some of her other pinata designs.
Here are some other adorable pinatas of hers that I am loving...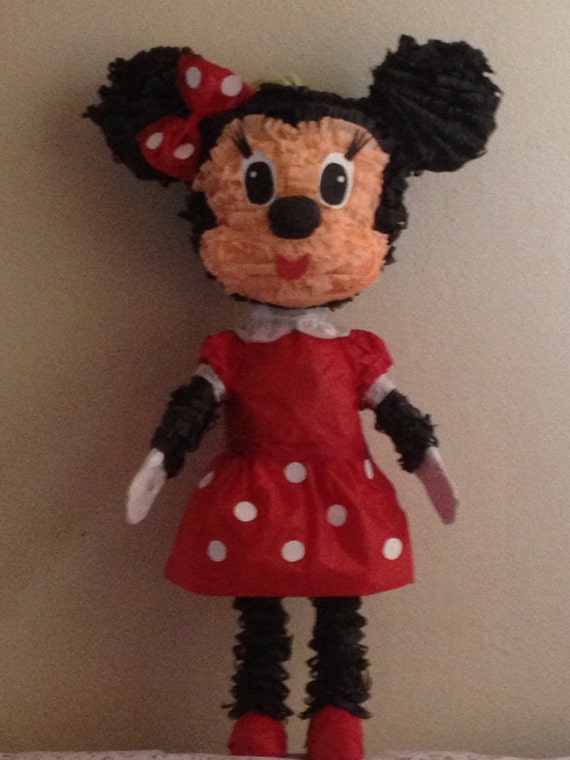 Red Mini Mouse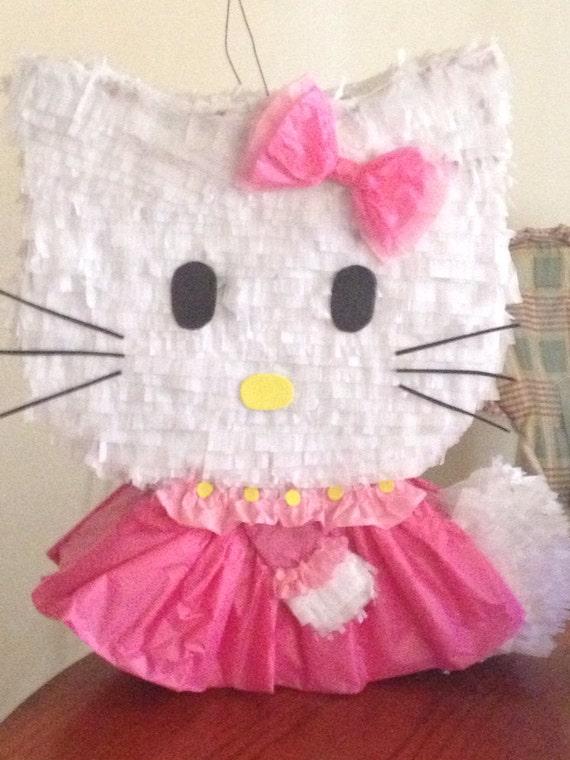 Hello Kitty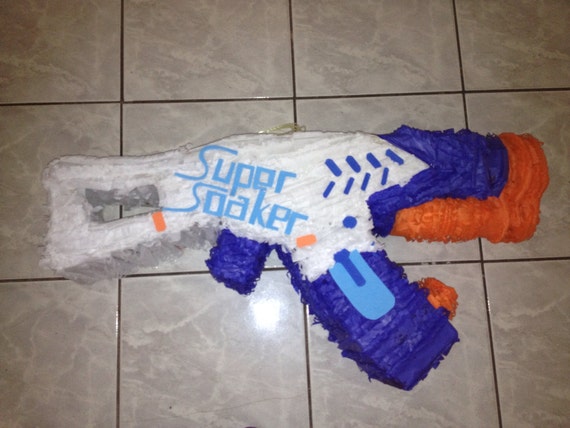 Super Soaker
If you're planning a special celebration in the coming weeks or months, why not add a festive pinata to compliment your party theme? Pinatas are fun for all ages, and add an activity to the party, as well. I was thankful that the pinata time took up a chunk of fifteen or twenty minutes with the kids... they thought it was a lot of fun, and it kept them entertained! Ana loves to create custom designs, so feel free to tell her what you're looking for in a pinata, and she'll be glad to create something special for your celebration!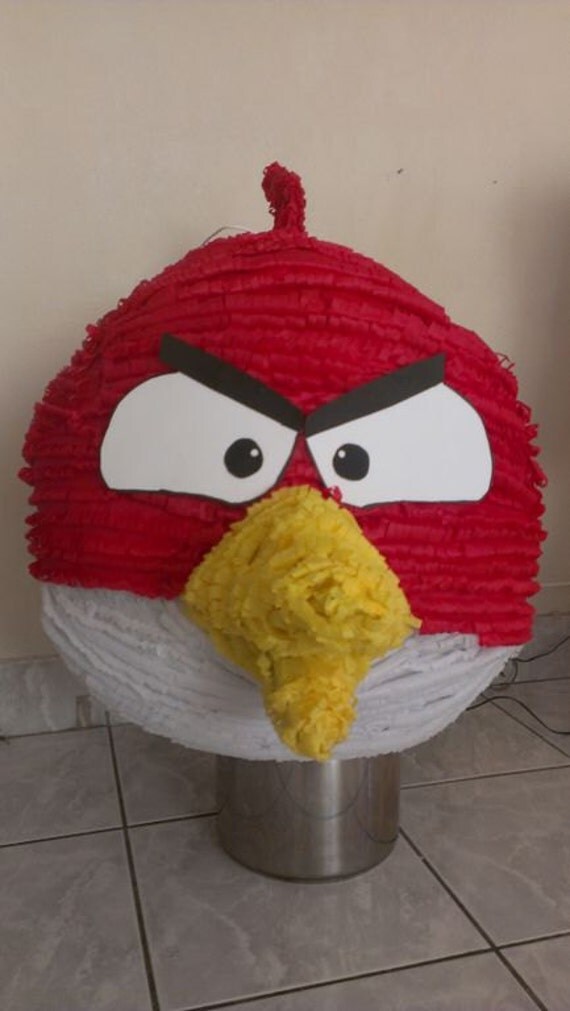 You can browse all of Ana's fabulous pinata designs by heading over to her shop-
Ana Isabel Creations
on Etsy. Don't forget- there is special pricing for Etsy followers! Go ahead- pick out a pinata and get your party started!
Special thanks to Ana Zamora of Ana Isabel Creations for creating this wonderful pinata for us to use and enjoy at Balian's 3rd birthday party! It was a huge hit!