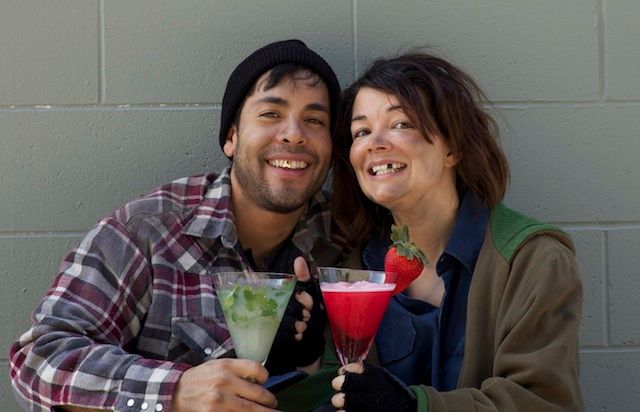 'Newlywed and Broke'
When my husband and I were first married, I supported his decision to go to grad school, which as you can imagine, left us flat broke. After grad school, we had a baby- our son, Balian, and we were still flat broke. Everyday was an adventurous struggle to figure out how to make ends meet. Eventually, after a lot of compromise (and prayer!), and a little patience, we were able to create jobs for ourselves, as we just couldn't find jobs, no matter where we applied (even with college degrees under our belts). As the economy started to pick back up, my husband started his own home restoration business with his friend. I turned to blogging, and we've not looked back, since.
Many of our friends and perhaps even you, have been in similar situations at some point in their lives. There are many days when we don't know whether to laugh or cry about life's struggles, but we've found that meeting challenges with a smile and a good attitude can make all the difference! That's why I am so excited about
Newlywed and Broke
, a new web series, which is like a modern day 'I Love Lucy,' depicting a husband and wife, struggling to make ends meet, in hilarious ways! The show follows Stan and Mia, as they face everyday hardships and try to make ends meet- while having viewers laughing all the way.
Check out this funny video to learn more about the Campaign...
About the Campaign
The faces behind this new series are hilarious! The Newlywed and Broke project is sponsored by Fractured Atlas, a non-profit arts service organization. The goal of this project is to raise funds to produce a TV quality web series that will air on the Newlywed and Broke website. After there is an established audience, and a larger market for this show, it will be pitched to major television networks, such as FOX, ABC, NBC, etc. Learn more about the campaign at
Indiegogo
!
Love this! So true!
What's In It for You?
By supporting 'Newlywed and Broke,' not only will you be helping to get a hilarious new show off the ground and running, you'll receive some special perks! Every week, the 'Newlywed and Broke' website will feature a Broke Tip, which will give viewers great ideas about how to cook great meals when broke, go out on dates when broke, etc. I would have loved to see these tips when hubby and I were newlywed and broke! Plus, you'll get to share your own stories and ideas, which may wind up on future Newlywed and Broke episodes!
30% of the campaign goal was met within the first week!
This campaign ends on September 30, 2013, so please check it out, and donate, if you feel so inclined. Help us spread the word by sharing our post, posting to Facebook, Twitter or Pinterest! We'd really love to see this show take off!
Connect with Newlywed and Broke On...
Facebook
Twitter
Pinterest
YouTube
We're loving the 'Broke Tips,' so here's one more.
Keep coming back for more and watch for updates on how this project is doing!
Do you have any awesome 'Broke Tips' to share?
We'd love to hear them!